'Wake up, Leo: The housing crisis has made recruitment almost impossible'
Over the last six months, the shortage of accommodation has really hurt SMEs like ours.
I'M REALLY PROUD of the fact that Click&Go has 11 different nationalities working in our Dublin office – but this time last year, that number was even higher.
We have always taken the view that we want to have all the key functions in-house. In total, we have 10 teams covering various disciplines like the call centre, holiday support, revenue management and IT development.
Recruitment and retention are key to the growth of the business and both of these are becoming a significant challenge, especially for IT development and digital marketing roles.
In the last six months, it has become almost impossible for us to recruit someone from outside of Ireland because they simply cannot find, or afford, suitable rental accommodation in Dublin.
We are all aware of the housing crisis and its impact on families living in unsuitable hotel or B&B accommodation; this same housing crisis is now seriously impacting on small business in Ireland.
The rising cost of rent is putting pressure on employers like us to increase salaries as the proportion of net income spent on housing continues to increase.
Source: Kyran O'Brien
Fear
In my view, the protections from the rent pressure zones are simply not impacting as expected, with private landlords choosing to leave the market and sell their properties, allowing the new owners to charge higher rents.
We have major supply and demand constraints and the government is not moving quickly enough to resolve the housing crisis. This is a complex problem, but it's not a new problem and the solutions are not happening quickly enough.
Apart from not being able to attract staff to move to Dublin, we have recently lost Irish workers who are opting to emigrate because they see no future for themselves here.
I'm talking about qualified, experienced staff in their late 20s or early 30s who are back living with the folks and see no prospect of ever being able to buy their own home or have security in long-term renting, a model which we see successfully working across Europe.
Seriously, what is the government thinking? The cranes in Dublin are building offices, but where are the staff for these new developments going to live?
There is a fear among staff who rent; perhaps more frightening than rent increases is the prospect of losing their home if the landlord opts to sell up.
When this happens, people risk not being able to find a suitable alternative, and if they do find something, they may be starting a new lease on a much higher rent.
Unacceptable
I appreciate the struggle of families without homes is a much more pressing issue and the photos last week of a family sleeping in a garda station were appalling.
On my way to work, I see families living in B&Bs and guesthouses along Gardiner Street.
In any functioning, modern society this is totally unacceptable.
Hopefully, when the government sees that this is now a cross-society issue which is negatively impacting job creation and relocation decisions both by companies and potential employees, it may raise the stakes and encourage meaningful action.
When I say "government", I mean past and present governments and the complacent civil servants who are comfortable in their jobs and pensions, who don't come face-to-face with the cross-society housing crisis.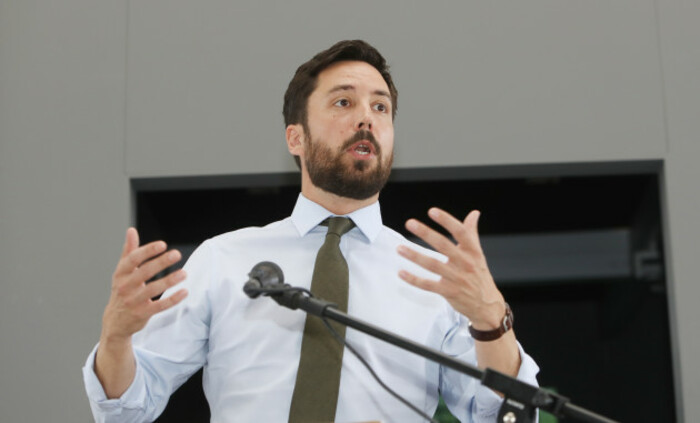 Source: Leah Farrell/RollingNews.ie
This is a political point, but it is massively impacting on recruitment, retention and the growth plans for many companies.
It is nonsense to hear about 'Brexit opportunities' for Ireland; grand plans of attracting companies moving from the UK. They simply won't be able to move to Dublin because of the current state of housing in our capital.
I think any employer of IT developers, coders, user experience workers or digital marketing staff will also question why we are seeing so few qualified graduates coming through the Irish education system.
It has been highlighted for years that we are short-staffed in these key functions, but I don't see the third-level sector responding.
On top of all of this, Irish SMEs like Click&Go pay corporation tax of 12.5% and are happy to do so.
We, the indigenous Irish SMEs, are competing in this market for skilled staff with large multinationals, many of which – through creative accounting – do not pay the effective corporation tax rate.
This is a massive saving for them which they can funnel into higher salaries making it more difficult for Irish SMEs to compete for talent.
Paul Hackett is the CEO and co-founder of online travel company Click&Go.
Sign up to our newsletter to receive a regular digest of Fora's top articles delivered to your inbox.