'I replied to emails at 4am and then we packaged orders before college – I don't know how we did it'
Grace O'Sullivan talks about how she juggled studying with setting up her own business.
BACK WHEN MYSELF and Ellen first started our businesses, Glitz n' Pieces, we didn't think it would turn into a full-time job.
Both of us went to the same secondary school and were in the same group of friends. We were talking one day about what we were going to do after school. I said that I wanted to run my own business since I was a little girl and so did Ellen.
We thought nothing more of it and both put down entrepreneurship and business management in IADT on our CAO forms.
We didn't know we both put down the same course. It was just that our guidance counsellor had advised the programme would be a good fit for us.
When the results came out, Ellen said she got offered the course in IADT and I told her I did too. So we both ended up studying together.
During first year, we became even closer friends and six weeks into the college course we had a project that involved selling something at Marlay Park Market.
We had a trial run with the class group first. I was selling cupcakes and Ellen was selling something else. When we were going home from college that day we both said, "We do not want to do this for the real thing." So we asked the lecturer could we pair up for the project and she let us.
We wanted to sell something we were passionate about and chatted about what that could be. We're passionate about fashion accessories, and as students we wanted affordable accessories so we thought, why not give that a go?
Off we went to a local wholesalers and sort of blagged our way in – we had no business number, no nothing. These two lovely ladies let us in the door and showed us some stock and myself and Ellen said, "This is what we're going to do. We'll get some stock for Marlay Park and sell it."
We loaned €200 off each of our dads – we didn't have any savings or anything – and we bought stock. At Marlay Park Market, we sold it all and afterwards were able to pay back our dads. That's how it all started.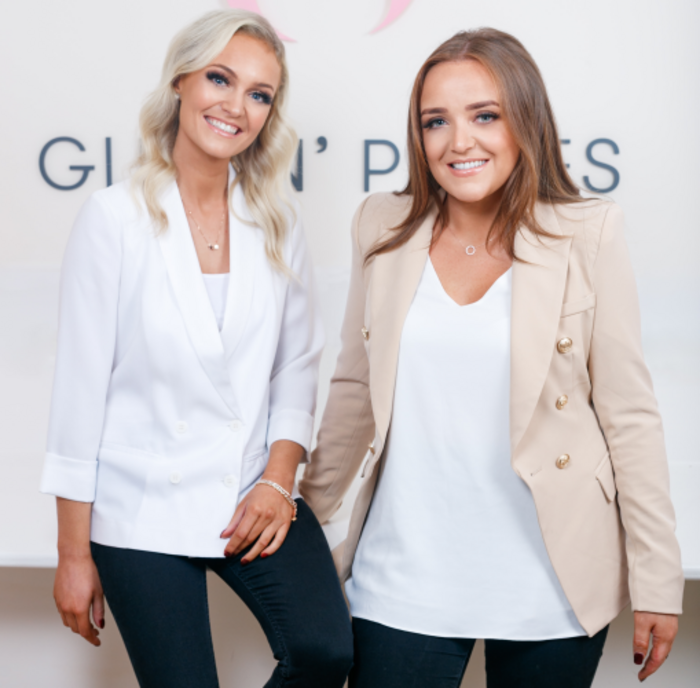 Source: Glitz n' Pieces
From stall to website
After selling all our stock in Marlay Park, we had some money left over and it all went back into creating a website for the business. It was only a small bit of money, but it was enough to get a website made.
When the web designer came into the house to meet us, we told him our idea and he looked at us as if we had 10 heads. We were only 19 and talking about these grand plans to set up an online business. He thought it was a bit of a joke, but we were being dead serious.
We got the website made and it really took off. We worked real hard and used social media to get the message out there – we had no money for advertising or anything like that. Lots of Irish influencers saw our website and liked our stuff, so they started to share it.
There were times in college when we had that discussion about leaving to focus solely on the business, but we didn't. We stuck it out, made it to the end and got our degrees.
Juggling both college and the business was tough. But I suppose it was handy in a way because all our projects were based on our business and that drove us to learn a lot about our industry.
But Glitz n' Pieces was a full-time job. I would wake up at 4am and start replying to emails and we would have to package orders before heading into college as well. We were also answering emails in the classroom and I remember trying to upload product in the middle of lectures to our website.
Customers didn't know that's how we ran the business and looking back now, I don't know how we did it.
We could have taken the easier route and waited until after college to really try make something of the business. But we saw the sales were coming in and social media pages were growing.
That made it an easy decision to just keep it going. Still, I didn't think it was going to take off to where it has now. We sort of just kept our heads down and kept niggling away at it.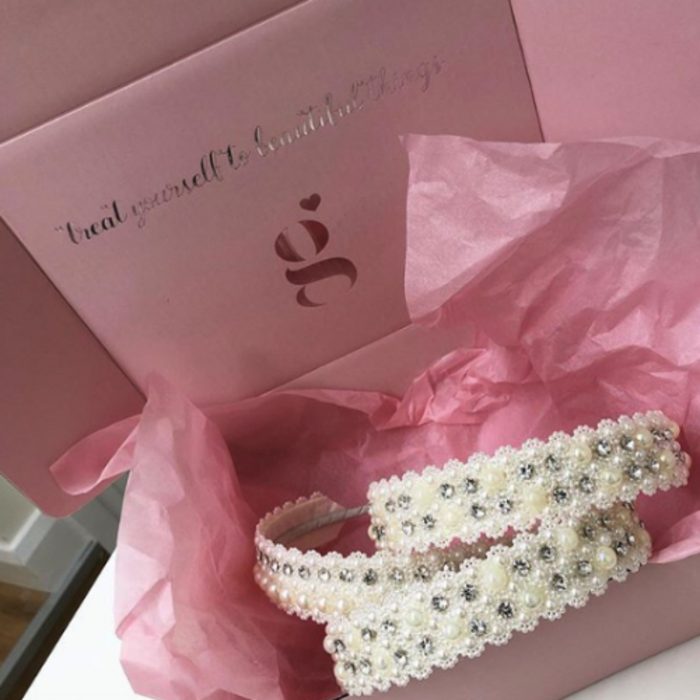 Source: Glitz n' Pieces
Milestones
There have been many highs and lows in the business. We always love getting tagged in customer photos on social media and seeing them wearing our products. When your business is mainly online, you don't always get to see a customer's reaction to what you're selling them.
But also employing staff is a big deal. We now have a team of six including myself and Ellen. Last year we had only planned to employ one member of staff, so going to four was a big jump for us.
Getting our concession in Arnotts was definitely a massive milestone. For them to take on two 24-year-olds and put a lot of trust in us was a big deal.
We did not think a year after graduating from college that we would have a massive premises with our office, workshop, stockroom and showroom and everything.
Last year was our first full year at the business after graduating and now this year we have a shop in Arnotts. We definitely did not see this all happening – we started this out as a hobby. But we worked really hard for it as well, it's not like this just came out of nowhere. We put a lot of effort into it.
For the first year and a half, finance was a massive issue – we started this from absolutely nothing. People look at the Arnotts concession and think it all happened overnight, but it took us a while to get to the stage where we could invest money into designing our shopfront.
Even to this day, we still reinvest a lot of the money we make into the business. We get paid now, but we're not greedy, we always put a lot of what we make back into expanding the business.
Did we know what we were getting in for? Definitely not. We knew it would be a lot of work, but you literally do not get a minute to breathe when you're running your own business.
If you haven't run your own business, it's hard to understand. You get everything thrown at you and you have to sort it out. You're the person who has to answer to everything. And you have to make sacrifices to run a business.
Ellen had a family holiday booked and paid for in the Canary Islands last year and because we had our Arnotts commitment, she couldn't go in the end.
It was the same for me a few days after Christmas when I had a family wedding to go to. I was dressed and ready to go out the door and one of the girls called in sick. I just had to turn back around and go to Arnotts to fill in.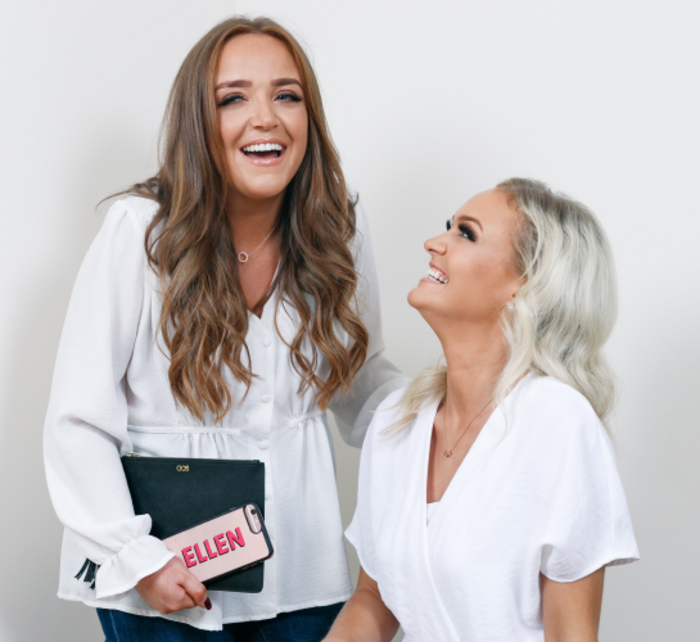 Source: Glitz n' Pieces
Advice
If you're thinking about starting your own business, you definitely need to understand the market you're getting into. And you might need to get your hands dirty to do so.
When we opened in Arnotts, both myself and Ellen worked in the store alongside the staff for 56 days straight, doing 12-hour days. We did that to learn what the Arnotts customer wants.
And it meant if something wasn't going right, we would see first-hand what had happened, learn from that mistake and move on.
I love working alongside Ellen in those kinds of projects. We literally do everything together. We work together and we go out at night together, so we're joined at the hip.
A lot of people say, "Don't work with your best friend." But really, we work well together – and that's because we're completely different.
Ellen is so creative and she is very good at motivational speaking, whereas I look after the finance end of the business and the online section. Then Ellen also looks after the Arnotts shop at the moment.
So we're both really different, and that's why it works.
Future plans
Would we do anything differently? Absolutely not. Any mistakes we've made in the business were learning curves to get us where we are today.
We would never change anything or look back with regrets. I think that's the best way to look at mistakes. You're just learning as you go and there's nothing wrong with that.
So we'll see where this business takes us. We don't intend to open our own premises, so that won't be on the cards. But I think aiming to open concessions in big department stores could be the way to go.
It's working out really well in Arnotts right now, so we might branch out and see where else we could go, but we would be very careful about where we would choose.
Arnotts is the largest department store in Ireland, so branching out into department stores in the UK would probably be the best way to go, but all while primarily focusing online.
The online store will always be our core element of the business going forward and we'd like to expand out into another department store by the end of 2019. And then, we would be aiming for a continental European concession in 2020.
Grace O'Sullivan is the co-founder of Glitz n' Pieces. This piece was written in conversation with Killian Woods as part of a series on overcoming obstacles when launching a startup. 
Get our NEW Daily Briefing with the morning's most important headlines for innovative Irish businesses.