Food is really Instagram-friendly and that's a problem for businesses
There is a real danger that the industry over-relies on social media at the expense of other marketing tools.
THERE IS A DANGER in the food industry of an over-reliance on social media marketing at the expense of the other key elements of the marketing function.
Food products lend themselves perfectly to social media, which is so visually-led, but having a beautiful Instagram page is worthless if your potential customers can't find your product in the shops.
A belief that strong social media and digital marketing alone will deliver market success is like a bad case of the emperor's new clothes.
Undoubtedly, social media, as part of a wider suite of digital marketing tools, has enabled food brands to fast track their brand awareness, creating a level of consumer demand that would have previously been impossible.
The issue arises when the other essential marketing elements have not been developed at the same pace.
The food sector is a highly competitive space and numerous brands have faltered in recent years because they failed to give sufficient attention to all elements of the marketing mix.
Source: Shutterstock/LADO
Traditionally, marketing theory spoke of the four Ps – product, price, place and promotion. These have been adapted over time to reflect the changing marketing landscape, but the core principals remain the same.
Social media sits under the 'promotion' heading and while it is a hugely effective tool, it can't automatically answer the other key questions – for example, does your product meet the consumer's needs? Is it priced appropriately and competitively? Have you the correct distribution channels in place? What differentiates you from your competitors?
Often when food entrepreneurs believe they've cracked the 'product', the temptation is to jump the gun and skip straight to the 'fun' parts of marketing, ie watching the likes, follows and positive commentary flood in on social media. It is dangerous to assume that positive interaction online will automatically translate to sales in-store.
Challenges
Some food brands have successfully created a distribution channel direct to consumers through online platforms, but the vast majority of food brands, particularly fast-moving consumer goods, are sold through retailers. Getting that distribution piece working effectively is one of the greatest challenges in the food marketing business.
Key to a good distribution strategy is to know your target customer and where they purchase. Only then can you decide which channels to pursue. For example, in the grocery industry, the average percentage of customers that shop online is miniscule with the vast majority still going into their local shop.
Many of the supermarket chains now run mentoring programmes to assist small, high-potential food businesses get on the shelf. Programmes such as these are a fantastic way to circumvent the traditionally challenging process of pitching your product to time-poor buyers who are inundated with new product offerings.
Pricing is one of the most important elements of the marketing mix, particularly in the food industry. As a business mentor, I frequently see brands price themselves incorrectly.
In a lot of cases, food businesses price themselves under their market value or at a level that is unsustainable for long-term survival. When setting a price for your product, it's important to consider market positioning (premium, competitive etc), customer profile, competitive set and the overall economic environment.
Industry research tells us that one-third of consumers take packaging and branding into account when making a purchase decision. On average consumers spend just seven seconds when looking at packaging on shelf. The difference between good and bad packaging can help you to win or lose a sale.
Developing packaging will involve careful consideration of colour, logo, strapline and format. From an online perspective, your website and social media footprint represent your brand's wider image.
When developing these elements, it's vital to look at the brand as a whole and be consistent across all channels. Matching logos, colours and fonts should be used in every media – be it online or physical.
Promotion
When it comes to promotion, digital marketing is undoubtedly hugely valuable as it allows consumers to find the information they need from the convenience of their smartphone or computer. It is not however the only persuasive tool in your marketing arsenal.
Offline channels, such as print, radio, outdoor and direct promotional channels, all need to be considered at strategy development stage. For example, many small businesses overlook the power of radio.
According to IPSOS MRBI, 83% of the population over 15 years of age listens to the radio at least once a week. Radio, like digital, also has the benefit of reaching the consumer close to the point of purchase.
Experiential marketing, which can span from a simple in-store tasting to a presence at a festival or a dedicated pop-up shop, can be hugely effective at facilitating product trial and generating brand awareness.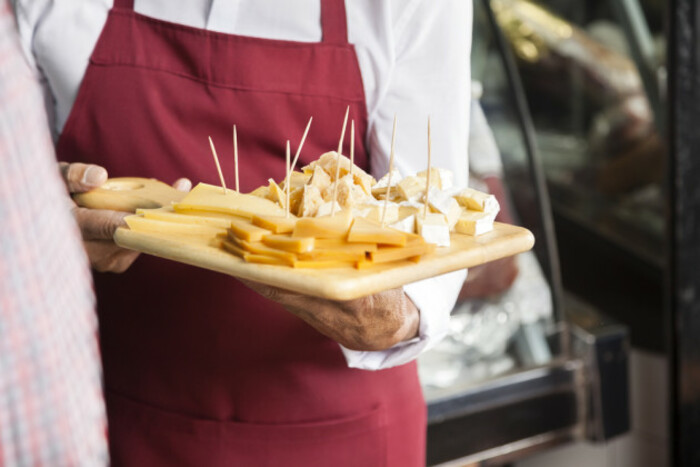 Source: Shutterstock/Tyler Olson
PR is also an incredibly powerful tool for food businesses in terms of generating brand awareness across a mix of online and offline channels.
Social media is certainly an important piece of the puzzle and if you use social media correctly it should complement all of your marketing activities. Social media allows you to tell the story of your product and communicate personality, which is particularly important for food producers who need to differentiate in a cluttered market place.
It is not the place to simply advertise your product; it is just as much about being consistently responsive to consumers input as it is about being proactively creative.
Post about relevant news in your industry, post about what's happening in your local area, share other local businesses' content. Develop a calendar of varied communications and pepper it with posts about your own products, offers or events.
The most important part of marketing strategy, whether it's offline or online, is discovering what is unique, distinctive and unforgettable about your product or service, which we refer to as 'your 10% difference'. This is what will make you stand out from the crowd.
Whatever your 10% difference is will play a huge role in how you market your product, influencing your brand positioning, messaging, pricing and promotional tactics.
Having a slick social media presence is certainly a benefit in the food industry but be wary of pursuing style over substance.
Investing the time at the outset to develop a differentiated brand and complementary marketing strategy will greatly increase your chances of long-term success in the dynamic and competitive food industry.
Jane Manzor is CEO of Manzor Marketing and is a business mentor with Enterprise Ireland.
Get our NEW Daily Briefing with the morning's most important headlines for innovative Irish businesses.