An eye on the sky: Does Dublin really need a high-rise solution?
Regularly mooted as a housing and office fix, building higher isn't necessarily the answer.
MANY IN THE property sector would love to see Project Waterfront reach upwards to the Dublin skyline on North Wall Quay.
The ambitious residential and commercial development proposed by developer Johnny Ronan and his backers will, if approved, see residential towers of more than 1,000 apartments, 45 storeys high, as well as prime office space and premium retail and lifestyle offerings in a 'hanging gardens' style docklands development.
The housing shortage is well-debated, but not, as yet, well addressed. In the commercial property sector, we bemoan the serious lack of new grade A office space in Dublin.
There is demand from existing businesses needing to expand, from UK businesses relocating, from the multinationals enticed by an educated young workforce, and from overseas investors attracted by high values and rental returns.
But premium accessible office space is limited. We need to build upwards, not out, say the people who have had enough of suburban sprawl.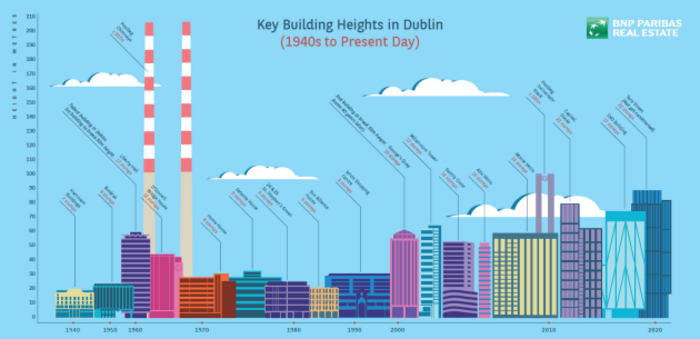 Source: BNP Paribas Real Estate
They believe greater density in our cities will make housing and workplaces more accessible and affordable, and allow people to live and work where there is proper transport infrastructure and services, and not a four-hour daily commute.
They have a point, but building heights and higher density do not necessarily correlate.
Developments like Project Waterfront, as spectacular and 'tall' as they might be, are not going to tackle housing access for your regular 'Joe Public' or make Dublin offices more affordable – they are not designed to. 
These expensive showpiece developments of expansive offices and homes are for individuals and businesses with deep pockets and a liking for premium lifestyle and brand statements. 
Exponential Costs
Showpiece high-rise city developments are truly expensive, both to develop and, in turn, to occupy. Building costs are exponential with height over six storeys, with increased fire safety, structural requirements and infrastructure demands, and the high cost of maintenance involving service charges, sinking funds and the like.
Anything above six storeys is counterproductive when it comes to affordable homes.
Last December, Housing Minister Eoghan Murphy advocated a height increase in Ireland's cities to meet development challenges, and new guidelines have since been published under the National Planning Framework.
These provide for greater building heights to encourage building upwards rather than outwards and, essentially, have removed the height limits set by local authorities within their respective development plans.
They have been widely debated, with the headlines shifting from the uproar of conservationists to the trumpeting of 'sky's-the-limit' developers.
Realistically, though, proper planning in Ireland is not going to fall over. We have a respected and experienced cohort of planners and environmental advisers, who base judgements on best practice and consider the economic and social demands of particular locations.
Allowing for higher development cannot be seen as a 'free for all', as many recent applications have shown. Applicants are still obliged to conform to local authority development plans and processes.
But if an application is otherwise in accordance with proper planning and satisfies relevant criteria for approval, then a refusal of planning permission cannot be based on proposed building height.
The lifting of height restrictions also does not mean that already approved developments can go back looking for additional height.
Instances where applicants seek greater height and therefore increased development values for already approved schemes, such as the Smurfit site in Glasnevin, have been refused permission.
History of height
We have little history of height in Dublin, so fear of the unknown can be a factor. Liberty Hall at 60 metres and 17 storeys and O'Connell Bridge House at around 40 metres and 12 storeys were our 1960s skyscrapers.
Since then, typical 'tall' commercial buildings built in and around Dublin were no more than six to eight storeys in height. In recent years, planning was granted for taller buildings in city suburbs and a limited number of strategic high-rise designated development zones in major cities.
[embed id="embed_2"]
These include the 16 storey Santry Cross Hotel in Ballymun, Sandyford's Beacon South Quarter with heights of up to 15 storeys, and hotel and office developments in Blanchardstown of around 14 storeys.
Recently commenced Dublin city centre sites include the 19 storey Capital Docks residential scheme and the Exo Building office development at the Point Village, due to top off at 18 storeys or 73 metres.
Ireland's tallest building, to date, looks set to be built in Cork city, with details of the 34-storey hotel tower at the Port of Cork's Custom House site unveiled recently.
Still, our building heights fall well behind cities like Paris, Amsterdam and Stockholm, which are seen as good examples of cultural preservation; low-rise cities that other capitals should aspire to.
Even Minister Murphy's own guidelines identify heights of up to six storeys as optimal from a viability, density and affordability perspective, and likely to remain the mainstay of our cities' expansion.
Like so many societal issues, demand for housing, liveable cities and accessible commercial property doesn't have a single 'onwards and upwards' solution.
It will have a combination of considered solutions, involving different parties including government and public representatives, the planners, developers and property professionals.
Many of our citizens actively contribute on people's needs and wants in relation to how we work and live, and the ensuing environmental and social impacts.
Realistically Dublin is, and seems set to remain, a low-rise city, with maybe the occasional high-rise gem reaching for the sky.
Kenneth Rouse is managing director and head of investment at BNP Paribas Real Estate Ireland.
Get our Daily Briefing with the morning's most important headlines for innovative Irish businesses.