'Minutes after an interview with Ian Dempsey, the supplier said my Christmas order was delayed'
After taking redundancy in 2008, Derrick Bell set up a business selling wagons for kids.
I THINK EVERYONE dreams of working for themselves; well, at least I did anyway.
Before I set up my company, I worked as a sales manager in a software firm until around 2008 when things went haywire.
I was offered redundancy and jumped at the chance – it was that push in the right direction I needed to try and set up my own business.
From there I dabbled with a few ideas of how I could work for myself and had my sights set on opening up some sort of web business.
Of course everyone knew the internet was the future, I just fancied being part of it. So I did a basic HTML course and taught myself how to design websites off YouTube tutorials and various blogs.
At the time, my wife had a euro shop in Blessington. We looked into opening another shop, but the rent and rates were a deterrent. The fees you have to pay in this country as a business are prohibitive, so we said that's not the way to go.
In the end, the idea for the company I started came from my mother. It was Easter and she wanted to take all her grandchildren out on an Easter egg hunt.
She was looking to see if she could buy one of these wagons to put the younger kids in and wheel them around. She couldn't see one anywhere and asked if I could go on the internet to find one.
Lo and behold, I searched and there wasn't one for sale in Ireland. That's what gave me the idea for Toby Wagons. I still had a bit of redundancy money left, so I ran with getting a prototype for my own brand of wagons made in China.
That was it. I got a prototype developed, made a few changes, ensured we had the safety certification and then pulled the trigger and ordered my first container.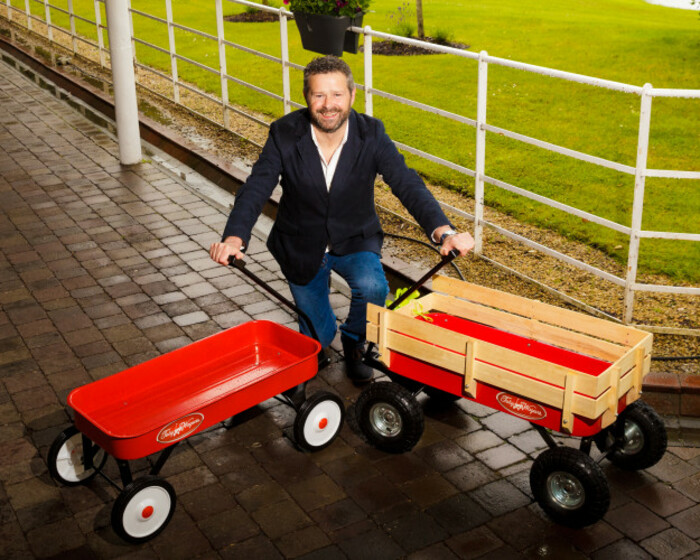 Source: JOE KEOGH
At the beginning
We were initially going to sell them in the shop, but we went down the route of selling them online instead. I set up a website and designed it myself – with a bit of help from someone else.
We went online because I wanted to keep the price point affordable. The generic price of the American versions was quite high, but I wanted to come in at an affordable level.
There were upsides and downsides to having such a niche product. The positives of having a product as specific as we do is that you're competition-free, up to a point.
But the problem then is, because you have such a new product concept to the Irish market, nobody knew about it. It meant we didn't have people searching for it.
If there's a market there for an existing product, you have the benefit of piggybacking on that existing market and then stand out by being different to the rest.
But there was nothing to build on, so we had to really educate the market – and it's not as easy as it sounds. It takes a lot of money to get your name out there.
It took a couple of years to get up any sort of momentum in the business to a stage where it was profitable.
We launched this before Facebook advertising, so all we had was Google AdWords, but people weren't searching for us online so it was difficult to stand out there too.
I even tried traipsing around town with the wagons, with my little son in the back, because as soon as I was seen with it people would always stop and ask where they could get it.
We're still educating the market and getting calls from people saying they never knew these wagons existed, so the job isn't done.
Keeping it going
It was tough financially at the start, but I could see there was light at the end of the tunnel.
I knew I wasn't doing this as a hobby, I'm doing it as a business – so I always made sure there was a payment to myself. But we had no funds, no bank loan, no backing, it was all self-funded. And we dealt with the nightmares of cash flow.
When you have a container arriving and you have to pay for all the stock and the VAT up front, it might take you a couple of months to recoup that money.
That's tough to deal with, and it still is one of my concerns. You have to make sure there is enough money coming in.
The tipping point for the business – when I knew people wanted to buy what I was making – was the first Christmas we had in 2012.
I got a call from Ian Dempsey's radio show and they wanted to do an interview with me. At the time they were doing these interviews with Irish businesses, and that was brilliant because it was truly the kick-start I needed.
I did the interview in the lead up to Christmas, and I was jumping for joy. I was the happiest man in Ireland for about 30 minutes.
Half an hour after I was out of the TodayFM studio, I got an email from the Chinese suppliers. They said that the container was delayed and wouldn't arrive until after Christmas.
Even though I went from elation to despair in the space of an hour, I knew there was something there. I might not have been able to fulfil the orders coming in, but I could see the interest.
I spoke to a friend of mine and told him the story about the missed shipment and he said, "Do you know what that's called? It's called business." That kept me going. But at the same time, what else could I do? There were no jobs.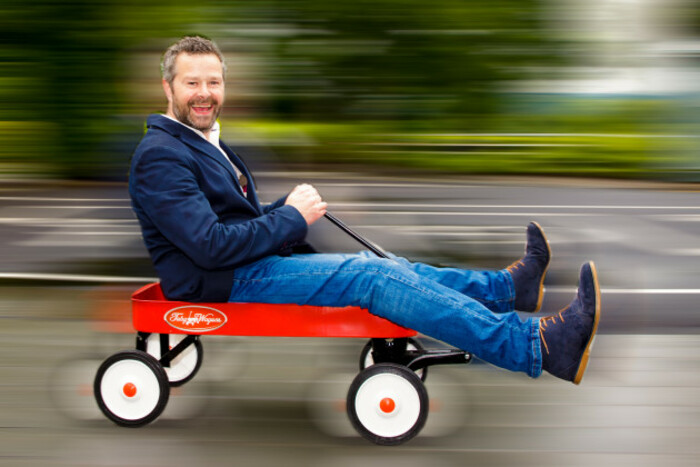 Source: JOE KEOGH
Lessons
There are lots of unexpected bumps in the road when you run a small business – well, any business for that matter.
A year after the shipping disaster, I got a letter from a solicitor firm in Ireland representing a client in the US who said I was infringing on their intellectual property.
At that stage, I asked myself if should I throw in the towel. But I thought, I'm selling a generic wagon here, there were different brands and they have been seen in cartoons everywhere.
So I said, "Take me to court. Let's go. I can't do anything else." This company didn't even have its wagons for sale in Ireland.
There were one or two more letters back and forth, but nothing happened in the end. Eventually I said, "You shouldn't be taking me to court, you should be hiring me to sell your products in Ireland. I'm the guy promoting this product, you're piggybacking off me."
These sort of things pop up out of the blue and you have to learn from them.
I've learned to be lock-tight on my orders because there is a three-month turnaround from when they start manufacturing to getting it into a container and delivering it to me.
But there are so many things that pop up out of nothing, and the latest thing is Brexit. Sterling has dropped, so now my revenue in the UK has dropped 30% overnight – and that market was half of my business.
And although the sales are still coming in, they're not as numerous as they were pre-Brexit, so I've had to look for other markets. Germany is now my main focus this year, and that's becoming a huge market for us.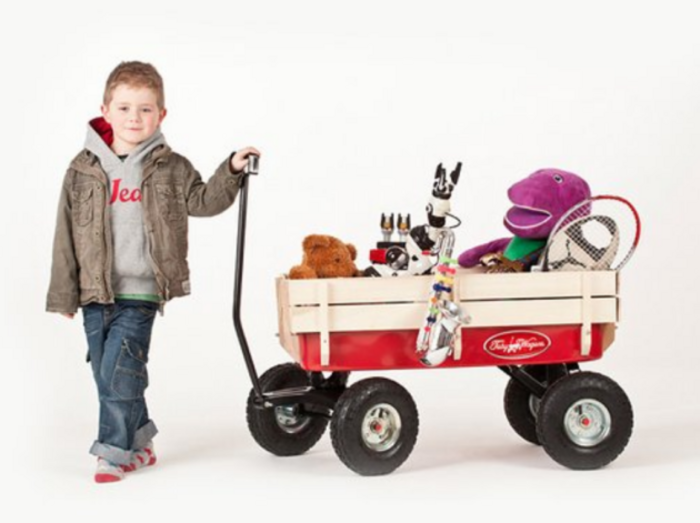 Future plans
There's nothing I would change about how the business has unfolded. I've always wanted to work for myself and aimed to have an online business, so I've done what I wanted to do.
Our one key product is the all-terrain wagon. We looked at branching out on products, but the wagon sells three-times over the next.
I figure there's no point in diversifying too much and trying to be all things to all men. I've got one niche product and should push that out into more markets rather than bringing more products into the same market.
I also have my eye on a couple of other business ideas, but if I diversify too much I could lose focus on Toby Wagons. It's a full-time job keeping this one going. There's only so much I can do.
Derrick Bell is the owner of Toby Wagons. This article was written in conversation with Killian Woods as part of a series on unlikely entrepreneurs.
Sign up to our newsletter to receive a regular digest of Fora's top articles delivered to your inbox.