'Don't ask your parents for startup advice - it will always be emotionally driven'
Sligo-based Declan Sweeney talks about coming back to Ireland to set up a business.
SETTING UP A business wasn't always on my mind, but here I am.
I grew up in north Leitrim and did business studies, but it wasn't very exciting to me at the time; it was more about corporates rather than entrepreneurship.
I suppose business, and startups in general, are far more popular now – there's definitely far more written about them.
But, at the time, startups and entrepreneurship weren't really part of the vocabulary, and it wasn't until I moved to London that I started to hear about people doing their own thing.
When I left college, I initially studied agriculture in Galway. I didn't really enjoy the course – it was a good programme, but it was a bad fit for me.
My experience in college probably had a bearing on what we do now in the business. At StudyBundles, the company I set up with Daniel Hinkley and John O'Hagan, we try and align students up with courses and colleges that suit them better.
I went to Poland for a year and did an TEFL course. I used my job teaching English to travel quite a bit, going to the likes of the US and Australia.
I really enjoyed that, but at the time I wasn't really sure what I wanted to do with my life. Like a lot of people, I had sprung out of college and felt a bit lost.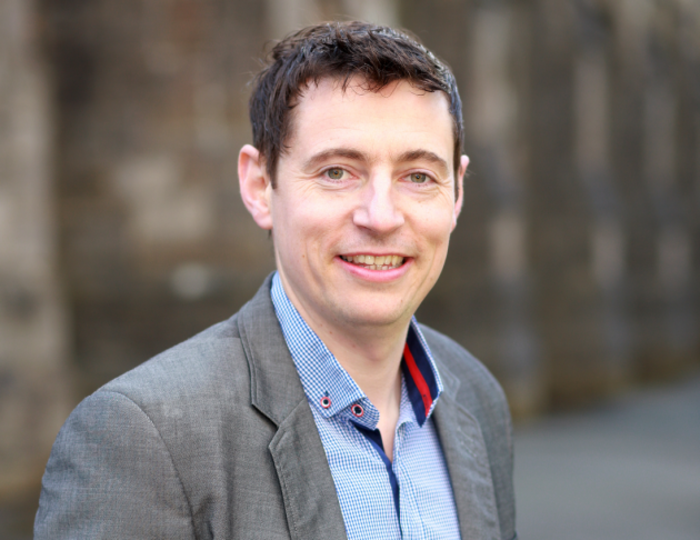 Source: StudyBundles
Teaching life
I decided I liked English-language teaching, so I applied for a course in Manchester to do linguistics. So I moved to the UK from Australia and took on a three-year degree.
I stayed there for four years and met with my wife, who's also Irish, and my current business partner Dan as well.
I ended up working for a number of language universities in London and moved from teaching English to casual speakers to people a bit more serious about it, like those studying the language.
It was a natural progression for me, but there was a lot more pressure. In the summer classes you're teaching, the stakes are much lower. But these were people learning English as preparation for university, and they needed to have a certain level to get in.
That's how I got into the university sector – I ended up looking after all incoming students at the University of Bedfordshire and being responsible for all the information they would get before they start.
That meant all the stuff like induction, orientation and things that help them settle in. That was really when I spotted the issue that universities and colleges were having, and that was the start of what we're doing now.
Moving home
Me and my wife, Nessa, were working full-time in permanent jobs, then our first child was born. That made moving home to Ireland a priority so we could be closer to our families.
Nessa had applied for a job in the HSE in Donegal and got a letter saying she got the job. But she needed to let them know by the next day if she wanted it. So we had to make a decision there and then.
She was on the panel for years waiting for a job to come up, and we felt if we didn't move home then, we may never do it.
We dropped tools and I handed in my notice the next day. That was in 2013, so it was a big decision coming back to Ireland as there was very little in the way of work. Especially in the north-west.
I did a little bit of teaching and subbing when I came back, but nothing stable. So I was at a bit of a loose end. Previously, I'd talked with my old colleague Dan about doing some sort of business together. But we didn't have anything concrete.
I had also met up a few times with an old school friend of mine from Leitrim, John, and we talked through some ideas. When I moved home, I had a bit more time and that was when the idea of starting a business got more serious.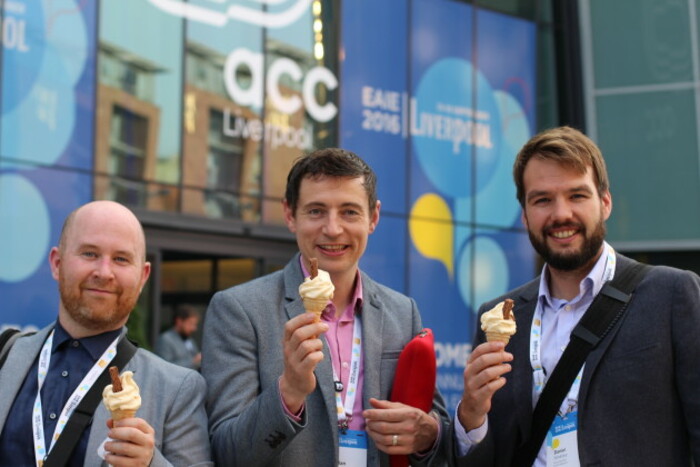 Source: StudyBundles
Startup lessons
We got a kickstart with Enterprise Ireland's New Frontiers programme, which helped us to hone in on an idea.
But there was no lightbulb moment - StudyBundles only came about due to lots of failed experiments before we found something that really worked.
Generally, we felt the way students would transition from school to university was poor. Students didn't know what to expect, and they were unprepared.
We didn't have a solution for that, but we knew if we found a way to solve that problem we would have a business.
The biggest lesson we learned really early on was about building the solution too soon. It seems to be something entrepreneurs do because you get so excited about an idea.
We started developing a brand without testing whether there was a market – we didn't know if anyone will pay for it.
We approached our customers, and they just didn't respond to us. Not even negatively, just no response. We couldn't work out who was going to pay and how it would work.
That meant we had to go back to the drawing board and develop a customer-first approach, teasing out the actual problem and finding a possible solution from there.
That was definitely much more effective. If I was to go back, that is one thing I would do differently. We would have just spoken to customers first, working backwards.
Highs and lows
I find getting to talk about the company and sharing the story in the media can help reassure your family and friends that what you are doing is not just a personal project.
I think parents and the family are worried about you when you start a business. It's an uncertain path.
I remember someone early on saying to me, "Never ask your parents advice when you're in a startup." Your parents are naturally concerned about what you do and they want you to have a secure job.
I would echo that advice. You have to be selective in this game about who you get advice from because you don't want them feeding back negativity. You don't always get an objective opinion from family and friends.
I've received advice from business mentors through the Enterprise Ireland programme, which is where you meet like-minded peers also starting businesses.
You can feel isolated at times when running a business, even more so out in the north-west because the startup cluster isn't as big.
All my friends here are accountants, engineers or teachers. You meet them at the weekend and you're chatting, but you find you don't have as much in common with them as you used to. Setting up a new business is so different to any job.
And they're not sure what to ask you about the business, because they're afraid in case it's going bad.
Plans
We're talking to a new partner in Australia at the moment, so we have a few prospective pilots and customers down there lining up. We're bootstrapping, so we don't have any funding and are using money we have from sales to grow the business.
On a personal note, I'm just trying to juggle family life with growing a successful business – while also trying to build a house. But it's manageable because we're close to our family. If we were still living in London, I couldn't possibly do this.
Living in the north-west, you get to keep your expenses low, which is handy during the months you don't get paid. It has all felt very chaotic at times and there were moments at the start when I was tempted to pack it in.
But as the company has started to grow and gain real traction – with clients like the University of Manchester and the University of Limerick now on our books, it has all been worth it. We got through the hard times and now it's time to enjoy the success.
Declan Sweeney is the co-founder of StudyBundles. This article was written in conversation with Killian Woods as part of a series on unlikely entrepreneurs.
If you want to share your opinion, advice or story, email opinion@fora.ie.
read more on