'Three months after I moved to the Caribbean, my boss went bust. Suddenly I needed a job'
Business owner David Campion talks about the highs and lows of setting up his own firm in Barbados.
MY JOURNEY IN architecture started when I was quite young.
My father ran a construction company. Every summer, when everyone else was kicking a ball against the wall, my brothers and I were pulled out of bed and dragged onto building sites to mix plaster.
I didn't know it then, but it would give me my direction in life. I've settled into architecture, my younger brother is a construction manager for my company and my older brother is a construction manager in Dublin.
It was also encouragement in school that led me into this line of work. One day my English teacher held a career guidance day where everyone would chat through what they want to do when they finished school.
When I said I would like a career in architecture, the class burst out laughing because they knew me as a dosser. As tough as you think you are, that hurts.
My teacher saw that it affected me and after class he said, "If you're serious about architecture, I have a brother who runs a firm in Dublin that you can get some experience with."
The firm was Murray O'Laoire Architects and, true to his word, my teacher got me two weeks' work experience.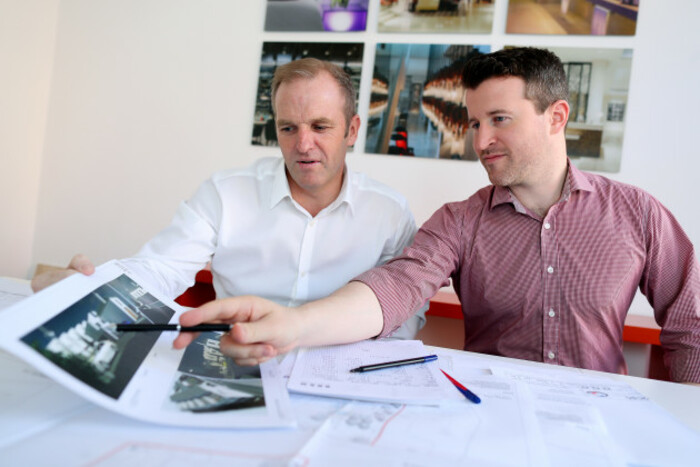 Source: MAXWELLS DUBLIN
Starting out
I was smitten with the work from day one. I ended up doing a year-long stint of work experience before I headed off to college in Limerick to study architectural technology.
It was tough doing the course and living away from home. With all the costs, I knew I couldn't fail – if I did, it would come back on the parents' purse.
The first summer in college, in 1992, I had a chance to work in Russia through Murray O'Laoire on a bank being built along the Moskva River.
Moscow, at the time, wasn't the safest place, and we all had personal bodyguards when we went to the building site.
It was a hell of an experience, and it gave me the hunger for more opportunities to travel and work. So straight after graduating I headed off to San Francisco. I think the whole Californian lifestyle appealed to me.
I convinced my younger brother to come with me, and we stayed for three years working with an engineering firm. My first job was earthquake-proofing blocks of apartments and then I moved to designing new projects.
I also coupled that with a night job in an Irish bar. But after burning the candle at both ends, one event signaled I needed to change.
Myself and my brother were in need of a car, and we bought this Honda Civic. The man was looking for $2,000, but we said there were loads of problems so he settled for $1,000.
It turned out my brother was right, there were loads of problems – 20 minutes later we were driving down the main boulevard in San Francisco when the brakes failed.
We were heading towards a three-lane avenue and had to mount the central divide to bring it to a stop. That was the signal to me that it was time to leave San Francisco.
Going home
I headed back to Ireland and my relationship with Murray O'Laoire helped me land a job in the firm. I worked on some great architectural projects there, like Terminal 1 at Dublin Airport and Carton House Hotel.
I was made an associate director and encouraged to do a bit of tutoring in Dublin Institute of Technology, which I did for three years.
That brought me up to 2009 when the economy had begun to nosedive, which affected architecture of course. Layoffs were starting to become prevalent and everyone, like myself, was thinking, "What's next?"

Source: Niall Carson/PA Images
Murray O'Laoire had one project out in Saint Vincent, an island in the Caribbean near Barbados. The firm advertised internally for a position to run the show out there and seek other projects in the region.
I missed travelling after being based in Dublin, so I went for it and got to the final round of interviews. Since I was within a shot of getting it, I figured I had better mention it to my wife.
I asked her one evening to consider the move and her initial reaction was "no way". To be fair to her, that's a reasonable first reaction, but I asked her to sleep on it. The next morning, she told me over breakfast she would be open-minded.
It gave me the confidence to go into the final interview that day and get the job.
New office
By January 2010, my wife, our three kids and I were living out in the Caribbean. I opened the office in Barbados and started working on the resort in Saint Vincent.
It was just myself in the office, the project was progressing well, and I was also on the hunt for more business.
Three months into our arrival, I was at a meeting and my phone was ringing continuously. It was my wife, so I knew there must be something wrong.
I took the call and she was hysterical on the phone. She said she just got a message from a friend in Dublin that Murray O'Laoire went into liquidation.
I knew the firm was struggling, but hearing that way was difficult. The last thing I wanted at that stage was to give her any reason for further panic.
So I said, "It's fine, I've been expecting it. I already have a plan B figured out." I went back in and finished the meeting to be professional, but I also didn't want to give into the panic.
I went into a resilient mode after that. It was scary, but the adrenaline started to kick in – it was the start of another adventure.
I had three kids in Barbados and was without a job, but I didn't really panic. I went into survival mode and actually got excited about my next move, which often happens when the odds are stacked against me.
I started to think of conversations I had with different people about opportunities.
I had begun working with a Caribbean hotel developer to set up his design team to service his portfolio, so straight away I had a bigger opportunity and I was setting up another office from scratch.
Within the space of a year, I had set up the business, HD Studio, and we had a team of 40 people.
My own business
That was a great opportunity. It was like running my own company and was a stepping stone for me setting up my own firm. But I started thinking that if I could do it for them, I could do it for myself.
I was at a crossroads because Ireland had started to recover and there was more work. I was offered associate directorship with a firm of architects at home and was also pondering a move to Kuala Lumpur.
My wife and kids were happy in the Caribbean, and we weren't ready to return home, but Barbados was in the middle of a recession itself.
In the end, it was advice from my father that encouraged me to set up my own company. I wasn't sure if I had enough money saved up for it, but his encouragement and support was the final reassurance I needed.
The next day I shut down any notions of going back home and set up my own company – Argo.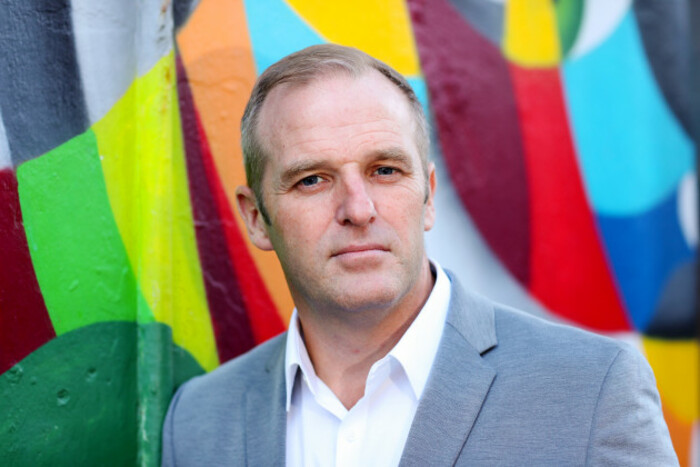 Source: MAXWELLS DUBLIN
I knew clients in the Caribbean are frustrated about the inefficient and poor delivery of projects, so we've tried to stand out in that regard – we have international expertise coupled with local knowledge.
But I also had one eye back on Ireland, because I want a business connected to my home. Establishing a presence in Ireland also allows us to benefit from being located in two time zones.
We can pitch a 13-hour work day to clients, because when our Dublin office clicks off our Caribbean office continues the work. It allows us to compete for time-demanding projects.
We have worked in 22 countries over the last five years and have live projects in eight countries presently. We've worked with major brands such as Virgin, Marriott and Mercedes and will be positioning staff in two new territories by the end of the year.
Learning lessons
Like most entrepreneurs, I've fallen into the trap of letting the business consume me.
It's from a stubborn determination to succeed, but when you have a young family with ballet recitals and soccer games, that relentless work ethic isn't compatible.
I've learned to strike a balance and do my best to take every Sunday off, but it's difficult when I'm travelling weekends.
I'm also learning to step back and trust the people I've hired. I have a passion for the detail, but if I focus on each aspect of a project I can't keep my eyes on growing the business. That's a mistake I've been making, but I'm improving on it.
I've also stopped self-critiquing the business. When you're building a company, you think you are on the right path, but it's only when you invite someone into the office that you get a real picture.
Last year I invited a prominent businessman who has run huge companies in the Caribbean to look at our books, office, vision and selling points.
He spent an hour critiquing the business and it showed me that a critique from someone not connected to the business can show ways to grow the business that I haven't considered.
David Campion is the founder and managing director of Argo Development Studio. This article was written in conversation with Killian Woods as part of a series on business mistakes and what can be learned from them.
If you want to share your opinion, advice or story, email opinion@fora.ie.