'We sold out three days after launch, but then panic set in. We had no money to buy stock'
From digital marketing to selling hoverboards, Daniel Nugent's next idea is making computer glasses cool.
A FEW MONTHS ago my partner Sacha and I started a business as a small side project, and it has quickly become my full-time job.
I've had other business ideas in the past, but due to a mix of being too busy or just realising they weren't quite as good as I first thought, nothing really took off.
When hoverboards were in fashion, I bought lots of them. Around Christmas 2015, I purchased a batch of them from China and resold them here in Ireland. It ignited my interest in buying and selling.
I made a small bit of money from them and was able to keep one myself without having to spend any money on it, which was the initial goal.
I think it was from there that I put two and two together. I was working in a digital agency and I knew exactly how to sell other people's products and source them, so why couldn't I sell my own?
For the next year and a half I waited for the perfect idea because, of course, the hoverboard thing was only a fad. So from January on, I was thinking constantly about what I could sell online.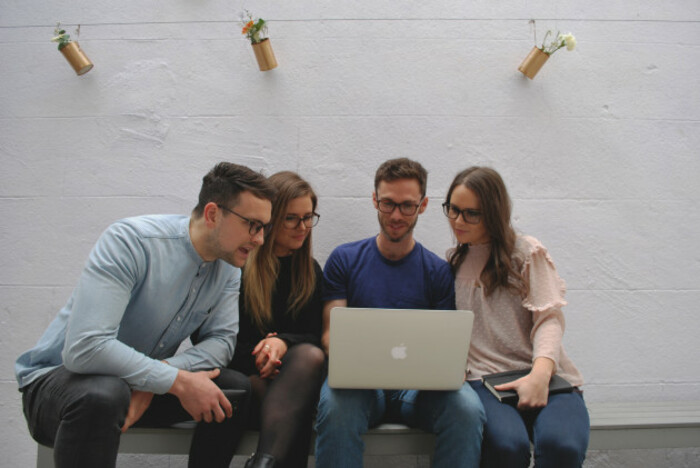 Finding an idea
I accidentally stumbled on this concept for Ambr Eyewear, but it was my girlfriend Sacha who had the idea to turn it into a business.
I've been working in digital marketing for years, which means I've spent a lot of time in front of a computer screen, and I was starting to find it difficult to sleep at night but couldn't work out why.
I started reading about digital eye strain on the internet one day and noticed I had a lot of the symptoms. So I bought these ugly glasses with orange lenses that promised to relieve the pain.
The difference they made to me was unbelievable, but the only problem with them was they looked a bit stupid. The lightbulb moment happened then when Sacha suggested that these could be a great product to sell online.
I did some research and found that there was the possibility of developing these glasses with clear lenses so that they still had the same effect.
So myself and my girlfriend, who works in digital design, set about designing a brand that we felt would resonate with people like us and those in the tech industries.
We designed frame styles and developed a range of glasses to get going. Then, after trying a number of manufacturers, we found one that absolutely nailed it.
So we got a small batch of  products, took photos of them, got the website up and within 24 hours had orders coming in from the US, Australia, Canada and India. Within three days we sold out.
Running out
After those three days though, there was a moment of real panic. Production time meant it would take at least a month to get new stock in, and we knew we needed to ride this wave.
We had a buzz around the product, and we couldn't afford to let all this attention and web traffic we were getting go to waste. But the issue was we had no money to buy stock.
I was panicking a bit and a close friend of mine offered a good bit of money in exchange for a chunk of the company. But I thought that it had gotten off to a good start, so giving away equity is something I might live to regret.
Instead, we decided to open up pre-orders on the website. We basically had to hope people would be willing to wait three to four weeks to get the product delivered.
We ended up making €10,000 from pre-orders to buy a batch of stock to fulfill all the orders. Since then, it has really been like a rolling operation where we keep investing, building more stock and now plan to grow out our range.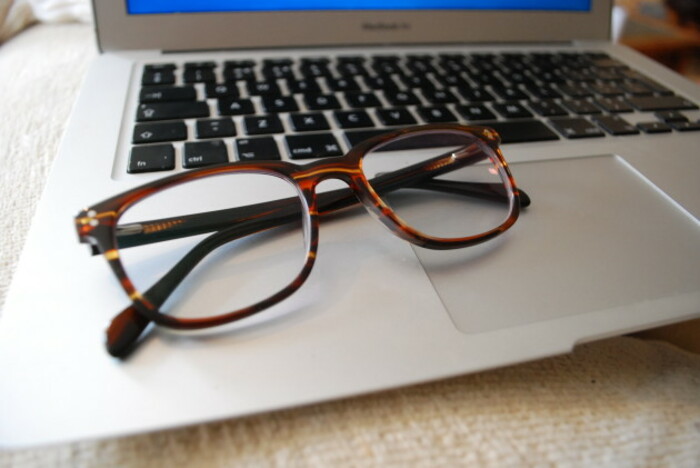 On the side
I thought that Ambr Eyewear would be something small on the side, just a project where we would sell five to 10 pairs of glasses a week that might supplement my electricity bill for the month.
But since it took off, it has been so much fun. And it has been interesting that most of our hype has been organically generated.
We've only spent about €300 on Facebook and Google advertising, so the majority of attention we're getting is totally organic. And I think that's because people haven't seen something quite like these glasses before.
I've actually had people contacting me to ask for advice about how to launch a product. It's really flattering to be asked, but I can't always help them.
For a product to go viral or get organic attention from the media, it has to be something new and exciting. If you were just to release a new line of men's shirts, you're not going to get picked up by the media for free.
But because you couldn't buy computer glasses that were cool before, that has given our product launch an edge. Then again, I could have just gotten lucky.
Big move
My house is a mess at the moment. When you walk in the front door, you have to duck for all the boxes full of glasses – but we're moving to our own office next week in Dún Laoghaire.
I had to give up my full-time job as of this week because I can't keep up with the demand of fulfilling orders and replying to queries online from customers.
I also have an 18-month-old daughter, so myself and Sacha are balancing our full-time jobs and our new budding business.
When I get up, I look after my daughter first of all before going to work. Then when I come home, we spend time together before she goes to bed. From 8pm until midnight then, we're fully focused on the business.
We hand-package every single order, put all the tags on, check every individual pair of glasses, and then I'll go to the post office on my way to work.
But the last two months since we launched have been a lot of fun. I get a real buzz from coming home and seeing how many orders we got that day.
I even have an alert system set up that means every time there's a sale, my phone makes a cash register noise that goes 'cha-ching'. So I'm at work thinking, "Yes, another one."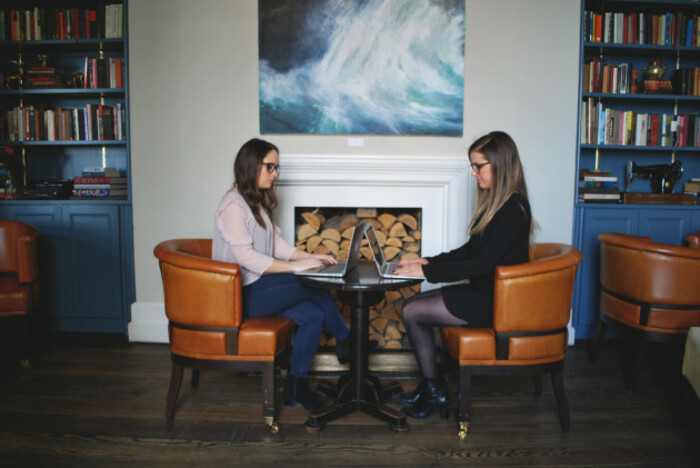 Next up
Looking back, I can't think of one thing I would do differently. Of course I wish I had bought more products at the start and have a couple more styles, but I think it has all gone as well as it could.
I'm quite proud that we've been able to create a brand that is perceived as fashionable and cool, which was our objective – we want to make these products mainstream.
Our market is so large because so many people work using screens, but now we need to find some new distribution channels through retail partners because we rely so much on digital sales.
People suggested going into pharmacy chains, but we're selling these more as a fashion item as opposed to a medical device, so independent boutiques are the way to go.
The dream scenario in a year's time would be to have our own shop – just a small one.
You don't need a big shop to sell glasses, just something the size of a Sunglasses Hut you might see in an airport. If we had something like that in a busy commercial district in Dublin, I'd be happy.
Daniel Nugent is the co-founder of Ambr Eyewear. This article was written in conversation with Killian Woods as part of a series on unlikely entrepreneurs.
If you want to share your opinion, advice or story, email opinion@fora.ie.
read more on