'Your business becomes part of who you are. That makes it harder to shake off criticism'
Caroline Dunlea talks about what she learned from setting up her own firm.
WHEN I FINISHED my Leaving Cert, I went on to do a course in business and tourism. And when I finished that, I started my family the following year.
So when all my friends were in college, I was at home with a baby having a very different early adulthood experience. I was 19 when Jake was born and went back working after six weeks. I got an opportunity to work in a logistics company in the office and grabbed the chance with both hands.
I worked in a lot of logistics companies and made my way up the ladder along the way before eventually joining a tech company called Avvio – a move that led me to set up my own company.
Founded by two Limerick brothers, Avvio creates booking systems for hotel websites. It's where myself and my business partner, David Brett, worked before we set up Core Optimisation in Shannon.
David started there in 2002 and I came into the business in 2009. We worked closely together and eventually I moved my way up the company to sit on the senior management team.
Like a lot of things, you get to a certain point where you feel like you want more influence than you have. We felt there was an opportunity to run our own business that looked at optimising a hotel's entire website and perfect how the weddings and conferences side of business is sold.
These were parts of a hotel's business that wouldn't always be looked at by tech partners because commissions would have come through the booking engine. It meant all the focus was on rooms.
So we set our company up but sat on our hands for a while. We were thinking about whether we should stay or go. I was continuing to do well in the company and David came to me one day and said, "I'm ready to go. I'm going."
I said, "I can't really go." I was just too afraid to be honest. One of my children was going through college and I said again, "I can't go."
We were both over in London, he was handing in his notice and going off to do a couple of meetings. I'm quite thought-through usually as a person, but I remember thinking on the flight, "I'm so stupid. What am I doing? Of course I have to go. If I don't go now, I never will."
I was literally sitting forward on my seat thinking, "Get me off the plane, get me off the plane." I needed to ring David. I don't think he was surprised to get the call; he knew I needed a bit more time to make that step. It was a huge decision.
Not only because of my personal circumstances, but I was emotionally attached to Avvio – I loved the people. But this was the moment to take that leap.
I went back to David and said, "Absolutely, it's the two of us in this." So we handed in our notice and Avvio were very supportive actually and became a client for the first year of business.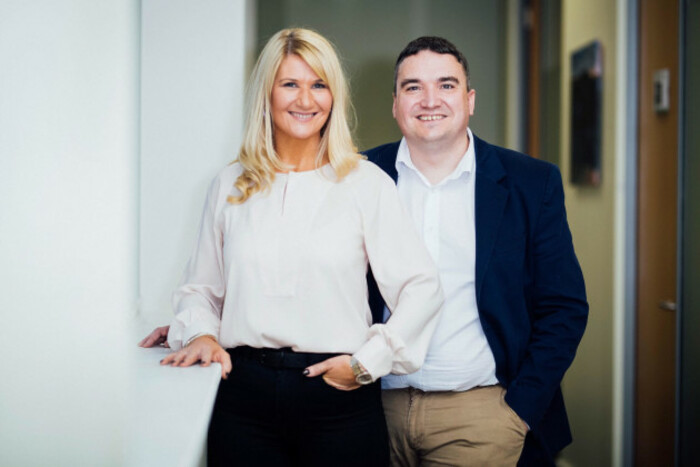 Source: Brian Arthur
Starting up
We had a year before we fully committed. We had two clients in the bag. That gave us a bit of security as we built.
We had a good list of contacts starting out and our plan was to work across hospitality – and we've also moved into the retail and the business-to-business industries.
We take a very onerous approach around not just getting the traffic to a website, but also looking at what happens to it when users are on a site. We help people understand a user's journey through a website and where they might be getting confused.
We place software on our clients' websites which – through heatmaps and scroll maps – allows us to see opportunities for improvements.
In a nutshell, we've gone from the two of us and a handful of clients to 12 staff with 70 clients across Ireland and the UK in three and a half years. We've also just recently taken on two hotels in Pakistan and a fashion design agency in Greece as clients.
We've done all that with no sales team; it's all organic and from referrals. For example, one of our largest clients is currency exchange firm Eurochange in the UK – which has over 160 brick-and-mortar shops. That sale came from someone leaving the hotel industry, moving to Eurochange and wanting to work with us again.
It was still a tough client to get over the line though. When we started talking to them, they told us they wanted to get their online business to be as big as one of their stores. That was the goal, but their online business has grown to nearly a fifth of their business. That has been a phenomenal success for them and us.
Obstacles
Challenges are always there in terms of cash flow and always thinking where your next client is coming from.
Being in business – and I don't think I appreciated this fully – is always scary. You're always looking over your shoulder. 
It's not because of the business or because of yourself; it's scary because you have a responsibility to the people you have employed. Whereas before, when you're working in a role, you've got that one job to consider.
But as an entrepreneur, there is so much more you have to do. You have to do admin while also being on top of sales and then develop your team. Also you need to be mindful about developing a culture in a business. You want a culture that people want to work in.
We're very open with our communication in the team and we give everyone as much opportunity as they want within their own roles. But as a young company, we're still finding our culture and who we are.
Some of the staff we had in during the early days would have been younger and wanted to go to Dublin, so we've had to deal with employee churn. But more recently some of the people working for us have come the other way from Dublin to Shannon – places like Clare are great for work-life balance.
It can be daunting as well, because when you're growing at a certain pace, you do need to make sure your processes are in place – otherwise you'll slip up. I remember hearing early advice that "businesses die from indigestion, not starvation".
It resonated with me because at the time we were growing so fast that we were scrambling to make sure we had the right staff in place, not just any people.
Having the right type of customer is very important too. At the start, you just want to grow your business so all clients look great. But you need be careful about taking on the wrong clients. You can't just go in, take their business and not make a difference. That will ruin their trust in you.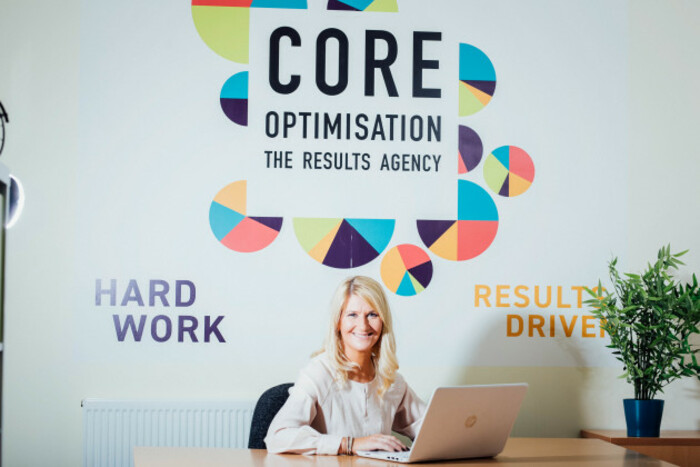 Source: Brian Arthur
Advice
Whether I was working for somebody else or for myself, I've always put in a significant amount of hours into work. Someone said to me, "You'll never work as hard for someone else as you do when you run a business." And they're right.
But that workload doesn't shadow the huge satisfaction that goes along with watching a company grow from an idea into something successful.
It gets much harder to spread yourself across the different facets of business – you don't think about that setting out. But it feels rewarding to do those jobs because it's your company you're building.
I never appreciated the level to which I would always be worried in business. You're worried about where the next sale is coming from, whether your customers have paid and so on. I don't think I appreciated that level of responsibility.
I managed teams in the past, but when you own a business, you're massively responsible. And you need to take that very seriously. In an early-stage company though, you get very comfortable being uncomfortable.
I have a huge amount of admiration for anybody who runs a business on their own. I'm very lucky I have a business partner. I have somebody to bounce ideas off, and so does David. If I'm having a bad day, he'll be having a good day, and vice versa. That's massive.
I think, if I was a business owner and didn't have a business partner, having a mentor would be crucial. You spend so much time in a business that it is part of who you are.
It's a reflection of your personality, and that makes it harder to shake things off. Criticism or bad feedback sticks with you. You need a conduit or somebody you can talk through issues and appreciate the successes with.
Plans
Not being afraid to have grand ideas is essential as well. I'm not a bit afraid to say to anyone we are as good as any agency that might be in Dublin with four-times the amount of staff.
I'm not afraid to say how fantastic we are and tell people about the great results we get. But I also know where the line is. People might ask why we don't do design, and I can say that's not who we are. We'll work with a design agency, but it's not our core skill set.
Knowing who you are and what you're good at, and making sure you can articulate that in a good way, is really important.
Originally we were a two-person company with two clients. Then the following year our turnover grew by 400% and we got our first employee and our first UK clients.
In 2015, we were sitting in any hotel lobby working. We didn't have an office, both worked from home and met up when we needed to be together.
Looking into 2019, we're hiring our first employee who will be based outside of Ireland – a digital account manager in London. And we're moving offices in January as well into a bigger premises.
That's all going to help us grow in 2019 and beyond.
Caroline Dunlea is the co-founder of Core Optimisation. This piece was written in conversation with Killian Woods as part of a series on overcoming obstacles when launching a startup. 
Get our NEW Daily Briefing with the morning's most important headlines for innovative Irish businesses.