'The beginnings of the business go back to the day my husband bought a laser machine'
Caitríona Leather talks about leaving her admin job to set up a fashion accessories business with her partner.
A FEW YEARS ago, I would never have risked setting up my own business.
I had a steady job working in admin in the Irish department in the college here in Galway, and my husband Dara had been doing flooring for the past 20-something years. But when the economy tanked, his work was very hard to come by.
Our previous careers were definitely different from what we're doing now, but Dara always had a good eye for design. He has always been the creative type, with loads of side projects and different things to work on.
And we have always talked about possibly launching our own thing together, mainly because it would give us the chance to work together as well.
Yes, we definitely took a chance. We had steady and stable jobs, and we weren't even sure what it would be like working together as a couple. It's not for every couple, but it works for us.
What we have is quite quirky, but it's something that's really authentic, I suppose. We only started in November, so we're not even at it a year yet, and we're still at that humble beginnings stage watching an idea we wondered about grow.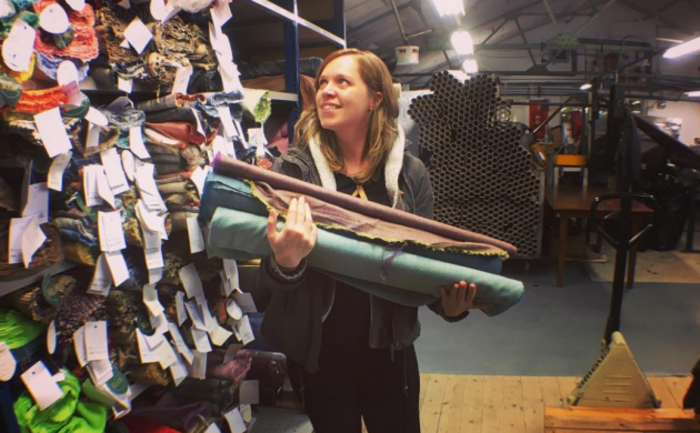 Source: Fiáin
The start
The beginnings of the business goes back to the day Dara got the laser machine. The machine is such a fantastic piece of equipment because of what it allows us to make, design and personalise.
We had a different idea that we wanted to do, but then we came across this idea of making wooden bow ties and we honed in on that. Getting that to the stage where we both left our careers behind to focus on it was a long road.
You start off brainstorming and then piecing things together, and it just gradually grows before your eyes. And then slowly you end up wanting to spend all your time on it.
I suppose I'm not completely leaving my job in that I'm taking a career break for a little while. But that was still not a decision I made in an instant, it took time to flesh out the idea into a business we could start.
You start with an idea and then get a product to show people, and the energy you need to put in increases as you get closer to the point of releasing a product.
Dara has been self-employed his whole life, so he's used to working for himself. I come from a different background, with very structured work. Working for someone else has its advantages, but it's a bit magical to see something you worked on come to fruition.
Of course it sometimes feels like work, but when you're doing it for yourself you are that bit more invested in it.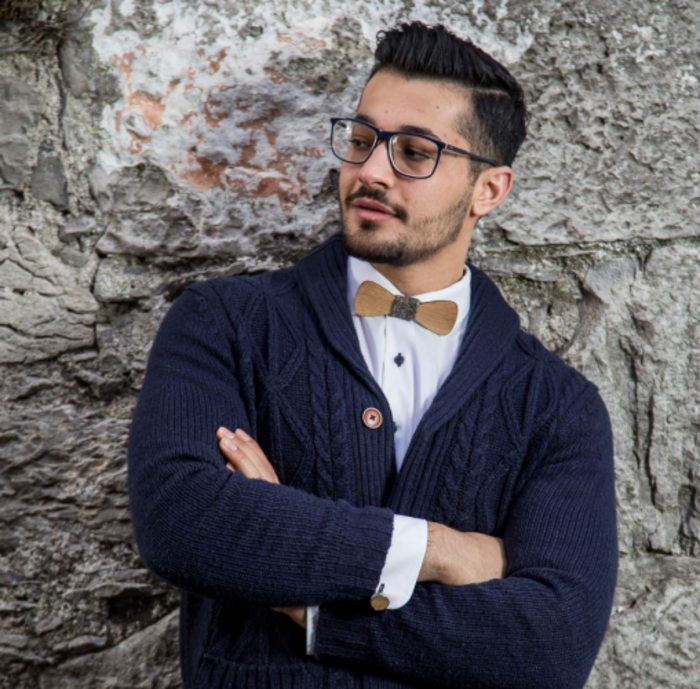 Source: Jeff Warde
Planning phase
We launched Fiáin, our Irish craft accessories business, in November last year at a fair that was organised by the Local Enterprise Office in Galway. A week later, we had our website ready to go live.
A lot of planning went into making sure we were ready – for instance there was a learning curve involved in using the laser machine. Selling these sorts of fashion products and accessories was also new to us – it's a different world.
In the design process, you have to run through every scenario, and you need to think if a customer does this or that to the product will it work. That's what we poured our hearts into preparing in the year up to the launch.
Even when you're settled on one bit of the business, whether it's the logo or the packaging, you still end up tweaking things.
We needed to change the logo a little bit because of the name Fiáin, which is the Irish word for wild. We got a little bit of feedback that it was hard for people to read, so we changed the logo a bit to make it easier to read.
We agonised over that. It would have been easier to pick a name in English, but we wanted the name to be Irish because we're from the Gaeltacht and it's a big part of my heritage.
So we had to spend time on thinking around the problem and ended up tweaking the logo to make it easier to read and added a phonetic on the site to explain to people how to say it.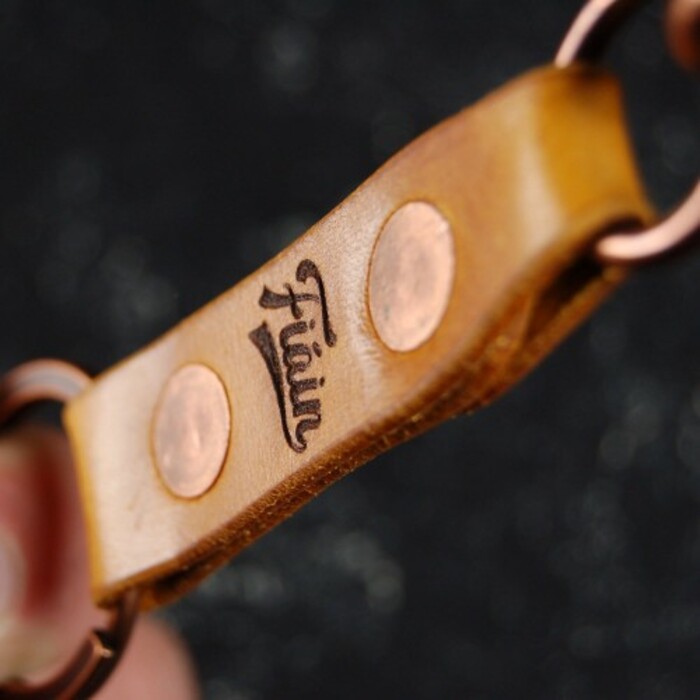 Source: Fiáin
Brick walls
My favourite moment so far has been the fair in Galway, because it was the first time we started showing off the product to people.
Obviously we had shown the products to our friends, who we used as guinea pigs. We would say, "Use it, wear it, batter it. Tell us what works and what doesn't."
We got feedback from them, but the moment we showed it to the public was different. I loved getting people's reaction, spending the weekend chatting to people and explaining the story behind the business. That makes the most challenging part of it all, the design process, worth it.
We've had an idea once or twice and poured hours into it or tried to fix the design of something, but you hit a brick wall. Sometimes you can figure things out but there are times it just won't work and you need to abandon it.
That can be very frustrating because you just look back on it as lost hours. One difficulty we had was with how to package the products in a really attractive way.
The tweed we use is from Donegal and the wood is wind-felled from Carlow, and we send a certificate of traceability that comes with every wood product as well.
Trying to put all that in a box in a way that looks nice took a lot of effort. We ordered boxes to put the bow ties in, and they were completely wrong. It didn't work.
And when you order boxes, you need to order certain quantities. So we got a-hundred-and-something of the ones that didn't work and we still have them.
Myself and Dara were looking at each other thinking, "What will we do with these now?" We have a nice way of packaging it all up now, but it took a lot to get to that point.
But you learn lessons and if you got really frustrated and fed up with things like that, you wouldn't keep going.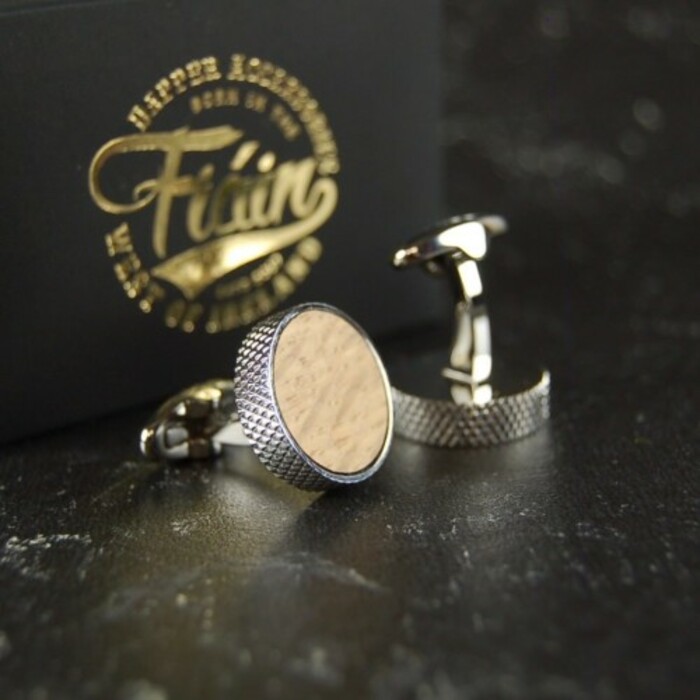 Source: Fiáin
[embed id="embed_2"]
Advice
The one bit of advice I'd have for anyone starting a business is have patience. To make decisions and get the design process right, you need to have buckets of it.
When you're excited about something, you want it to be ready now. But that's not how it works, it takes time.
For us, we couldn't do this completely full-time for a while, which was frustrating, and I imagine most people looking to start a business aren't sitting at home twiddling their thumbs thinking I have all this time.
Take the neckties we have: they're made of tweed and have nice hardware on them, but it took ages to find the buckle on the back.
We found some that were cheap, but they didn't feel nice in your hand and rough on the edge. We could knock out really cheap stuff really fast and possibly make better money on it, but we didn't want to do that.
I believe most people have an innate sense for something that's well made. You might not pick up a bow tie and think that's a nice closer, but if it's cheap you notice.
So we ended up having to look further afield to get a nice cast piece that's smooth, and the action of it opening and closing was nicer. That's the sort of stuff that takes time.
Worth it
Starting this month, I have a year-long career break and I'm real excited about Fiáin being my sole focus.
I can't wait to see more examples of how people are using our products. The other week, I saw one of our friends who was trialling a wallet we made pull it out and they were still using it.
You can ask friends for critical feedback, but sometimes that's hard to get. But one real big tick beside our bow ties was when a friend asked us to make him one for his wedding day.
That will be in his wedding photos forever, which are special to him and makes it really special for us. It makes you realise something you make is actually good.
And it's cool to think those things are happening out in the world but we're just not seeing it. You get through the tough times by reminding yourself of those things.
Or even when you see people's reaction to the product and they pick up on a small detail you worked on. They might say the logo looks really well.
You might have put hours of research into it. So to hear it appreciated, that's what makes it worth it.
Caitríona Leather is the co-owner of Fiáin. This piece was written in conversation with Killian Woods as part of a series on unlikely entrepreneurs.
Sign up to our newsletter to receive a regular digest of Fora's top articles delivered to your inbox.