'When my kidneys failed, I had to abandon my dream to be a pilot and find a new career'
After investing thousands in flight training, this entrepreneur launched a medical startup.
BEFORE I LAUNCHED my own business or even started working in the technology world, my goal was to be an airline pilot.
That has been my aim ever since I finished school and it was all I ever dreamed of. Everything I studied in school and all my focus was trained on that.
From a young age, I had to make decisions about what way I wanted to go with my life because flight training is incredibly expensive – it costs over €100,000.
So I had to decide, do I go to college or start working straight away and save as much as I possibly can to chase my dream?
I went for the latter and the plan was to work a bit, train a bit and then work again to save money for the next stage of training.
I started working at Dublin Airport for a company called OCS – a mobility handling agent that looks after all the disabled passengers moving through the airport.
That's where I first started to get my sales experience, because I got to meet passengers every day from all walks of life and all around the world.
It's nice because you get to know people's stories and learn an awful lot of people skills – particularly around communication.
I was promoted to supervisor and was looking after a lot of operations at Dublin Airport on a daily basis at one stage and handling hundreds of passengers a day.
It was a bit of a stressful environment, but I love anything that is high pressure. Anything slow does my head in.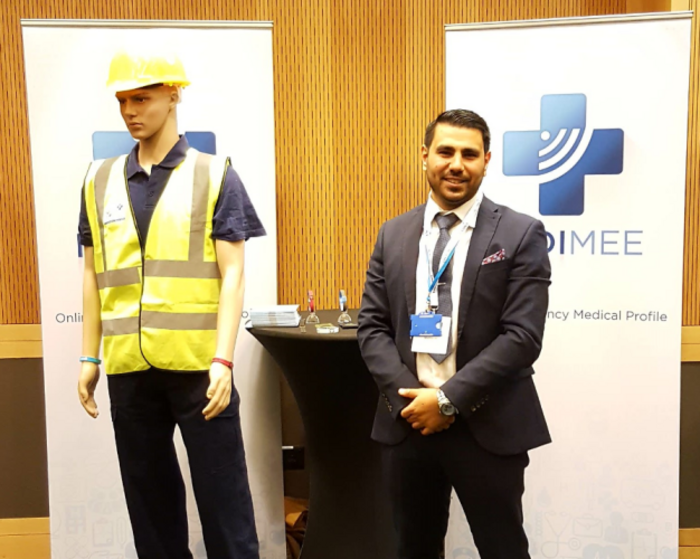 Source: MediMee
Turned upside down 
Everything was on track, the pilot training was looking good and I was progressing through it. That was until 2012, when unfortunately my whole life and everything I knew changed because I was diagnosed with a medical condition related to my kidneys.
When that happened, I was with a friend of mine and a vital organ in my body had stopped working. If it wasn't for that person I was with at the time, things could have turned out quite different – I may not even be here today.
From then I started to think that flying is no longer a possibility as a career. I had to come to terms with the fact it wouldn't have been right for me to invest any more money into training in case no airline would hire me.
That was actually a valuable business lesson for me. I learned you need to know when to cut your losses sometimes even when your heart is still in it.
A new career 
But it's also a tough lesson to take on board when you're as passionate as I am about flying. It took me an awful long time to come to terms with the fact I would have to abandon my dreams to become a pilot.
Between the physiotherapy and treatments, I needed a few months to get my body and my mind physically right. I also entered a deep depression because the one thing I was so sure about was now gone.
I had to start all over again and figure out a career, so I fell back on my second passion which was technology.
I was lucky enough to get a job then with the big US company, Oracle – which was involved in all different types of tech – and that got me back on my feet. The role gave me lots of great opportunities and I travelled the world with the job.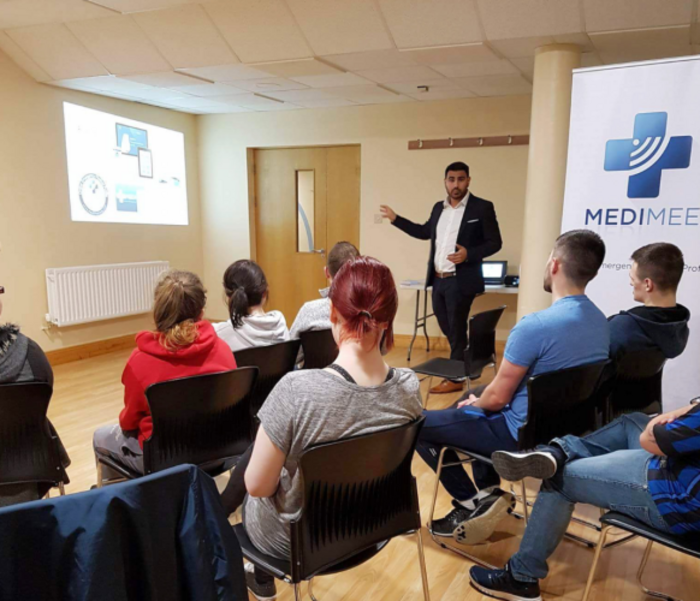 Source: MediMee
In that job I was, and still am, in and out of hospitals. That gave me the chance to see real-life superheroes in emergency departments making miracles happen every day.
However, I felt there were a lot of problems they shouldn't have to deal with. People would arrive in with all different types of conditions. Some people were conscious or semi-conscious and the same questions were asked all the time.
Who are you? What's wrong? Any medical conditions? Who can we contact? If the person was unable to communicate, people had no way of finding out answers to those questions.
It got me thinking that there has to be a better way of doing things. So I went about researching and developing something to store vital medical information which can be accessed by tapping off a wearable device.
Since then, we have created a working solution and only two weeks ago I used it myself.
I was at home in the house when my kidneys failed again and could hardly talk. My girlfriend Michelle called an ambulance. When they arrived, she tapped my phone off my wristband and it pulled all my medical information in seconds for the paramedics.
When we were leaving the hospital, one of the paramedic gave Michelle a big hug and told her this is going to save a lot of lives.
Leaving full-time work 
I had the idea for MediMee while I was working in Oracle, and it was always on my mind that I wanted to pursue it.
The biggest decision, and one of the most difficult, was the one to leave Oracle. It's something a lot of entrepreneurs in my position go through – you're worried about the leap of faith.
Leaving full-time employment and going at your own idea is a massive step away from a financially stable and secure job. I deliberated it for months until I felt it was make or break. We were getting traction with MediMee, so it was either go all in or nothing.
I debated about it with friends and family if it was a wise decision, some even thought I was mad to leave the job I was in. I was young, in a very senior role, travelling quite extensively, had health insurance and a guaranteed wage every month that wasn't reliant on a sales target.
I know startups are prone to failure, but I think if you want to give it your best shot you have to be at it full-time. If I only gave it half a go, I wouldn't be able to look back in 10 years and be happy with myself.
Leaving my job has helped progress the company because you know you have to make it work – there is no safety net.
There are nights I'm awake and I can't sleep. You're friends might be going out and doing things, and you're still wide awake in bed thinking what to prioritise tomorrow.
That's just a daily form of life and you adapt to it quite quickly. If you can't get into that frame of mind you won't last.
But the flip side is the highs of running a business and seeing someone's physical reaction to the product and idea – especially in the health service.
Next plans 
Things have skyrocketed in the last few months for the company. Any time we have a meeting with someone about MediMee they instantly get the concept and quite frankly I can't believe it hasn't been done.
Now we're pitching MediMee to companies as a way to enhance their employee health-and-safety systems because it can be built into their ID cards. We also have the smart sticker kit that users can scan to access medical information in the cloud.
We're rolling out the sticker kit with Deliveroo soon and also working with construction companies that are going to place the stickers on workers' helmets.
But we also want to help free services in the medical sector like Blood Bikes – a medical transport service that ferries packages between hospitals in Dublin for free – by offering them the MediMee solution for free.
Pitching to companies is the best way for us to grow because it will allow us to scale very quickly. But in the next few months, we will launch the personal edition of the solution and allow people to buy a device or have the information on their phone.
If you were to ask me three or four years ago if I would ever think about running my own company, the answer would have been no.
At the same time if you asked me back then if I would expect to have a life-threatening medical condition, I would have said no as well. But things present themselves in mysterious ways.
Bernard Nolan is the co-founder of MediMee. This article was written in conversation with Killian Woods as part of a series on unlikely entrepreneurs.
If you want to share your opinion, advice or story, email opinion@fora.ie.