'People will walk into your business to try to do you out of money - that's happened to me'
Aisling Hurley has chosen a tiny town in Laois as the spot for her digital marketing agency.
I RUN A digital marketing agency in a tiny little village with one pub, a garage and a shop, that's it.
Most people in my line of work wouldn't consider Laois as the place to set up, but I saw an opportunity. Businesses out here in the country want to be online, and instead of making them get on the road to Dublin, I was going to them.
Before the Business Fairy, which I set up in 2012, I had stints focusing on many different things. I originally did a bilingual business course, worked part-time during the day and I qualified as an auctioneer by night.
My dad was a builder and developer, so I ticked along doing bits for him and was able to build my first house at the age of 22. But long-term it wasn't for me.
I loved computers and this new thing called the internet, so I did a higher diploma in IT teaching and then got accepted onto a European pilot course for software localisation.
This involved lots of coding and debugging, which I absolutely loved. However, there aren't many jobs in software localisation in Laois.
By this time I had my first baby. And to add to all that, myself and my husband Liam – who is a cabinetmaker – had started a joinery company called Teamwoodcraft.
We poured our energy into that, but like all startups we needed money to keep ourselves going – that was my mission.
I was good at training, so I did lots of freelance training work with teams in Coillte and ESB to keep the money coming in as we built Teamwoodcraft.
The training was all IT-related. As the internet and its potential grew, so did my interest in it and the courses that I could deliver. I just kept studying and reading everything I could about this new-age digital marketing.
This would be back 20 years ago now, but eventually business at Teamwoodcraft started to pick up steadily. So myself and Liam, we decided that it was time for me to focus on our business and leave the training behind.
Source: The Business Fairy
The first business
Teamwoodcraft was a great success for us. I was nominated for Ernst and Young entrepreneur of the year and the business is now exporting into China, Russia, Canada and the US.
But we've weathered our fair share of storms. The recession didn't hit us for a while, but when it did, in 2010, our clients started falling off a cliff and that meant we weren't getting paid.
I learned one of my biggest lessons in business with Teamwoodcraft. I remember we were a finalist in a small firms competition one year and part of the prize was you got a mentorship course.
I remember our mentor said to us, "There are people who will walk into your business to try do you out of business." Unfortunately, that has happened.
When we came into the recession, one client alone owed us €64,000 and they just didn't pay up. It's very hard to come back from that. Maybe we made a mistake and should have seen it coming, it's hard to know.
I don't know if you can teach someone how to survive a problem like that, but you can definitely learn from it. We got by through it all with my freelance training work again.
I helped a lot of our contacts with their digital marketing, and that's when it started to become clear that there was a business idea there – a lot of companies were still looking on social media as a toy.
In those early days, there were a lot of gurus around who said they had the answers. I had practical experience, so I knew what I was talking about, but it wasn't enough.
I wanted to be able to show potential clients I could give top quality advice, so I went back and did a masters in DCU Business School.
Starting again
I decided to make the jump and set up my consultancy the Business Fairy in 2012. So there I was, back starting a company again. I'd done it all before, but at the beginning of the journey there were dark days.
It was hard to go from working on a fairly decent-sized company to just me on my own. It's a lonely place. And you need so much energy when you're trying to start a business – I think people underestimate that.
Everybody says it, but you work long days and it takes a toll. That means you really need to love what you're doing. If you have that state of mind, it won't feel like work.
As it all grew, I needed to get people to work for me. But I didn't know what was around the corner. I wasn't working off a five-year plan and we couldn't forecast when the country was going to come out of its slump.
Initially I brought people in and out if I needed them, and over the few years we have put a core team of eight people together. But we still bring people in and out depending on if we need them.
Everything isn't always brilliant all the time, that's unrealistic. But I don't feel like I'm going to work most days, because I genuinely love what I do.
I don't know if that's a mindset you're born with or you can teach. I often had this discussion with people on the Going for Growth programme, which supports female entrepreneurs.
It's interesting to see these courses about teaching entrepreneurship and that people study it. It's a passion you either have or you don't, no amount of hours in a classroom will change that.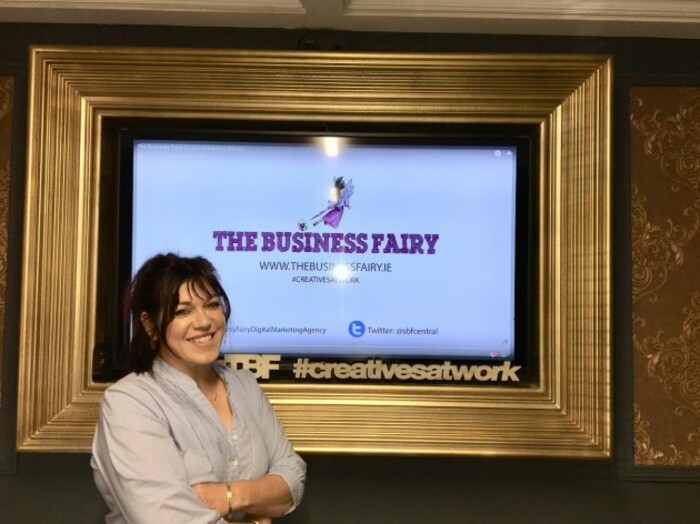 Source: The Business Fairy
Worlds apart
The Business Fairy and Teamwoodcraft are totally different. The latter was tough because it's a very male-orientated industry – at least at the time we started it.
At the beginning, you would go into meetings and have situations where people would talk to Liam before they would talk to me.
Sometimes you'd wonder what you have to do for people to take you seriously. You really have to work hard to get past all that for people realise you know what you're talking about.
Over the years, people learned that I knew what I was doing, so it got better. But initially I had to wait for a point in the conversation where I could jump in and say, "Actually, I think we should do it this way instead and here's why."
If you're backing up what you say with facts and figures, I've found people will listen to you in meetings. In that environment, I had to be 120% sure I knew what I was talking about and be better than everyone else to be taken seriously.
It might not be fair, but that was the way of it and I got on with it. I think it's gotten better over the years for women in business. At the Business Fairy, we're dealing with a lot of big businesses, and I don't come across that attitude anymore.
Future
All my focus is on the consultancy now. I really believe there is a massive opportunity for a digital agency like us which is based outside the big cities in Ireland.
In year one, businesses we were dealing with weren't so sure what social media was about, but it's different now.
We're growing like mad over the past couple of years, doubling turnover each of the last three years because small businesses across Ireland have suddenly woken up and realised who you can reach using digital marketing.
I do believe in rural businesses and trying to create something. And I think firms in the area appreciate what we're trying to do – when you think about it, we're just another rural business like them.
For me, I feel everything is geared towards going into cities and it doesn't need to be like that. I'm from the country, I love it and want to stay here if I can.
We're working with clients who are trading internationally in the pharma sector like packaging serialisation company Crest Solutions, which just signed with us. We've also partnered with the e-commerce firm EuroBase, which operates across the continent.
So far, my attitude has been straightforward. Work, do a good job and more work will follow. That's how we got this far and it's how we're going to grow further.
Aisling Hurley is the owner of the Business Fairy. This article was written in conversation with Killian Woods as part of a series on business mistakes and what can be learned from them.
Sign up to our newsletter to receive a regular digest of Fora's top articles delivered to your inbox.