'Money dried up and I was about to lose my apartment. I hit a really low point'
Aisling Burke talks about how she overcame many obstacles to set up her teeth-whitening business.
A FEW YEARS ago, I hit a low point in my life.
Everyone would think I was such a happy person, but truthfully I had locked myself away and made the decision I didn't want to go on.
It happened after a few different career moves didn't pay off. After school, I was a Montessori teacher for a few years before I went into construction.
I worked as a receptionist and got into doing a bit of property myself just before the crash. But then, about 10 years ago I'd say, I hit a really dark place. I lost everything. I went from always being quite successful and always having money to nothing.
I took a big hit on the property I had acquired and money dried up during the crash. I just hit a really low point in my life and wasn't able to motivate myself to get back on my feet.
I had literally no money, I fell behind on my mortgage and was about to lose my apartment. I didn't want to live any more. I had no idea how I was going to pull myself out of it, but my family and two close friends really helped me. 
I decided to go back and follow my passion, so I went to study acting over in Los Angeles. I had done it a lot when I was younger and went back because I figured it was something I enjoyed.
However, the rejection was so tough to take. I went to so many different auditions and got a bit of work, but I couldn't catch a real break and never got as much work as I wanted.
One particularly bad day, I remember I was walking into a shop and feeling so alone. A woman smiled at me – I have no idea who that woman was – and asked me how I was.
It made me stop and say to myself, "What are you doing? Stop. You've got so much to live for." And ever since it's something I always do in my life, just smile at someone and say, "How are you?" It could make their day and change their life. 
When I look back now on my life, I am so grateful for what I went through because it made me the person I am today. I love me for me now, which can sound cheesy, but it means I don't need other people's validation or €1,000 handbags to be happy.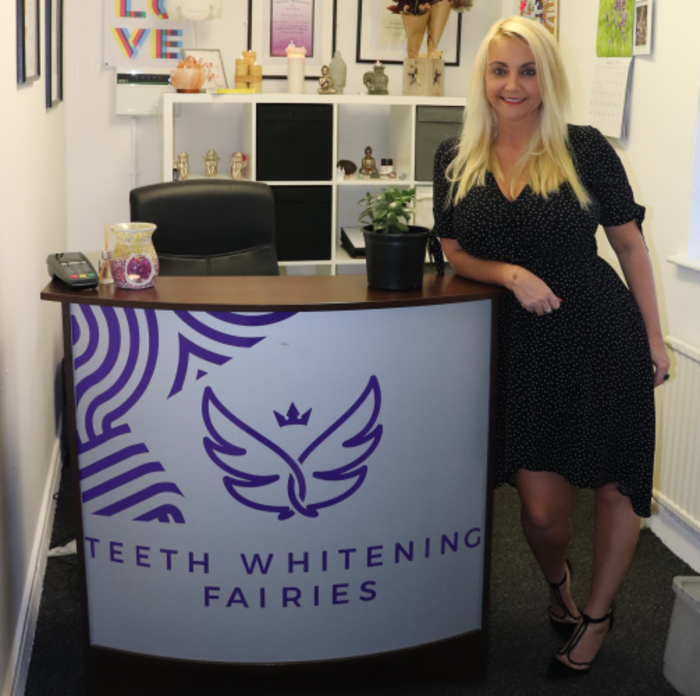 Source: Teeth Whitening Fairies
New passion 
Acting was my passion, but since that wasn't working out, I needed to find something new. My dad was an entrepreneur, so it was in the back of my head I could follow in his footsteps.
It's three years now since he died and that's what kicked me into action. He was only 69 years old, and it made me think that life's too short. 
After my dad died, my partner at the time had a shop on South William Street for waist trainers, and I was helping him out with it. 
The shop was very big, so I figured I could try my own business in some of the spare space. My cousin, who owns laser teeth-whitening clinics, came into me and recommended I should train up and open a clinic like his own in the spot.
So I did. I bought a machine and set it up, but two days before I was due to open I was in a car accident. I was left with no choice, I had to close it down.
Six months later, after I had done a long programme of physio, I was in another car accident. I couldn't catch a break.
In those first six months, I had also set up a service called Celebrity Head to Toe. The idea of it was to provide a bit of that celebrity lifestyle – selling clothes, fashion accessories and teeth-whitening products – to people on tighter budgets.
That new idea wasn't where I caught my break – we actually sold nothing – but it did lead me to what is my bread and butter today, a mobile teeth-whitening service.
My business, Teeth Whitening Fairies, involves us bringing the teeth whitening service and equipment to people's houses. The idea was meant to be something on the side but it has turned out to be more than that. 
Building the brand
It started from very little. I had no clinic since the shop on South William Street was closed, but my cousin suggested I could do it as a mobile service. There is portable equipment, so I decided to give that a go.
My cousin gave me his suppliers then I trained how to use the equipment here in Ireland before going over to LA to do more courses. You have know your stuff to use the machinery and you need to know a lot about teeth.
I started off by just advertising the service on buy-and-sell pages on Facebook and was getting bookings that way. Then I started using Facebook ads and from there it went crazy. We went from 200 likes to about 15,000 in the blink of an eye.
It started with one booking, which I thought was amazing. I just had one machine, but I figured if I could sit there and do one teeth-whitening session for a client, why couldn't I do two at the same time. So I got another machine. 
Business was good, so I got two more machines and I kept going until I had 10. I kept doing the mobile sessions and eventually got a bricks-and-mortar clinic as well. I had one room, in the same building I'm in now, and then took on another room.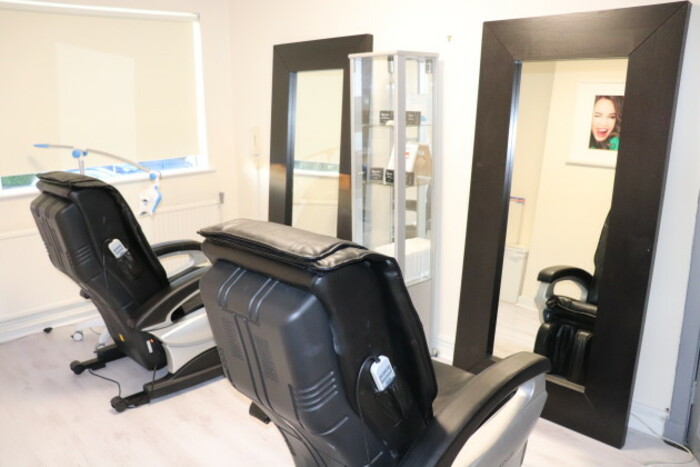 Source: Teeth Whitening Fairies
I had been researching about veneers and last year I was looking to find a supplier. I found a company and paid a good bit of money to buy into their franchise and got sales, but they only fulfilled some of the orders.
I was left with a lot of very angry customers screaming down the phone. What I've done is taken the loss on the chin. I've paid all the people back myself or gotten all the veneers remade – I'm still cleaning up the mess. 
Everyone told me to give up on the veneers. Other companies in Ireland doing them had stopped because they couldn't make it work. But I was stubborn, I wanted to make it work, and I feel it's slowly turning around now that we have a good supplier.
Next plans
I'm still pinching myself and asking, "What the hell is going on here?" I suppose it shows you never know how something will pan out until you try it.
That was my attitude to setting up this business. If it fails, it fails; I've failed at loads of things and made mistakes, but if you work hard you will find what you're meant to be doing. 
But don't try any old idea. Make sure you have passion for what business you are trying to build. You need to love what you do if you're an entrepreneur.
Money might seem like a good motivator, but you need to have the passion for what you're doing to make you get out of bed when there's a long day ahead or if everything isn't going to plan. 
And if you're passionate, other people will feed off that. You get loyal customers by showing them how passionate you are.
Other people in business are also more likely to partner with you if they see you believe in what you're doing and aren't in it for a quick buck. 
It's now over 18 months since I decided to put Celebrity Head to Toe on the back burner and focus on the teeth-whitening business.
I'm now looking at opening more clinics in Ireland and expanding my veneer business abroad. But I'm not eyeing up typical markets though. Most Irish companies try to break into the UK or US – I'm going the opposite way to Asia.
Before the end of the year, we will have launched our veneer service in at least one Asian country – I won't say which one yet.
I'm still amazed by the way it's played out. It has gone from a little mobile service to something much bigger and now international.
So, I'm busy now but I'm in an amazing space as well – I've never been more happy in my entire life. I have days, of course, where I get stressed, but it's manageable.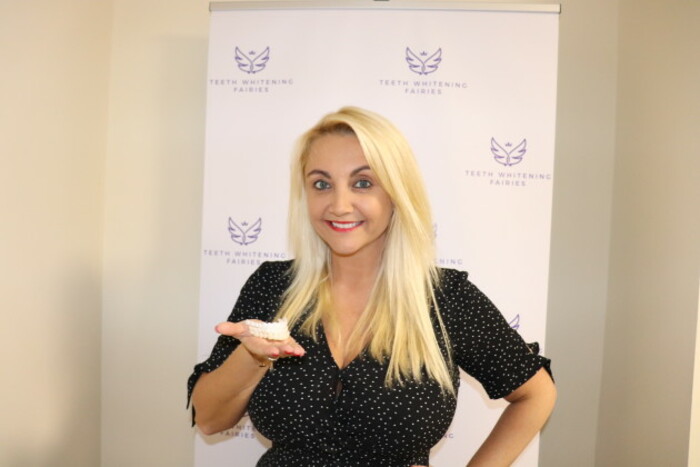 Source: Teeth Whitening Fairies
I've learned there is a solution to every problem in business, no matter what's happened. And if you can't resolve it, it's OK to ask someone for help. Or even walk away – that can be a solution.
If you don't have friends in business, go join a group. There is always someone to give you advice. You might be afraid of sounding silly, but everybody is learning and if someone says that they know it all, that's when you have to start asking some questions.
The way I keep on track is my routine. I get up at 6am every day, and when I get up I dance and then meditate. People think I'm crazy.
I get out to nature, go to bootcamps, do yoga and just generally mind myself. I think about the day ahead and tell myself it's not the end of the world if something goes wrong. That works for me, so you just need to find what works for you.
It's important because if you're head isn't right when you're in business, your business won't be either. If you're unhappy, it will leak into your business. So take care of yourself. 
Aisling Burke is the owner of Teeth Whitening Fairies. This article was written in conversation with Killian Woods as part of a series on unlikely entrepreneurs.
Sign up to our newsletter to receive a regular digest of Fora's top articles delivered to your inbox.
If you need to talk, contact:
Pieta House 1800 247 247 or email mary@pieta.ie (suicide, self-harm)
Samaritans 116 123 or email jo@samaritans.org
Aware 1800 80 48 48 (depression, anxiety)
Teen-Line Ireland 1800 833 634 (for ages 13 to 19)
Childline 1800 66 66 66 (for under 18s)