'If Facebook's taking 360-degree videos seriously, so should you'
This video guru delivers a masterclass in making a compelling clip on a budget.
YOU MIGHT THINK they're a bit of a fad, but 360-degree videos are well worth the marketing spend.
Of all the new visual technologies, like virtual and augmented reality, 360 has been the fastest to break into the mainstream and it doesn't require any special equipment to experience.
The format has really taken off big time in the US. Major news organisations like the New York Times have put a significant amount of time and money into their 360 projects.
It's been embraced by the main social media sites such as Facebook and YouTube – and if they're taking it seriously, you should too.
Most importantly, we've seen from our own work at the agency that there's a much higher conversion rate – turning clicks into sales – and people are much more likely to watch a 360 video multiple times than a standard clip.
For that reason, there's a definite opportunity for businesses to embrace 360. Here's how you go about doing it:
It's not for everyone
First of all, it's worth bearing in mind that the format won't work for every business. It's never going to work for the local butchers, for example.
A successful 360 video relies heavily on the surrounding environment, so it best lends itself to the likes of travel and events companies – basically, any firm that specialise in creating shared 'experiences' for their customers.
Let's say you manage a historical hotel. People would love to explore the different rooms and suites on offer and learn about the history of the building in 360. If it's a good enough story, they might even be compelled to make a booking.
We made a video of Saint Patrick's Cathedral, a very popular tourist attraction with a lot to take in visually.
As you'll see in the clip below, being able to scroll around the different surroundings gives you a better sense of the structure and you can see what all the fuss is about.
Or take a look at the video we made of artist Morgan's studio. It goes to show that an interesting or unusual workplace works well in 360 too. A good rule of thumb is, the more stuff there is to see, the better.
Kit that won't break the bank
You could always hire an agency to make a video for you, but if you or an in-house marketer is up for experimenting with 360, you'll need to get your hands on a decent bit of kit first.
Since our agency specialises in making videos, we've obviously put a fair amount of money into our own gear. The camera we would use is basically made up of 10 GoPro cameras, which cost about €500 each.
I wouldn't imagine there are too many people out there who would be willing to splash out €5,000 on a camera. Luckily, there are much cheaper options out there.
It'll be much easier to convince the finance department to spare a few bob for the Samsung Gear 360. It's a compact camera that you can use with a phone and costs about €200 if you get a good deal.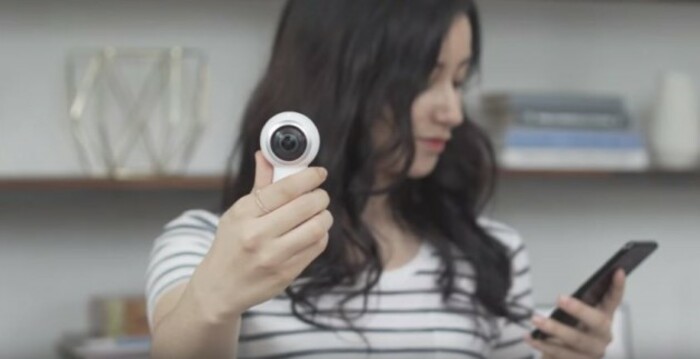 It's marketed more for personal use than for professional-quality videos, but it does the job if you're only starting out.
It also comes with fairly foolproof editing software so you don't need a whole lot of skill to stitch a story together.
It's all about the story
Speaking of which, like all storytelling, a 360 video has to have a compelling narrative to hold the viewer's attention. When you're planning a 360 clip, think about coming up with some kind of storyline.
Let's say you were a festival organiser and you want to drum up a bit of FOMO to encourage punters to come to your gig next year.
It's not really enough to just plonk a camera in the middle of a crowd on the day and hope for the best. You'd want to make the audience feel as though they're experiencing it themselves first-hand.
If I was doing one for the Pride festival, let's say, the video might start in someone's home. They might be hanging around with a few mates before they head down to the parade.
They could be having a few drinks, maybe putting on face paint, putting together a costume. That kind of thing.
Then the clip would cut to them on the way the parade, walking down the street until they reach the main crowd. It makes the final reveal – the parade itself – much more impressive and makes the viewer feel like they're there on the day.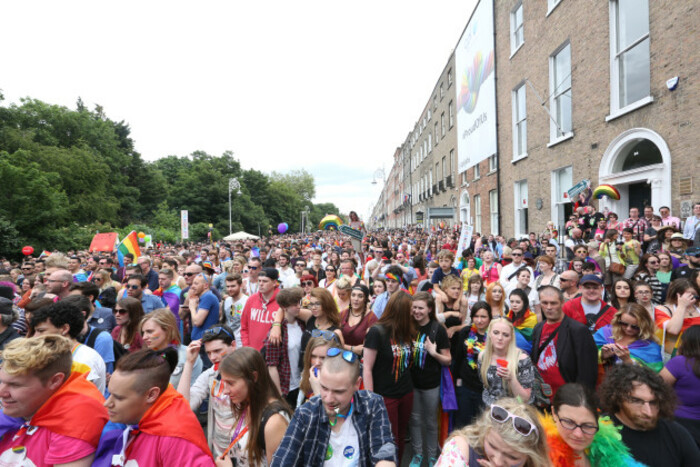 Source: Sam Boal/Photocall Ireland
It's not enough to just make a 360 video for the sake of it. There has to be a good story and it has to make sense for you to do it in that format.
A bit about the practical stuff
If you're using the Samsung camera that I mentioned, the technology does a lot of the work for you. But there a few practical things to bear in mind while you're shooting.
First of all, 360 cameras don't have a zoom function, so you really need to be right in the middle of the action to get some good footage. Don't be shy about moving the camera close to your subjects.
The length of the video is important too when you're editing the final cut. They say it's best to keep the video to just under two minutes. You'll be shooting a lot more footage than that, but you really need to keep it snappy.
Five scenes cut into roughly 15 seconds each is enough to give the viewer a good idea of what's going on.
Remember, making any kind of video takes time. Even a short clip could eat up half a day's work, so bear in mind that you're going to have to put a good few hours into the project.
But, as I said, a 360 video done right can generate a lot more interest than a regular one, so your viewers will reward you for your efforts.
Getting it out there
Finally, when you've made your video, push it out on the main social media sites. They're all set up to facilitate 360 videos.
Right now, Facebook rewards video over links and photos, so you'll get a decent amount of audience reach.
There's no harm trying to plug it to news websites as well. They're usually on the lookout for content for their social media channels and they might even do a story on you.
Matthew Kirwan is managing director of visual content agency Hedgehogs vs Foxes. This article was written in conversation with Conor McMahon as part of a series of masterclasses with some of Ireland's most influential business people.
If you want to share your opinion, advice or story, email opinion@fora.ie.
read more on