Keeping it lit: How Ireland's oldest candle company has survived five centuries
Rathbornes 1488 found the key to survival over centuries is buying into the luxury market
HOW DO YOU keep the lights on for 530-years, especially when your main client finds its popularity dwindling? For Rathbornes 1488, salvation comes through reinvention.
Laying claim to be Ireland's oldest business, the candle maker has survived plenty of societal and cultural shifts, but perhaps the hardest has been the falling numbers heading to mass – the Catholic Church has traditionally been one of its biggest clients. 
"We've had to reinvent ourselves a number of times," Siobhan Kehoe, sales and operations director, says in the warm glow of an office space heater on a January morning. "We have to keep changing as the markets change."
One new direction was under their noses the whole time. After about four years of research and development, Rathborne launched its first luxury scented candle collection in Brown Thomas in 2015 and now sells in Avoca, Arnotts and Fenwick and Fortnum and Mason in the UK – as well as a number of other international locations.
Kehoe runs the company with her husband, managing director Vincent Brady, and between them they have pretty diverse credentials. She has a PhD in microbiology from the Royal College of Surgeons and he is an accountant by training and previously worked in National Toll Roads.
The company was founded by Joseph Rathborne, who came to Ireland from Chester, in 1488 on Winetavern Street. The last Rathborne to own it was Henry Burnley Rathborne, who sold it in 1914 to John Barrington & Sons, a Lever Bros. (now Unilever) subsidiary. In 1923, it was bought by Shell & BP Ltd., now Irish Shell.
When Shell disposed of the company in about 2001, Brady was lined up by a recruitment agent to step in as managing director – due to his accounting background.
In 2002, the company was relocated from its iconic East Wall location to Blanchardstown, and is now owned and co-directed by Richard Simpson, who bought it in 2006.
"I didn't get it at the start. When you're an accountant sometimes it's just another job where you try and analyse what it costs and what you sell it for," says Brady.
"After a period you realise you really are in the footsteps of so many people," he adds.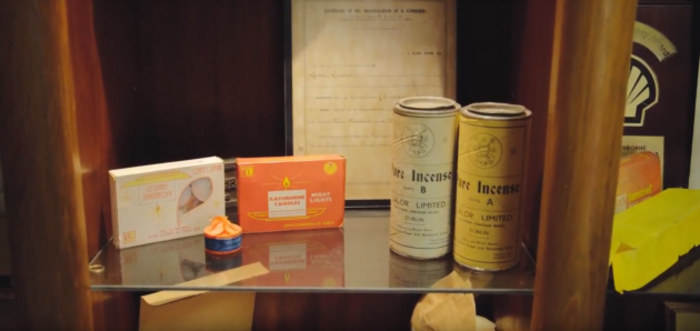 Source: Skoda/Rathbornes/YouTube
Big in Japan
Kehoe joined in about 2015, coming in to help part time following a career break after having children. This is when the company really began to diversify.
"We did see that the scented market was a huge market, while being extremely competitive. We felt we had something the others didn't have in terms of our heritage," she says.
"We've lots of top notes, lots of middle notes and lots of base notes, like a good wine. That's what makes it a good candle."
Before launching scented candles, the company was doing fine, but its core business was running into an issue around growth.
"Our core business was the church market, and we all know the hits that the church has made over that period of time and continues to make," says Kehoe.
They needed to review strategy, and though the church market is still performing well, "it's not a growing market and everybody wants their market to grow," she adds.
"As an Irish company now you can no longer be happy just serving a domestic market. You need to go into the export area. This was where our export potential lay."
She's just back from a trip to Japan, visiting one of their stockists in Tokyo where they launched in 2018. Next week she's heading to New York, on a second trip, to push their advance into the US market. 
With more than five centuries of candle making behind it, Rathbornes has racked up a few notable commissions in its time, like the contract for lighting Dublin's streets – with candles – in the 1700s and also for the lighthouses around the coast.
In 1999, it was the company commissioned to make the millennium candles gifted from the Irish state and sent to every house in the country.
The factory floor
The workshop upstairs is quiet and bright, with long work benches where scented candles are hand poured, which takes two days. It smells of flowers and spice.
Downstairs on the factory floor, machines hum and crunch bitter smelling paraffin wax into tea-light rounds and deposit them neatly into metal liners and then boxes.
Kehoe swings open a door to the quality control room.
"We're testing different wicks to see which ones will actually burn," she says.
Nearby, great yellow slabs of beeswax gleam in a pile like melting butter.
About three quarters of the businesses' sales come from the church side, while right now a quarter comes from the scented, luxury side. 
Kehoe is mostly overseer of the latter, while Brady looks after the former, though each helps the other out when needed. 
She dips her hands into a vat of beeswax pellets. "I love feeling it," she says, rolling the beads through her fingers.
All around are stacks of candles – tea-lights, sticks, beeswax, paraffin – ready to be shipped off to the UK or getting ready for upcoming Christian holiday Candlemas in early February.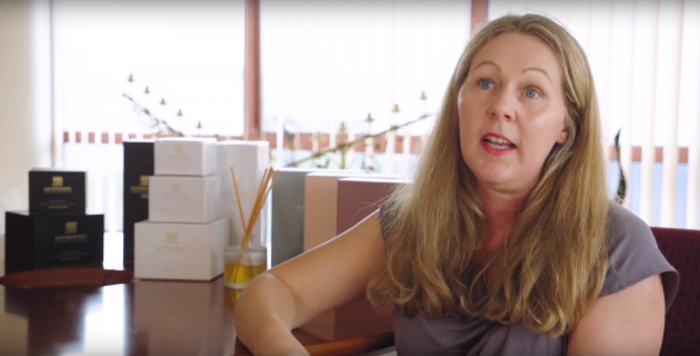 Source: Skoda/Rathbornes/YouTube
A broad church 
It's "mind blowing to think that 530 years ago somebody was making candles in Rathbornes and we've continued on through everything – think of all the disasters the world has had," says Brady, back up in the office. 
"We're proud of the fact that we've introduced this luxury scented range which is starting to build our name globally now, not just in Ireland. That has to be the way forward for the company to survive the next 500 years." 
The environment of business in the church has "changed greatly over even 10 years", he says.
"Churches aren't opening as long as they used to. One priest might have four accounts – or churches – nowadays. Fewer masses means fewer people burning candles."
If every year it declines a little bit, eventually you're left with nothing. That's why in the next three years or so Brady and Kehoe want the business to be split 50-50 between the luxury side and the church side. 
"One of our strengths was the church business but it was also one of our weaknesses. If you're relying on anything too much you're going to be eventually found out."
The company has also started producing reed diffusers and bath and body products. It will shortly be rolling out a range of shampoos, conditioners and other body products for hotels in sustainable refills, rather than small plastic bottles. 
"That could be our biggest growth area in the next few years," says Brady. 
Sustainability
One of the eventual legacies Brady and Kehoe want to leave behind is a visitors' centre to commemorate the company's history. 
But before then, they have plenty of plans. 
Sustainability will be a big part of the agenda and according to Kehoe the company is going through "a transition period" at the moment, but will have "something exciting next year".
Right now it's still in development, so they're reluctant to spill the details. 
"We want to get it right," she says. "We want to do it anyway, but the market also requires it."
The company currently employs 18 people, down from 140 in the East Wall days. Its turnover last year was €2.5 million and according to Brady they're expecting that to double within the next five years.  
When things started to "drift" during the recession, Brady says he remembers thinking "wow, it would be absolutely disastrous if this finishes on my watch,'" noting how the company once weathered the onset of electricity. 
"I'd love to think that this place will survive another 500 years," he says.  
Get our Daily Briefing with the morning's most important headlines for innovative Irish businesses.