Qantas's Irish boss throws down a challenge to launch the world's longest flights
Alan Joyce said the bid to operate a 20-hour, non-stop service is the 'last frontier of global aviation'.
AUSTRALIAN AIRLINE QANTAS has unveiled plans for the world's longest non-stop commercial flight, calling it the "last frontier of global aviation".
The firm hopes to fly non-stop from Australia to London and New York by 2022.
Qantas' Ireland-born chief executive, Alan Joyce, unveiled the ambitious plans for non-stop flights from Australia's eastern seaboard to Europe, a major undertaking the airline has dubbed 'Project Sunrise'.
"Qantas will challenge both Airbus and Boeing to deliver an aircraft capable of regularly flying direct services like Sydney to London, Brisbane to Paris, Melbourne to New York non-stop with a full payload by 2022," he said.
"This is the last frontier of global aviation, this is the antidote to the tyranny of distance and a revolution for air travel in Australia."
Joyce said the two manufacturers were working on planes that were almost capable of doing the job: Boeing's 777X and the Airbus A350ULR.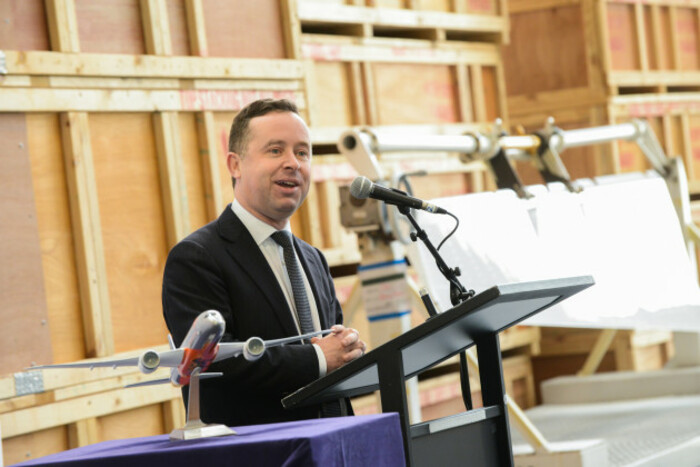 "We believe that advances in the next few years will close the gap," he added.
"This will be one of the most strategically important aircraft orders in the history of Qantas."
He said the non-stop flights would take up to four hours off the journey from Sydney to London, which is now just over 24 hours.
Currently, the longest non-stop commercial flight is Qatar Airways' Doha-Auckland service, covering a distance of 14,535 km and with a flight time of more than 16 hours.
Qantas' planned Sydney-London flight would be about 17,000 km.
Tallaght-born
Born in Tallaght, Alan Joyce started his aviation career at Aer Lingus. He moved to Australia in the mid-90s, working for now-defunct carrier Ansett.
He served as founding chief executive of low-cost airline Jetstar from 2003 to 2008, which was when he joined Qantas as CEO and group managing director.
Joyce is considered one of the world's most influential gay business leaders, featuring in the 'Top 100 leading LGBT executives' list compiled by the Financial Times and business group OUTstanding.
He has campaigned for same-sex marriage in Australia and said he will donate a "significant amount" to support the 'yes' campaign down under.
The Irishman was named airline CEO of the year by CAPA Centre for Aviation in 2015
Earlier this year, Joyce made international headlines when he got hit in the face with a pie during an interview.
"I didn't have a chance to test (the pie), it was mostly on my glasses," he quipped at the time. "I think my issue is I'll need a good dry cleaner in Perth, so if you have one please recommend one."
With reporting by Conor McMahon.
Sign up to our newsletter to receive a regular digest of Fora's top articles delivered to your inbox.
read more on