This startup says conservative Ireland is afraid to fund world-changing biotech
Skepticism about bioprinting is making it harder to secure investment.
AS IRELAND BEGINS to carve out a name for itself as a hub for startups, sectors such as biotech are finding it tough to secure funding.
According to Jemma Redmond, the co-founder of the award-winning bioprinting company Ourobotics, investors are reluctant to fund biotech because there is a risk the sector could be held back by regulations in the future.
Despite the many hurdles for biotech startups to overcome, Ourobotics is pushing ahead with the backing of Sean O'Sullivan's SOSV.
Since launching last year, the Cork-based startup won the Silicon Valley Open Doors Europe startup competition and is now ready to release its first bioprinter capable of printing human organs and tissue at a cost of €12,500.
Redmond said the technology is there to start printing limbs, but "conservative" Ireland is holding back breakthroughs in research.
"It's harder to get approval to do certain things (in Ireland), where as it would be a lot easier to do in China and the US.
"There's a certain level of conservatism here, they don't like new technology in Ireland in my opinion. We're more prone to supporting software companies and shying away from bioprinting."
Redmond said the skepticism surrounding bioprinting is making it even more difficult to secure funding and hire staff.
"Finding people to work on a project (is tough) because a lot of people are interested in finding a job," she said.
"They want a day job that is well-paid and there are a lot of big companies who can offer that, where as a startup can't offer that security so people won't take the risk."
Capacity to change the world
In recent weeks, scientists from Wake Forest Baptist Medical Center announced a major breakthrough, publishing proof that they managed to successfully print a human ear, bone, and muscle structures.
Redmond said in 10 to 20 years bioprinting technology could realistically be commonplace in hospitals everywhere.
"We're here for the long haul. We can see the future and we're helping to create it. I think there will eventually be funding through local health services because they understand that it can save taxpayers a lot of money," she said.
"It costs about €700 a day to keep a patient in a hospital, if you could bioprint tissue and fastforward that healing process (you can save a lot of money).
"The transplant waiting list can be four years… and a lot of them might die on that waiting list. What if you could print those organs? You could do it for a fraction of the cost of procurement and have shorter waiting lists because they would be ready in three months."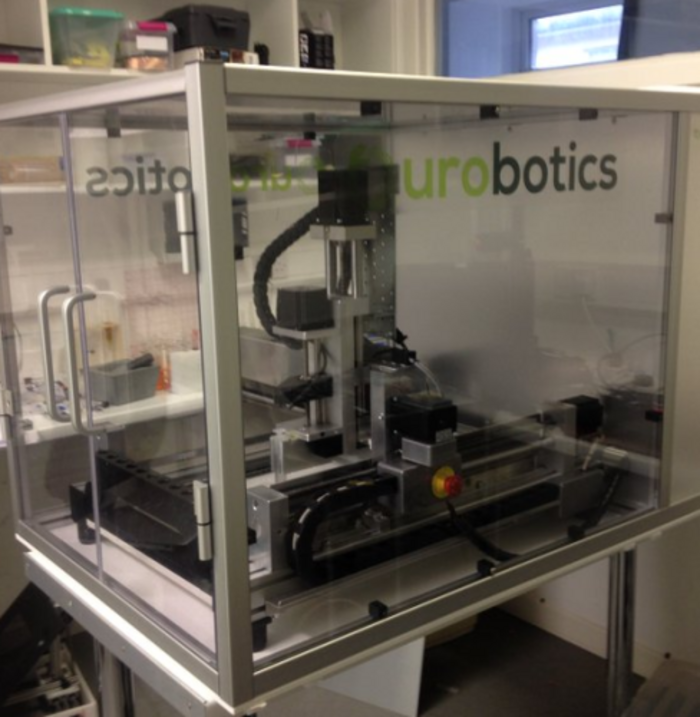 Competing with bioprinting giants
Compared to larger organisations like Organovo who are also researching organ printing, Ourobotics only employs a handful of researchers.
Redmond said it is difficult to compete with the recognition and funding of these larger companies. However, she is confident Ourobotics can be successful due to its connections at MIT, through her co-founder Stephen Gray, a postdoctoral researcher at the institute, and partnerships with institutions like Imperial College London.
Redmond said aside from simply selling the printer, there were many other revenue opportunities for the company to explore.
"The primary plan is to sell the hardware directly to research institutes. It will also be the materials that come through the printer, it will be the training service (to use the machine), and producing the organs and working with these institutions."
read more on