Dublin had one of the world's biggest spikes in high street rents last year
The Irish capital had the fifth-highest increase globally in prime retail rates.
DUBLIN'S PRIME RETAIL rents have been rising faster than in all but a handful of cities worldwide, according to new research.
Rates in the Irish capital were up 10.5% in the year to the end of March 2017, commercial property specialists CBRE Ireland said in a report.
That increase meant rents for premium Dublin retail sites rose at the fifth-fastest rate of any major city. London topped the list, with prices in the British capital jumping nearly two-fifths during the year.
The English capital was followed by St Petersburg (15.4%), with Auckland and Sofia sharing third place after 12.5% increases.
Meanwhile, Belfast came in at number eight in the list with an 8.7% increase in prime retail rents. The figures are all calculated in the local currency.
Bernadine Hogan, a senior director in CBRE Ireland's retail team, said that demand for retail space in Dublin has remained "robust".
"We expect to see some further upward pressure on (prime) rents on streets such as Grafton Street over the coming months," she said.
"The physical store remains an important part of the consumer journey and retailers will continue to target prime bricks-and-mortar locations to grow their brand."
This CBRE report was based on the retail rent per sq ft paid by retailers.
The research found that the Europe, the Middle East and Africa region was the only area to see overall growth in the first quarter of 2017 – with an increase of 4.3% year-on-year – driven by lack of supply in prime retail areas.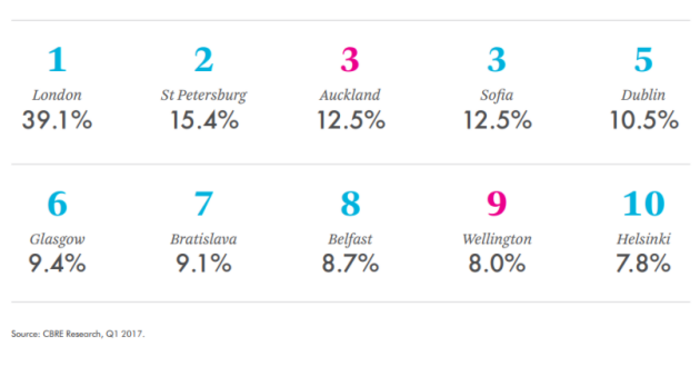 Source: CBRE
CBRE noted that the demand for space on Grafton Street and Henry Street is not limited to retailers alone, and there has also been strong investor demand as well.
Since 2013, there has been nearly €442 million of transactions relating to properties on Grafton Street and Henry Street.
The largest share came in 2015, when Irish Life, the country's largest commercial property owner, acquired Grafton Street assets from Royal London's Sovereign Portfolio for €155 million.
Rent rises
Earlier this year, CBRE predicted an end to double-digit rent rises but still tipped the Irish commercial property sector to have another busy period.
In its forecast for 2017, the property group noted that political upheaval would lead to reduced interest in offices from US firms – but also a pick-up in demand from UK businesses looking to relocate staff.
CBRE Ireland managing director Enda Luddy said the Brexit vote would "for the most part" be negative for the Irish economy, with the exception of the commercial property sector "if anticipated Brexit-related relocations from London materialise" as expected this year.
Sign up to our newsletter to receive a regular digest of Fora's top articles delivered to your inbox.