As Google buys Pointy, co-founder Mark Cummins enters his second act with the tech giant
The Dublin startup isn't the first business founded by Cummins to be snapped up by the company.
NOT ONCE, BUT twice: Mark Cummins' entrepreneurial efforts seem somehow intertwined with Google.
Pointy, a startup co-founded by Cummins alongside Charles Bibby that builds tech tools for bricks-and-mortar retailers, is being acquired by the tech giant for an undisclosed sum. The deal is expected to close in the coming weeks. 
Cummins has said in previous interviews that he had applied for jobs at Google earlier in his career before Plink, but to no avail. Yet now Google is set to fork over money for his creation for a second time. 
In 2010 the Dubliner sold Plink, a visual search engine startup, to the multinational. After that deal, he worked at Google for three years as an engineer until the itch to start something of his own emerged again in 2013.
That was Pointy, which develops a small box that links up with a shop's bar code scanner to take stock of the inventory, makes it easier to list these goods online and helps shoppers locate the store.
It was designed to assist physical stores in boosting their visibility online and stay competitive against the onslaught of e-commerce.
For example, if a consumer is searching for golf clubs online they'll be directed to a nearby golfing store that has what they're looking rather than buying it on a marketplace like Amazon.
Pointy raised $19 million from venture capital firms on both sides of the Atlantic as well as big-name investors like WordPress founder Matt Mullenweg and Transferwise co-founder Taavet Hinrikus. Dublin's Frontline Ventures was the first to back the company in 2014, investing €100,000.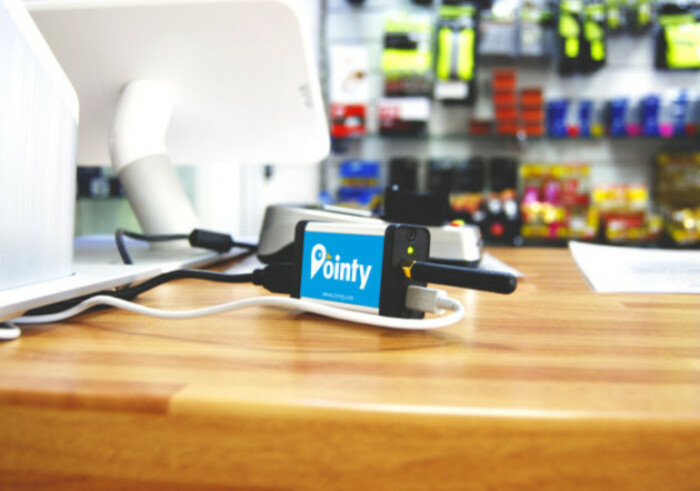 Source: Pointy
The US has been a market of particular focus for Pointy, signing up thousands of retail stores.
It is understood that the company was looking to raise more capital before it entered into acquisition talks with Google late last year.
Over the past several years Pointy developed "a very close partnership" with Google and,  in a blog post, Cummins and Bibby said that through this partnership it "became clear that we shared the same vision of how technology can improve local retail businesses".
The company employs 85 people and is expected to maintain the bulk of its operations at its Dublin office.
"When we started Pointy, our mission was to make things better for local retailers. That remains our mission today," the founders said in the blog. "All of our services continue to operate as usual. We look forward to building even better services in the future, with the backing of Google's resources and reach."
Get our Daily Briefing with the morning's most important headlines for innovative Irish businesses.