Formula 1 has taken a stake in a small Irish fantasy sports firm
It's the first time the racing group has taken equity in an external company.
INTERNATIONAL MOTOR RACING group Formula 1 has taken a stake in Irish firm PlayON as part of a move to launch its official fantasy sports game.
PlayON, which is based in Dublin's Digital Hub, was founded by Killian Jones in 2011 and develops online fantasy sports games.
This is the first time Formula 1 has taken an equity stake in an external company. The deal will value PlayON at almost €35 million, according to Jones.
As part of the link-up, PlayON will add a number of fantasy-based Formula 1 competitions to its system. The Irish firm has already signed similar deals with sporting behemoths like the NBA and European Tour.
Users will be able to select a team of five drivers and one constructor for each race, with points awarded for finishing positions and fastest laps.
Formula 1 director of digital and new business Frank Arthofer said fantasy sports gives the organisation the opportunity to tap into a younger fan base.
Jones noted that the partnership with Formula 1 will help bankroll PlayON's move into the US market this year and establish an office across the Atlantic.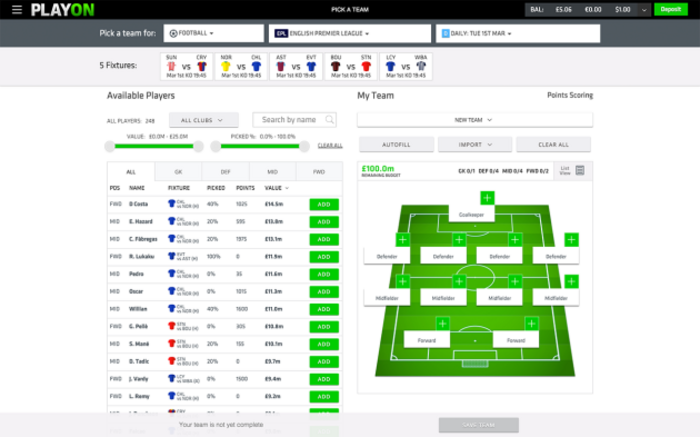 Source: PlayON
Cash prizes
Players of PlayON's fantasy sports games can win cash prizes in return for entering fantasy versions of its football, rugby, basketball and cricket games.
The performance of each user's team is linked to real professional sports leagues around the world, such as the Premier League, Super Rugby and the NBA.
Players can choose to enter a number of different contests, such as 'winner takes all' competitions or game modes where the cash prize is shared based on what position a user's team finishes.
The entry fees for PlayON's fantasy-based competitions vary from game to game, with some games costing hundreds of dollars to enter. The cash pot for each game is dependent on the number of entrants.
Currently PlayON only offers 'real-money' games to users that are located in the UK, Australia and Ireland.
Jones said the new, "clearly established" regulations around fantasy sports in the US – where sports betting only legal in a handful of states – will help PlayON move into that market.
Sign up to our newsletter to receive a regular digest of Fora's top articles delivered to your inbox.