Pinterest has rolled out its advertising platform for Irish businesses
Companies based here can now pay for 'promoted pins'.
ONLINE SCRAPBOOKING SITE Pinterest has announced a number of new features for Irish users that will allow businesses in Ireland to advertise on the website.
The company has introduced its 'promoted pins' product to the Irish, Australian and New Zealand markets. This move will allow businesses in those countries to pay to have posts appear in users' feeds.
The service will be the exact same model that has already been rolled out in the US, UK and Canada, with companies able to post text or video ad posts.
According to Adele Cooper, UK and Ireland country manager for Pinterest, the initial focus is to launch the advertising platform in English speaking markets and then branch out further.
This move into digital advertising by Pinterest has come almost seven years after it was founded.
The company, which is valued at $11 billion, has amassed over 150 million monthly active users worldwide. Most of those users are based in the US, but three-quarters of new sign ups are from outside of the US.
In Ireland, roughly one in five people have a Pinterest account, however only 14% of those with an account use it on a daily basis, according to Ipsos research.
This is compared to three in five Irish people who have Facebook accounts. Three-quarters of Facebook users access their accounts every day.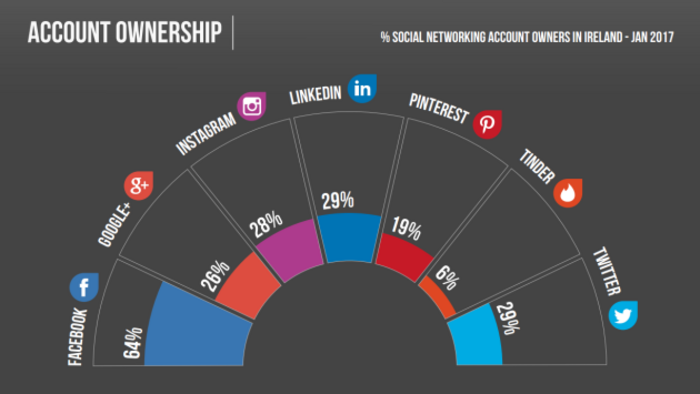 Source: Ipsos
Here's who it's pitched at
Advertising on Pinterest has been available in the US since 2014 and a year later the company also introduced the 'Buyable Pins' feature to the US market, which allows users to purchase items in app from businesses.
The ad service is also targeted at businesses of all types, ranging from multinationals to small- and medium-sized enterprises.
Some of the businesses that have already signed up to use 'promoted pins' include Aer Lingus, Tesco Ireland and Avoca.
Roughly three-quarters of the content on Pinterest comes from businesses already, which has been uploaded to the site from retail websites and blogs by users who add products to their online scrapbook.
Currently there are over one million businesses worldwide that have Pinterest accounts.
The company has claimed that the hide rate of ads on Pinterest is 90% lower than other digital platforms. This means paid-for posts on the website are less likely to be closed by users who are browsing the website.
Here's what's being rolled out
The company is introducing different ad formats that cater for the various requirements businesses might have.
Companies that want to run a campaign that focuses on promotion of a brand can choose CPM (cost per thousand impressions) targeting, which will require a business to pay for every thousand users that see their advert.
The company has also introduced cost-per-click (CPC) ads, which have a primary objective of driving Pinterest users to an advertiser's website.
The 'promoted pins' are purchased by advertisers in auctions that are similar to those used by Google to sell ads. This sees businesses bid on topics and keywords to gain prominence for their ads.
Cooper said the advertising on the site is likely to be cheap initially since not many businesses will be on the market looking for 'promoted pins'.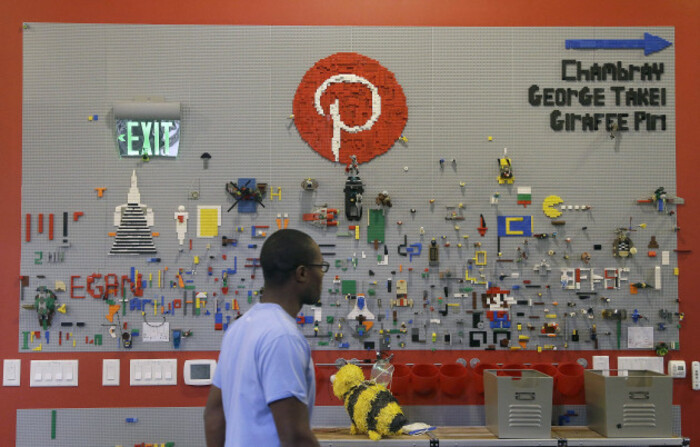 Source: AP/Press Association Images
Here's how it has fared overseas
The introduction of 'promoted pins' into Ireland gives Irish-based companies yet another digital platform to tap into – but it has become a crowded space.
Commentators have noted that this move by Pinterest, seven years after it was founded, into advertising has been a long time coming and the company has some stiff competition to contend with.
Facebook is one of the leaders in digital advertising and at the start of this month published figures that showed ad revenue for 2016 totalled $26 billion.
Google is the only other major competitor to Facebook, but Pinterest could take a piece of the action.
Pinterest will not publish data on ad revenue to date, however it was reported last year that the company had revenue of $300 million.
Since launching its advertising service, companies have been eager to get on the platform to advertise because of the website's ability to sway users' purchasing habits.
Research from Millward Brown has shown that 73% of active users have used Pinterest to search for something to buy and 72% have seen something on Pinterest and made a purchase offline.
Additionally, over three in five users indicated they look at items they saved on Pinterest while they are in brick-and-mortar stores.
Since Pinterest launched its advertising service in the UK last April, companies such as Tesco, John Lewis and a number of Fortune 500 firms have started advertising on the website.
There is also an active number of small- and medium-sized companies using the service in the UK, according to Cooper.
Correction: A previous version of this article stated that Pinterest's advertising platform followed the introduction of the 'buyable pins' feature. The article has been corrected to reflect that 'buyable pins' were launched after the advertising system.
read more on