'It's frustrating': Pharmacies rack up software bills to meet rigorous new medicine rules
The EU directive aims to stymie counterfeit drugs getting into the supply chain.
PHARMACIES ARE FEELING the pinch investing in software and equipment to meet rigorous new rules on verifying the medicines they dispense.
Next month, a new framework agreed at a European level comes into force to prevent counterfeit drugs making their way onto the market.
The directive, passed in 2016, aims to tighten up the supply chain around medicines, from manufacture to the moment they are dispensed at a pharmacy.
From February, manufacturers are required to apply a unique identifier in the form of a barcode and anti-tampering device on each packet.
This then requires pharmacies to authenticate a packet before releasing it by scanning this unique identifier which then updates a regulatory database.
Late last year, the HSE issued a call for tenders for the provision of hardware and software for use in its pharmacies.
The health service agency said in a statement that the tender contracts will cover the hardware and software installation costs for individual HSE pharmacies. Staff would still have to scan and authenticate medicines.
According to Darragh O'Loughlin, secretary-general of the Irish Pharmacy Union (IPU), the process is an additional cost for independent retail pharmacies.
"It's an additional resource cost as well in terms of staff time in getting set up for it and then the ongoing scanning of medicines," he said.
"As each packet of medicine comes through, it has to be examined and scrutinised to check the safety features and then it has to be scanned to check the serial number against the database to make sure it's genuine."
In a letter to Health Minister Simon Harris last year, the IPU called on the government to provide funding to alleviate some of the costs for private sector pharmacists.
Installation of software and scanners to carry out authentication will cost pharmacies €300 to €500 per pharmacy per year as well as the cost of training staff, O'Loughlin said.
"That's not a cost that's being compensated."
When asked for comment, a spokesperson for the Department of Health said: "It is not proposed to consider resourcing or other measures in relation to the implementation of these requirements."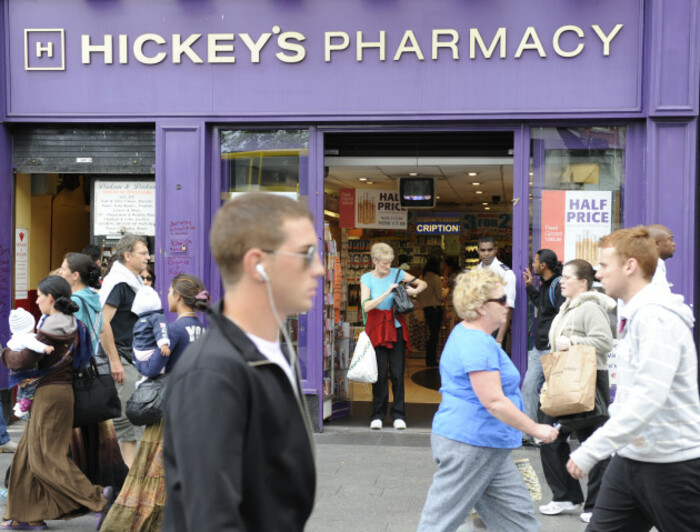 Source: Sasko Lazarov/Photocall Ireland
Hickey's, the pharmacy chain that operates 37 outlets around the country, said its stores are all equipped but the process has been "frustrating".
Tom Concannon, superintendent pharmacist at Hickey's, said software and scanners are cumbersome costs up front but there are bigger expenses down the line.
"The software costs and the costs of putting in the additional hardware will be shadowed by the cost of having to do the task. This is another task that we have to add into the dispensing process."
The increased labour needs in each pharmacy will introduce more pressure on staff, Concannon said.
"It would be great if there was something in place to mitigate the cost because this was something that was thrown upon us," he added.
"A huge percentage of what we dispense is to medical card patients on HSE schemes. They're not paying us any more so we have to absorb this cost on top of any other cost we had to absorb, so it is frustrating."
[embed id="embed_2"]
Implementation
The legislation was put in place via the EU's Falsified Medicines Directive and officially comes into force on 9 February.
The laws are being overseen by a newly-established body called the Irish Medicines Verification Organisation (IMVO). It runs the national database of packages and co-ordinates with the wider European database.
A spokesperson for the IMVO said there have been "no reported incidents of counterfeit medicines" in Ireland but the new rules will reinforce the system.
There will be a "transition period where prescription medicine packs with and without the individual serial number will be available at the same time", the IMVO said.
Concannon added that in six to eight months' time, he expects the workload around scanning to increase further after older packets are gradually dispensed out of the system.
"There's only so much that pharmacists can do," he said. "We want that pharmacist talking to patients, not scanning boxes, to put it as bluntly as that."
Failure to comply with the rules can lead to substantial fines and even a prison sentence, the IPU's O'Loughlin said.
"It probably would have made more sense to have a staged implementation where there's a first deadline for manufacturers to have all the packs ready for scanning. Then a second later deadline for wholesalers and pharmacists to start verifying the safety features."
Get our NEW Daily Briefing with the morning's most important headlines for innovative Irish businesses.