Meet the man behind Diaceutics, the data company helping people access life-saving drugs
Peter Keeling took the Belfast company public in March and is changing testing for precision medicine.
ABOUT 13 YEARS ago, Peter Keeling took the stage for the last slot on the last day of a medtech conference in Miami.
He had a new project, which he believed would disrupt the healthcare industry, and began presenting it to about 50 people. Over the course of his talk, the numbers dwindled, first by a little, then by a lot. By the end, around seven people were left.
"There is a moment in your head, when you are looking at that, where you think, do I stop? Watching people walk out, I can still feel it now. But in any public forum you have to finish what you started and I did. As I am packing up thinking that was a disaster, two people walked up," Keeling says. 
One of those was from GSK and the other was from Astrazeneca, two of the biggest pharma giants on the planet. Keeling was proposing using data to help improve diagnostic testing methods at a time when the term Big Data had yet to be coined, and they were interested. 
"The entrepreneurial gene kicks in then," Keeling says.
Flash forward to March of this year, as Keeling stood in the heart of the City of London as the clocked ticked down to the opening bell. The Belfast native watched the screens of the London Stock Exchange as the ticker symbol DXRX popped up, before swiftly going green.
In the intervening years, the pharmaceutical industry significantly increased investment in precision medicine, which tailors treatment to individual patients. It is an area in which Diaceutics, the company Keeling founded in 2005, specialises.
Keeling's company amassed reams of data that it can crunch to help pharmaceutical businesses make sure the correct diagnostic tests, and testing programmes, are used to roll out new products and determine individual treatment plans. 
With offices in Belfast, Dundalk, New Jersey and Singapore, the company now has a global footprint and was passing the major milestone of becoming a listed company.
The more than 13 years leading up that moment had built to a sprint finish. Diaceutics floated on London's AIM market just days before the Brexit deadline of the end of March. While the date was later postponed, at the time there was little room for delay.
After about 80 presentations in the space of around 10 days, Diaceutics raised about £17 million, before expenses, for just under one-third of its shares and opened with an initial market cap of £53 million. Investors seemed to like what Keeling had so carefully built, as the shares rose.
For Keeling, it was the culmination of a major period of his life. It was also time to get down to work.
Life on the markets 
There was little in the way of post-bank holiday blues as Keeling sat down with Fora on Tuesday morning ahead of a day of meetings with the investment analyst fraternity. He had arrived in Dublin from Belfast the previous night, getting a head start on the week.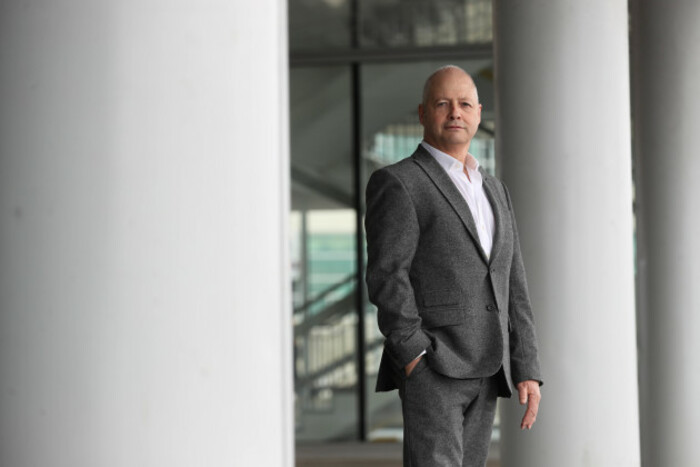 Source: Kelvin Boyes
"The guidance has always been, whatever you do (after floating) don't miss the numbers, because they are building confidence. The first (thing) was to copper-fasten that the commitments we gave around revenues would be delivered," Keeling says. 
Diaceutics did just that, reporting half-year revenues of £4.4 million (€5 million) in September.
The company is an early mover in a rapidly growing sector. First founded in 2005, Keeling got to work when precision medicine was not widely adopted, patient testing was barely on the radar and when it was, it often proved to be slow and inefficient.
It meant that patients were experiencing delays to be put on potentially life-saving medication. To help get people on the right drugs at the right time, Diaceutics uses data pinpoint key information – such as where the tests are taking place, which practitioner or consultant has ordered them, the frequency and turnaround times of those tests and how accurate the results are.
Crunching that data can then help pharmaceutical companies increase uptake of their precision medicine drugs, and from a patient perspective can help get people on the right treatment programmes faster. 
When it floated, the company was already providing services to 20 of the world's 30 largest pharmaceutical companies, and with the proceeds of the float it is in expansion mode, acquiring more data and building a new software-as-a-service offering. 
Selling into some of the most demanding companies in the world, particularly as a startup in Ireland with no brand recognition, was no easy feat. But even 14 years ago, Keeling had picked up plenty of nous along the way to plot a path forward. 
Belfast boy 
Keeling grew up in a house where talk around the kitchen table was about industry, his father a stalwart of Belfast's shipping trade. Business was a natural path and the young Keeling studied the subject at Queen's University. 
"I came out of university and saw a job advertised at GSK as a liaison officer for North and West Africa. I thought 'Africa? I'd like to go to Africa,'" he says. "I was fortunate, I went into that interview process in which they hired four of around 350 people interviewed.
"A lot of them were experienced individuals, I was the only guy with an Ulster accent. Someone asked me why I kept wearing pullovers all the time. I had no mindset of what I was walking into. But obviously something triggered." 
Keeling was sent to Egypt, where he was promoting therapies and building a team in a far more challenging health system than his colleagues posted to France or Germany.  
"I was a young executive thrown into that – 'go sell stuff'. That was job one, job two was Indonesia. I was 28 and there about a day and a half when one of the senior executives asked, 'Why did they send us a child?' I knew I had to work really hard to prove to people that me being parachuted in from London was a good idea." 
In Egypt and Indonesia Keeling cut his teeth, developed a sense of how to identify the key players in dysfunctional ecosystems and making it work. It was when he was called back to the corporate mothership in London that he decided to cut out on his own. 
"I went back into the the belly of the corporate beast and it wasn't me – give me a broken ecosystem," Keeling says. 
Instead he headed over to MIT in the early '90s, starting with a blank page and gaming out what the future of health might look like. With access to some of the top minds in academia and healthcare, Keeling took a deep dive into what might disrupt healthcare. 
"Three things came out of that. One was that ultimately people will drive their own healthcare – we are still 10 years away from that but you can see things like the Fitbit walking us inexorably towards that. It makes huge sense, people will think 'I can order a taxi on my phone, what can't I order a diagnostic test?'" he says. 
The second was looking at how understanding how extracting data around healthcare could change the industry. 
"The last thing that came out was that the real revolution is going to come from how patients are being tested, not necessarily in new treatments. There is a greater than, or equal to, benefit, from focusing on a patient's testing journey as their treatment journey alone. The economic world is focused on high-priced drugs, we need them to focus on low-cost diagnostics very early on. That could move a lung cancer patient from waiting years to getting access to the right drug to getting it in nine months," Keeling says. 
What came out of that initially was Diagnology, a diagnostics startup that Keeling founded around 1995 as a attempt to go into a disease area, focusing on the testing of STDs. 
Keeling followed the book of startups to build a classic venture capital-backed business.
"Page one: build a board, I built the board to die for. Page two: Raise money. Page three: develop a product. I did all of those things. The problem was that while I knew how to run a company, at the time I didn't know how to start a company. They are very different things," Keeling says. 
While the company developed its product and had a good business model, in the end it ran out of money and Keeling sold off the technology. 
Which brings us nicely back to that meeting in Miami, as Keeling had spent a year figuring out what might move the needle in healthcare and began to build Diaceutics. 
[embed id="embed_2"]
"Bringing forward to the pharmaceutical industry a coherent and evidence-based argument as to why their involvement in diagnostics was complimentary to their focus on therapy, that was a year of work," Keeling says. 
Keeling was eager to get stuck into fixing what he saw was another broken ecosystem, to "bring the powers that be, the pointy headed and the big thinkers in and make a difference". 
Rather than taking on external capital and trying to grow a business fast, this time his was going to err on the side of caution – no VC money, no moving too quickly; this time patience was the model.  
Better testing, better treatment
The company began working closely with pharmaceutical outfits to figure out what the industry needed. 
"I got their attention, but I didn't necessarily have their hearts and minds. That was what the next five years were about – they put us into projects looking at HIV, prostate cancer and Alzheimer's. The pharmaceutical companies were saying that in order to get patients on the right drug, they would have to fix the diagnostic ecosystem. The message had resonate," he says. 
The company developed a strong business model, crunching the data and collaborating with pharmaceutical companies and labs to understand what was needed.  
Keeling knew Diaceutics was a long-term play. Instead of raising capital, the company decided to retain control and instead ploughed back the profits from its pharma projects to control its own destiny.
By 2018, the company was going up through the gears, employing 65 people in 17 countries. The previous year the company had begun to explore financing options 
"The company felt a bit like a racehorse, it need to go," he says. 
Keeling set about meeting the private equity community, whittling down the options to a couple of term sheets by mid-2018. 
At the same time, Keeling was a nominee at the EY Entrepreneur of the Year awards. Rather than a trip to Hong Kong, where this year's cohort went for their annual trip, Keeling's group was instead taken on a rather more prosaic sojourn – the city of London.
It was there however, that Keeling had a bit of revelation.
"I got exposed to a lot of small- to medium-sized companies, not unlike Diaceutics, who had taken that step onto the public markets. I thought to myself, 'Why wasn't this in my head? Why didn't I give myself permission to consider this as an option?'" he says. 
So began the process that lead to Keeling taking the company to the AIM market. 
"By serendipity or by luck we arrived in 13 years at exactly the right time, when the market is taking off," Keeling says. 
With the IPO proceeds under its belt, Diaceutics is moving forward. With a rich data set of the testing world, the company is expanding its offering with a new platform which will expand its reach.
"There is another chapter to write, which is to bring the platform in and bring that scale," Keeling says. 
With the precision testing market growing, and people taking more control of their own healthcare, the flow of data continues apace. As an early mover in figuring out how that data could help patients, Diaceutics is the middle of a major shift in how people are being treated. 
Get our Daily Briefing with the morning's most important headlines for innovative Irish businesses.