Permanent TSB has been handed the ECB's first banking fine – here's why
The Irish lender has been slapped with a €2.5 million penalty.
PERMANANT TSB HAS been fined €2.5 million by the banking supervision division of the European Central Bank (ECB).
The fine was issued after it was found that the Irish-based bank did not meet its Liquidity Coverage Ratio (LCR) set by ECB regulations.
This means the bank did not hold enough cash or easily-sold assets in order to fulfill its short-term obligations.
The penalty was handed down by the Single Supervisory Mechanism (SSM) – the ECB's banking watchdog.
It is the first fine of its type from the SSM since it began overseeing banking activities nearly three years ago.
The LCR was a measure introduced after the financial crisis by the ECB. It aimed to ensure banks have enough safe assets and are strong enough to fend off losses without resorting to a bailout if they run into trouble.
In a statement, Permanent TSB said it failed to fulfill LCR requirements at two points – in October 2015 and April 2016 respectively – and that the issue was flagged by the bank itself to the ECB.
The SSM said it imposed two fines of €1.75 million and €750,000 for the bank's failure to comply with liquidity requirements on the two occasions.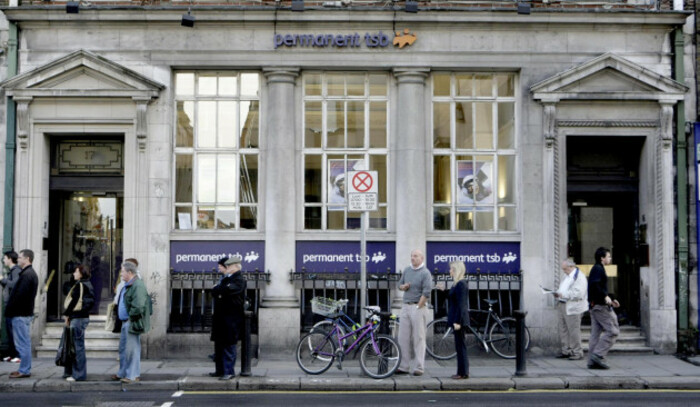 Source: PA Archive/PA Images
Misinterpretation
The bank said that the breaches were caused by a "misinterpretation" of the regulations and how LCR is calculated.
It added: "At no point during this period did the group's actual liquidity position deteriorate."
Since the last breach of LCR regulation in April last year, the bank said that it has been "fully compliant".
"The group had a liquidity buffer of around €4 billion at the time these breaches occurred," said a spokesman for the bank.
"The group's actual liquidity position was not impacted during the period between October 2015 and April 2016. The current value of the group's liquidity buffer is in excess of €6.5 billion."
Earlier this year, Permanent TSB announced profits of €36 million for the first six months of this year – a 55% decrease compared to the same period last year.
Operating income was also down by 5% to €221 million compared to the first six months of 2016 despite a two-thirds increase in new mortgage lending.
Sign up to our newsletter to receive a regular digest of Fora's top articles delivered to your inbox.