Penneys and cheap supermarkets are forcing other retailers to slash their prices
Intense competition is making stores pass on cost savings, according to a Savills report.
WHILE ALMOST ALL retail sectors are seeing strong sales growth, the majority are reducing their prices to compete with stores such as Penneys and discount supermarkets, according to a new report.
Estate agency Savills' latest report on the retail market in Ireland shows that sales volumes are up by one-third since January 2013, but deflation has been a consistent theme across the sector for nearly five years.
While the report shows that retailers are enjoying a boost in sales, this is coming due to discounted prices, it says.
John McCartney, director of research at Savills Ireland, said that in eight out of 10 sectors where prices are falling, the extent of discounting has deepened over the last 24 months.
"One reason is an ongoing compositional shift in the Irish retail landscape towards mid-market and value offerings such as Penneys and the discount supermarkets," he said.
"It also reflects lower input costs for retailers due to lower oil prices since mid-2013 and, more recently, weak sterling."
Specialist food stores 
The report finds that although supermarkets are trading well with sales increasing from 2.7% in June 2016 to 5.7% currently, specialist food stores are experiencing a contraction in both sales volumes and average prices.
Savills says this reflects increased competition in the market with supermarkets offering greater choice with the likes of in-house craft butchers, fishmongers and health food products.
Furniture stores have also seen a boost in their sales, which the report attributes to improved disposable incomes, sharply rising house prices and the introduction of the government-backed 'Home Renovation Incentive', which encourages people to invest more in their homes.
However, one sector that is not following the same trend is the bar industry, which has seen both volume sales and average prices rising.
In terms of rents, the report finds they will continue to rise.
Grafton Street rents 
High-street rents in prime city centre locations, such as Grafton Street, continue to grow more quickly, with rents on Dublin's main shopping street rising by 9% in the year to June.
[embed id="embed_2"]
As a result, rents in this location currently stand at approximately €6,000 per square metre.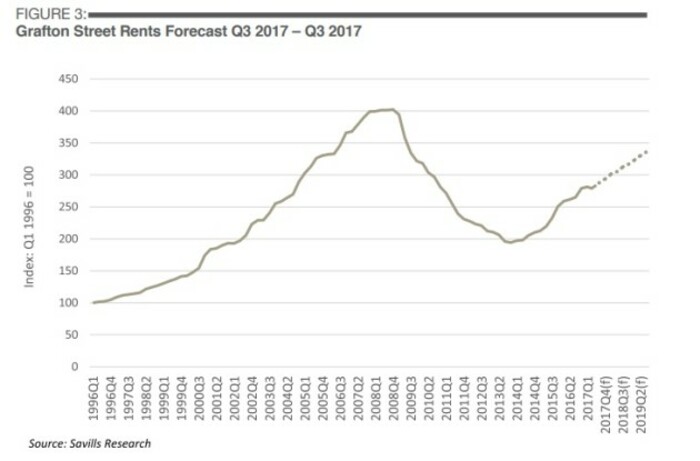 Source: Savills Retail Market Report
Savills predicts that rents in Grafton Street will rise by a further 20.5% from now until the end of 2019.
Footfall in some of the capital's main shopping districts has also risen, with O'Connell Street experiencing an increase of 8.8% this year.
However, Grafton Street and Henry Street has seen a fall-off in footfall of 1.5% and 4.8%, respectively.
Written by Christina Finn and posted on TheJournal.ie
Sign up to our newsletter to receive a regular digest of Fora's top articles delivered to your inbox.
read more on