Inside Dogpatch Labs' offshoot for the next generation of tech talent
The Patch accelerator has caught the eye of entrepreneurs like Bobby Healy and Iseult Ward.
WHEN TOM MCCARTHY was 15, he was building a nuclear fusion reactor in his shed at home. 
Four years later, he's spearheading Patch, a summer accelerator for ambitious 16- to 21-year-olds based out of Dublin startup hub Dogpatch Labs. 
Five tables are set out in a corner of the upstairs offices. They're strewn with half-full glasses of water, boxes of markers and stacks of biscuits. 
It's quiet. The 12 participants are preparing for this evening's presentations of their work to family and friends. Just a handful remain, working on their slides for today's "demo day" to show investors and mentors what they've been up to.
A family friend put McCarthy in touch with Dogpatch's founder, Patrick Walsh, back in 2015, who suggested he put together an event to bring together like-minded young people. 
These initial gatherings took place in 2015 and 2016, bringing together previous BT Young Scientist winners and teenage entrepreneurs.
But like Walsh – who participated in an accelerator before setting up Dogpatch – McCarthy found that "just a single event is probably not enough to to build a lasting community", which sparked the idea for Patch.
"I struggled to find a place where I could I gravitate towards people who I could work on similar stuff with," McCarthy says. 
The accelerator is coming to an end after eight weeks. It has already caught the eye of Draper Epsrit venture partner Brian Caulfield and entrepreneur Bobby Healy, who have part-funded the projects. Intercom's Des Traynor, Movidius co-founder David Moloney and FoodCloud CEO Iseult Ward as mentors. 
Its teams have worked on projects relating to drone flight planning for farmers, facial recognition access control systems and 3D printing for Minecraft.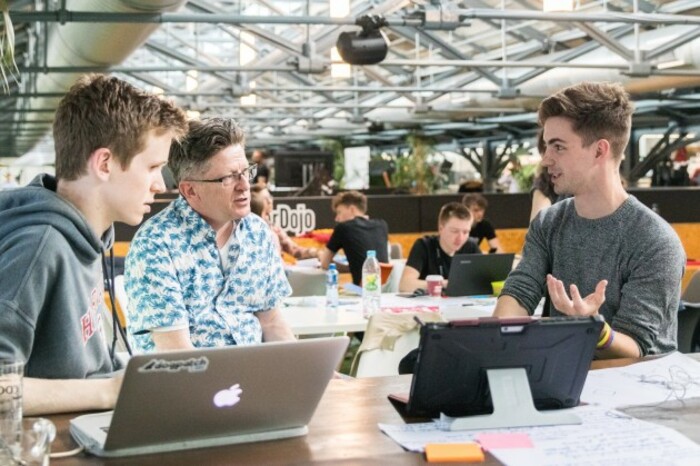 Source: Dogpatch Labs
Peers, mentors, experience
Having struggled to find "partners in crime" to work with on projects when he was a teenager, McCarthy sees Patch working similarly to software entrepreneur Daniel Gross's Pioneer, a similar programme that's mostly run online.
The difference with Patch is the 'real-life' factor, meaning participants are encouraged to work with each other in person. For that reason Patch focuses on providing peers, mentors and experience to its participants. 
"When people go to these clusters their chances of achieving great success at some stage is just vastly increased," McCarthy claims.
Taking the example of Stripe co-founder Patrick Collison – to whom McCarthy recently pitched the Patch concept – he notes that the entrepreneur and his brother, John, didn't quite get the necessary supports in Ireland, so they left for the States. 
Diana Bura and Dylan Cuskelly, both 19, are sitting at a table working on their slides for today's presentations.
They, along with their teammates, Colm O'Brien and Patrick Taplin, grew up loving Lego. Their project is called Wunder Engine. It 3D-prints Minecraft figures designed by children online and sends them to their creators. 
"We wanted to introduce kids to 3D printing, to be able to see their virtual creations in real life and hold the pieces that they create online," says Bura. 
Though there was no direct need for any of the teams to create a business, Cuskelly says they were "hit one by one by different venture capitalists in the first week asking us what we wanted to do and how we wanted to make money".
It's opened his eyes to that possibility, he says. 
Bura, who works at a service station, says she was almost fired for handing out homemade business cards to customers. 
Gytis Daujau, 18, is working with his team on Twine, which makes facial recognition systems easier to access. 
"It's an organisational nightmare of having each person come down to get their face scanned," he says. 
In their system, employees' use of key fobs is co-ordinated over time with cameras on the ceiling to identify their faces. 
"Over time they can stop using their key fobs because the door unlocks automatically," Daujau says.
[embed id="embed_2"]
Source: Dogpatch Labs
What next?
Next year, McCarthy is looking forward to being able build on Patch, rather than have to start from scratch like this year.
This being the inaugural year, the team behind Patch was faced with the challenge of figuring out how to make an accelerator programme work for teenagers. 
"Simple questions like, should you come in with an idea or just come up with an idea during the programme? Should you have to start a company or just do a cool project?" he says. 
But he thinks the team behind the accelerator got most things right – though the timing of the project was a bit tight: the last week of Patch coincides with the first week of the new school year for some participants. 
McCarthy also wants to work on striking a balance between work and education – as well as give teams more time to get to know each other before they get down to work. 
"Our next step after demo day is to say 'How has this gone? How can we do better?" he says.
McCarthy sees the accelerator remaining a philanthropic endeavour rather than a business. 
This year it focused on software – "all you need is a computer" – but in future that could spread to other areas like biochemistry. 
"Really we just want to be a place for anybody who is eager, determined and wants to build stuff and learn."
Get our Daily Briefing with the morning's most important headlines for innovative Irish businesses.