After raising another €500k, Parkpnp plans a big push into the US for its latest product
Europcar Ireland boss Colm Menton has rolled behind the project to help fund the expansion.
AFTER SECURING ITS first US enterprise customer and bagging €500,000 in funding, Irish startup Parkpnp has plans to intensify its efforts across the Atlantic as it pushes out a new product.
The early-stage company, which acts as a platform for people to lease their own car parking spaces, was set up in 2016 and is being led by Garret Flower and Daniel Paul.
The Dublin-based firm has recently focused on adding new products to its mix – including a software-as-a-service (SaaS) system for businesses and communities called ParkOffice.
Speaking to Fora, Flower said his startup has spent the last year developing ParkOffice, which is a smart SaaS system that can help companies or real estate managers assign car parking spaces.
"We see ourselves working with real estate owners who may run an industrial estate with maybe 20 different businesses: some businesses might have massive needs for parking, and some don't. It's just about accessibility," Flower said.
"We see the future for this is allowing communities to link in as well. You can have different businesses that are beside each other link in through ParkOffice and even trade spaces for when they need them the most or pay for spaces next door."
The price of the SaaS product will vary for each client, but it will sit between €250 to €500 a month. Flower said one customer in the US was already lined up to use ParkOffice after signing on as a client in the past two weeks.
Property firms Befimmo and MVGM, real estate outfit Colliers and car rental company Europcar have also committed to using the ParkOffice system in Europe.
Flower said that plans to drive sales of ParkOffice in the US will be financed by a €500,000 tranche of funding the startup sealed in October.
The funding was raised from a number of previous investors, according to Flower, while Europcar Ireland chief executive Colm Menton also contributed to the round of investment.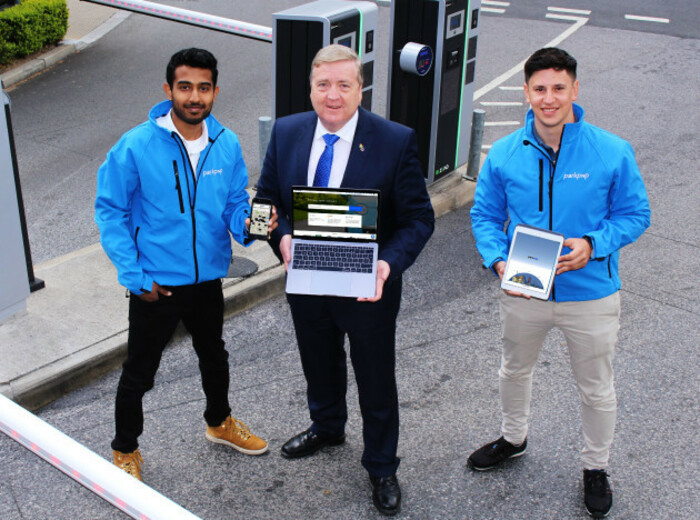 Source: Parkpnp
Parkpnp has aimed to secure 20 paying customers for its new ParkOffice system by the end of this year. Flower said they will target companies with anywhere from 50 to 1,000 employees.
"We're not talking about Google headquarters, we're talking about the like Google's local offices in big cities and other companies which have localised parking problems.
"They may not have a facility manager on site and they need that extra help with automation of their parking. ParkOffice is a smart parking system that can help."
US focus
Parkpnp has raised roughly €1.6 million in funding from a number of investors since it was founded nearly three years ago.
One of the startup's first backers was Sean Melly's venture capital firm Powerscourt Capital, which invested alongside state body Enterprise Ireland.
In its first year of business, Parkpnp signed several deals with real estate, parking and hotel groups to add spaces to the platform's network of car parking facilities.
In 2017, the business also cut a million-euro a year deal in the Netherlands to franchise its business model and last year bought a European rival based in Belgium.
The company was sitting on accumulated losses of €318,000 at the end of November, 2017, according to its latest public accounts.
Flower said the business currently has 40,000 users in Ireland, the Netherlands and Belgium and that with the new ParkOffice system, the company is "tipping closer to profitability".
Get our NEW Daily Briefing with the morning's most important headlines for innovative Irish businesses.