Your crash course in... parental leave
Here's how businesses are changing their attitudes to parental leave.
LAST MONTH, DRINKS giant Diageo made headlines with the announcement that it will offer a minimum of 26 weeks paid paternity leave to all male employees in Ireland.
The decision, which will take effect on 1 July, also includes a rollout of 26 weeks fully paid maternity leave.
Separately in the same month, US bank JP Morgan Chase settled a record $5 million parental leave discrimination case from 2017. The class action case was spearheaded by a father who was not given the same opportunity to take paid leave as female colleagues as he was not, as a man, 'the primary caregiver'. 
Diageo's and other businesses' attitudes to family leave have begun to change in recent years. In 2017, Aviva announced a group-wide policy to offer men and women equal parental leave – also 26 weeks fully paid within the first 12 months. Investec offers the same.
As of 2016 in Ireland, new parents – other than the mother of a child – are entitled to statutory paternity leave from employment for two weeks. That includes the parents of children who have been adopted.  
From November, a new paid parental leave scheme will allow parents to take two weeks paid paternity or maternity leave during their child's first year. There will also be a phased-in extension to the number of week's parents can take as parental leave – increasing it from 18 weeks to 22 and eventually to 26 weeks. 
Though these policy changes are in line with cultural changes being brought in by companies like Diageo, some businesses are pointing to the challenges faced by SMEs expected to provide extended paid leave – and that it's something only larger companies can manage. 
'Strong employee performance'
According to Liam Reid, head of corporate relations for Diageo, the move was part of the company's wider inclusivity agenda – something Aviva also expressed in its initial announcement. 
"The basis for the decision is Diageo's commitment to create a fully inclusive and diverse workforce," he said.
"Global businesses like Diageo must make those moves in policy and the environment in which employees work and to ensure that there's progress made."
For larger companies like Diageo, numerous studies show that diversity in a workforce is also associated with strong employee performance, according to Reid. 
It also helps with employee retention, a major issue for many Irish businesses.
Benefits like fully paid and extended leave are one of the factors that larger companies can use as leverage in this case. 
"It also supports gender equality and helps to challenge those norms. We believe it's good for society, we believe it's good for our people as well," he said.
The changes in Diageo will come in from 1 July and there will be no phasing in period.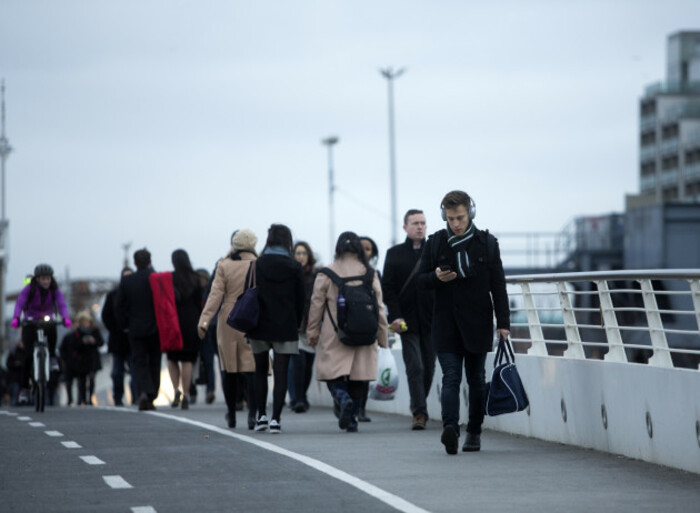 Source: SAM BOAL
What are the challenges? 
One of the difficulties faced by smaller and medium companies is finding ways to backfill niche skill sets for just a couple of weeks, according to Pauline O'Hare, a senior employment law solicitor at Ibec. 
"Policymakers need to be mindful of the implications that increased leave has on businesses – whether that's paid or unpaid," she told Fora.
It isn't just have an admin burden, it has a real cost implication for businesses, she said. 
In Diageo's case, this is not a "significant concern", according to Reid – and backfilling roles for shorter periods will be done on a case by case basis. 
"We would stress that this is the right thing for us as a company. We've said before that we're not telling any other companies or organisations what they should or shouldn't do," he said. 
Another issue according to O'Hare is the "piecemeal" approach to legislation, with the incoming changes to paternity and maternity leave, parental leave and an EU directive on work-life balance – including parental leave.
Ibec is looking for a "more co-ordinated approach" to legislation – given the amount of policy changes in the pipeline. 
Where companies are able to offer 26 weeks fully paid leave, O'Hare said it's a "great benefit", but "you have to remember that a lot of the private sector is made up of small- and medium-sized business who simply can't do that".
Last week, the government also agreed to introduce changes to parental leave regulations. Parents can now take two weeks paid leave – expected to rise to seven weeks in the next three years – in the first year of their child's life. 
Get our NEW Daily Briefing with the morning's most important headlines for innovative Irish businesses.