Ex-Aer Arann boss: 'I was lucky to get out of the industry with my life and some money'
Pádraig Ó Céidigh, who built up the regional carrier, had a heart attack in 2012 as the airline floundered.
THE LONG-STANDING boss of regional airline Aer Arann says he was lucky to leave the aviation industry with his health and some money in his pocket.
Pádraig Ó Céidigh purchased Aer Arann, which was set up in 1970, in 1994 with Eugene O'Kelly.
Ó Céidigh transformed the company, which was a small operation serving three Aran Islands from Connemara, into a much larger regional airline that was carrying over one million passengers and had a turnover of €100 million by 2006.
However, Aer Arann began to suffer amidst a perfect storm, which included intense competition from larger rival Ryanair on regional routes, rising oil prices and Ireland's economic collapse.
The company filed for examinership in 2010, and the stress of the process took its toll on Ó Céidigh, who suffered a heart attack in January 2012.
Speaking at the annual ISME conference in Dublin yesterday, Ó Céidigh said he still counted himself relatively lucky for his experiences in Aer Arann.
"Quite frankly, people who invest in the airline business, they probably shouldn't, because there has been more money lost in the aviation industry since the creation of commercial aviation than made," he said.
"It's a net-loss situation. I was lucky to get out with my life and a reasonable amount of financial wealth, lucky."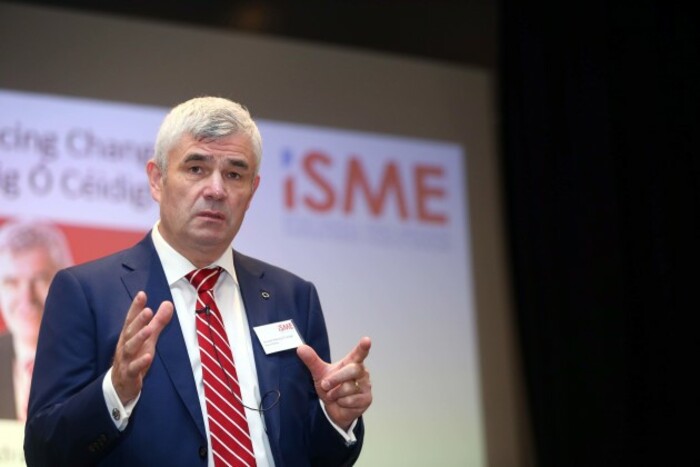 Source: Jason Clarke Photography Ltd
Danger zone
Ó Céidigh later added that he had assumed that there were two 'zones' that people normally occupy – their comfort zone, and their 'stretch zone', where people leave their comfort zones and test themselves.
"When I was involved in Aer Arann, I thought that I was in my stretch zone. I'm stretching myself, I know I'm stretching myself, but that's it," he said.
"I was wrong. There is another zone outside your stretch zone. That other zone is called the danger zone. Very often, we don't realise it's there, and we think we're in the stretch zone, and you stay there for too long, and that's what happened to me.
"I felt (that) if the company failed, then I'm a failure. It took me a good while to realise that I'm not any business. A business has a purpose. You're much more important than any business you will ever create and you should be much more important to the people that care for you."
What defines you
Ó Céidigh said that company owners should be "very clear" about the purpose of their business.
"It is not you, it does not define who you are," he said. "You are a lot more than your business."
Ó Céidigh was one of Taoiseach Enda Kenny's 11 nominations to the Seanad following the February 2016 general election, although it was thought that Micheál Martin had a hand in his appointment.
Since leaving Aer Arann, Ó Céidigh has set up an angel investment fund and also owns a nursing home in Westmeath and senior-citizen homecare service Casla.
O'Ceidigh was the Aer Arann chairman until 2013 and still has a 5% stake in the business.
UK-based transport group Stobart took a stake in Aer Arann during its examinership and now owns 45% of the Irish airline, since renamed Stobart Air.
Stobart Air, which operates the Aer Lingus regional service on a franchise basis for Aer Lingus, now looks set to be sold to Dublin-based regional airline CityJet.
read more on