A porn star taught Paddy Power's boss that having the craic doesn't work everywhere
Madcap high jinks work well in Ireland, but not every country appreciates the same marketing stunts.
THE MARKETING GURUS at gambling giant Paddy Power have no qualms about courting controversy.
There was uproar when the bookie gave odds on the outcome of the Oscar Pistorius murder trial – "money back if he walks" – and the company has clashed with sporting officials for sponsoring athletes to wear underpants emblazoned with its logo.
While these kinds of madcap publicity stunts have usually worked well with UK and Irish audiences, the sense of humour has sometimes been lost on punters abroad, according to Paddy Power Betfair chief executive Breon Corcoran.
"I think being Irish, I'm kind of pre-disposed to think that Irish brands have a resonance everywhere, but that's not always the case," he told an audience at the Web Summit in Lisbon this week.
"Five or six years ago, we thought that the answer to most problems might be a Paddy Power, Irish-themed, entertainment-led brand."
Corcoran said the firm – which boasts on its website that it does the "marketing equivalent of running up and slapping you in the face" – has learned to tone down the high jinks and respect cultural sensitivities for certain audiences.
"There are cultural nuances in all these markets," he said. "In Italy, for example, consumers tend to see gambling as a less frivolous affair than the Paddy Power brand might suggest.
"We famously ran ads involving a porn star and then got feedback that gambling for our Italian customers was much more serious than that. A frivolous entertainment brand wasn't what they wanted.
"We've been accused of guerrilla marketing in the past," he said, referring to the term used for low-budget, unconventional promotions. "We think it's largely just a fun part of the game."
North Korea
Corcoran acknowledged that Paddy Power's appetite for mischief "occasionally can go across the line".
"A couple of years ago we sponsored Dennis Rodman, a US basketball player, on his tour of North Korea, which in the first instance seemed like a fun thing to do, but rapidly deteriorated into almost a geopolitical scandal."
Paddy Power agreed to sponsor Rodman's visit to the country, famous for its human rights abuses and nuclear posturing, so he could to play an exhibition match for dictator Kim Jong-un, but the company was swamped by criticism and pulled out.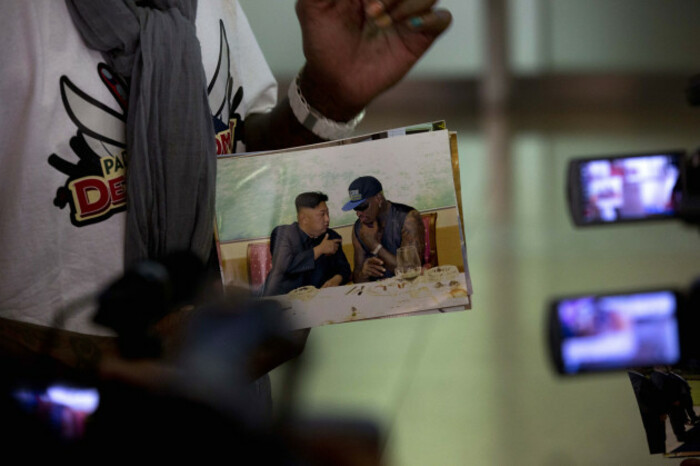 Source: Ng Han Guan/AP/Press Association Images
Corcoran said he sees the company as more of an "international business with Irish roots as opposed to a fundamentally Irish business", especially after its near-€10 billion merger with UK rival Betfair.
The betting group has used its suite of brands – Paddy Power, Betfair, Sportsbet and TVG – to re-package its marketing to suit punters in different markets.
For example, the company operates in Australia under the Sportsbet name, which Paddy Power acquired in 2010.
A well-known online bookie, Sportsbet enjoys "a much more Australian positioning and resonates because it's relevant to the customers there in a way that an Irish brand wouldn't," Corcoran claimed.
read more on