Overstock is 'treading new ground' in attracting tech talent to Sligo
The US company is on a hiring spree that's luring tech pros out of the capital.
US TECH FIRM Overstock wants to lay a blueprint for companies hiring outside of Dublin and de-risk the regions to be more feasible bases for tech workers.
The online retailer and e-commerce marketplace announced plans late last year to hire 100 people for the company's Sligo R&D operations.
Its Irish office, opened in 2013, carries out many technical development tasks for the company and currently has 68 people.
"We're treading new ground here," David Kenny, who leads the Sligo outpost and is overseeing its latest string of hiring, told Fora.
Overstock has eschewed the typical locations for tech firms. Founded in 1999, it maintains its headquarters in Midvale, Utah, near Salt Lake City.
It has another location in Elma, Washington, a town of 3,000 people, 90 miles west of Seattle.
According to Kenny, Sligo is becoming more of a viable destination for tech workers in Ireland.
"We're not going to pay the same salary as Dublin but when you look at the overall costs of housing, getting a mortgage here, we think you can save money by leaving Dublin and joining us."
Overstock has seen a number of US tech companies choose Sligo of late, such as American software firms LiveTiles and E3 Retail, which both opened up shop last year.
Kenny – who is also chair of representative body Sligo-Leitrim Tech Cluster – said more companies like this are needed in Sligo and other regions to de-risk the areas as career locations.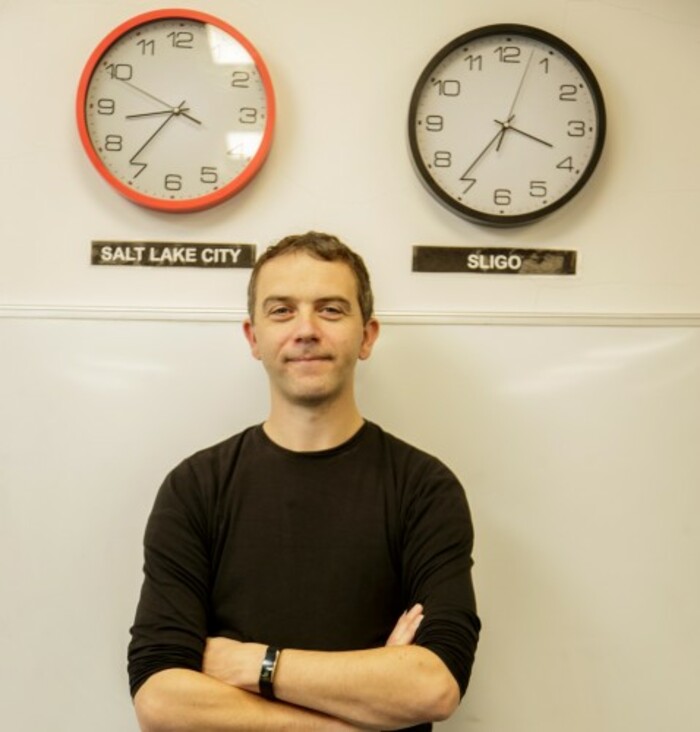 Source: James Connolly
A senior engineer in Google is taking a chance by leaving Dublin, taking their kids out of school and absconding west, he said, with fewer options available to change role or company.
"There's quite a little cluster here but we'd like to see more people and more companies move in to build that safety net."
Hiring spree
Overstock is in the midst of relocating to a new office in Sligo to accommodate its own expansion.
The new digs has space for 120 people with an option for another floor on the premises.
The company is adding roles in areas like engineering but skills in artificial intelligence and machine learning are tougher to get ahold of.
Source: Shutterstock/Piotr Swat
"The machine learning side of things is across all aspects of the e-commerce business from recommendations to optimising supply chain and predicting a more accurate delivery time," Kenny explained.
"We work with thousands of companies that sell stuff on Overstock so it's helping them make smart decisions for their onboarding of new products like automatically looking at the texts and figuring out what area within the site that product should be selling in."
Kenny added the Sligo office has 12 teams and tries to cycle staff in and out of different teams, where applicable, to diversify operations.
The Sligo base also provides some technical support to Overstock's investment arm and accelerator Medici Ventures.
The vehicle, founded in 2014, invests specifically in startups using blockchain technology and has backed or founded around 20 companies.
Kenny explained that Overstock Sligo helps with two companies in particular: Medici Land Governance, which is creating a solution for digital land registries, and FinClusive, which builds compliance tools for banks serving customers that were previously unbanked.
Overstock, which trades on the Nasdaq, reported revenues this week of $368 million for the first quarter of 2019 – down from $445 million the same period in 2018 – with pre-tax losses of $42 million.
Get our NEW Daily Briefing with the morning's most important headlines for innovative Irish businesses.