An Irish energy company has raised a whopping €47m and is looking for more
The renewable firm's biggest shareholder stumped up €40 million as part of the deal.
IRISH RENEWABLE COMPANY OpenHydro has just tapped its shareholders for €47m and is looking at another raise as it aims to commercialise its technology.
OpenHydro's underwater turbines harness tidal energy to create electricity. The company builds and installs the turbines while letting local utility firms or project developers handle their day-to-day running.
The Dublin-headquartered firm is looking to kick-start its production line of marine turbines as it seeks to commercialise the technology and has started to deploy them in demonstration projects.
In January it successfully deployed the first of two tidal turbines at the Paimpol-Brehat demonstration farm in France. It is also set to deploy two more two-megawatt (MW) turbines off the coast of Canada this year.
OpenHydro is majority-owned by French naval systems designer DCNS, which provided the majority of the capital during the shareholder cash call.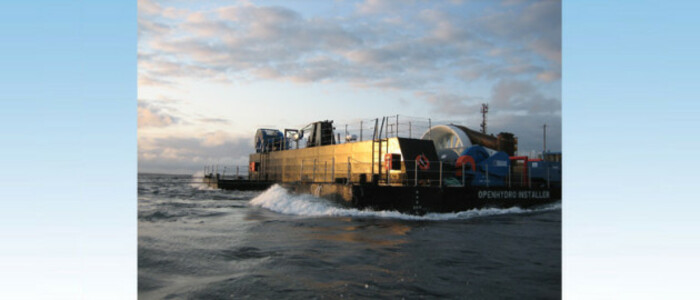 New fundraising round
In response to a series of questions, OpenHydro chief financial officer Peter Corcoran said DCNS provided €40 million and €7 million was provided by minority shareholders.
The company has previously said it may raise up to €55 million, and could further increase that figure if there is enough capital on offer.
"(The) money raised will support our transition to industrial supply and project pipeline in France, Canada, Northern Ireland, Scotland and the Channel Islands. OpenHydro has over 900MW of projects in development across UK, France and Canada," Corcoran said.
He added that the process a further funding round "is currently being discussed with our shareholders and board". Final details of the raise will be decided upon by the end of March.
As well as major projects in France and Canada, the company plans to develop a huge tidal array in Northern Ireland.
The 100MW scheme, set to be constructed off the north Antrim coast, has the potential to generate enough power for 70,000 homes. Work on the venture is expected to start in 2018.