Brussels has ordered online retailers to clean up 'irregularities' in how they display prices
But local retail representatives are confident the problem is not an 'Irish issue'.
A EUROPE-WIDE SWEEP of e-commerce sites found that the majority of e-commerce sites in the EU were found to have "irregularities" in their pricing and discounts – but local retail representatives are confident the issue doesn't affect Irish stores.
In a review of 560 sites carried out in November by consumer protection authorities in 24 EU member-states, the European Commission found that 60% of the online shops showed "irregularities".
Member states perform regular "sweeps" – screenings of websites – where they check whether traders are compliant with EU consumer protection laws. 
For more than a third of e-commerce sites offering discounts, authorities "suspected the offers weren't authentic" or found that the way a discount was calculated was unclear. 
On 211 sites, the final price to be paid was higher than the initial price offered, while almost 40% didn't include information on unavoidable extra fees like delivery, booking, payment methods and other surcharges. 
According to EU law, traders must advertise prices inclusive of taxes and other costs. Where that's not possible, they need to make it clear that these extra fees exist. 
Věra Jourová, commissioner for justice, consumers and gender equality, said that irregularities in how discounts and prices are advertised can result in confusion and "a higher price than intended.".
The largest number of irregularities was found in the clothing sector at 146 sites, with household appliances, mobile phones and tablets at 129 and 120 respectively. 
Cosmetics, PCs and hardware and audio and video product sites all ranked highly as well.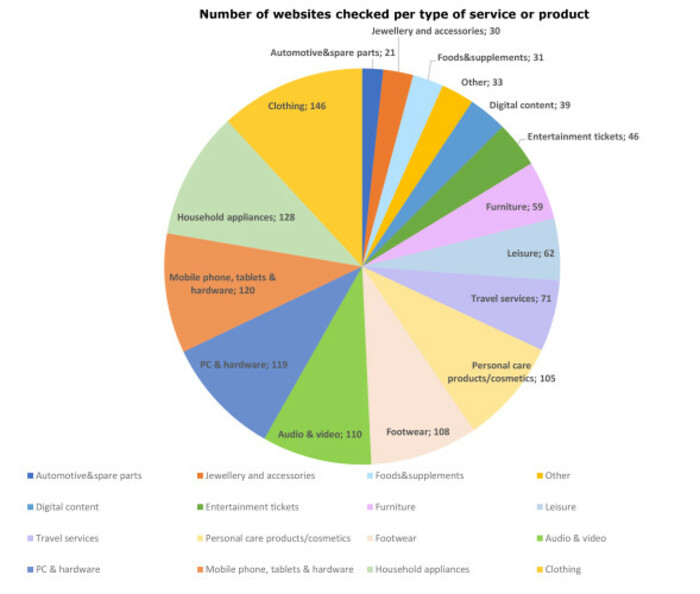 Source: Europa.eu
Click here to view a larger version
'Trust mark'
On a number of websites, authorities also found issues with identifying who the trader was, the trader's address, contact details and information on the right to withdraw an order.
In some 59% of cases, there was no link to the 'Online Dispute Resolution' platform, which is obligatory in the EU.
Bryan Rankin of lobby group Retail Excellence said that the group – which represents 13,000 businesses across Ireland – is satisfied with its own "trust mark" system, which it encourages members to adopt.
"That's something Retail Excellence has done in a practical sense to give encouragement to the (customer) when they visit a particular website. Those that apply for the trust mark automatically get a European trust mark".
Rankin said that Retail Excellence doesn't see this as an issue: "The quality of Irish websites is high; it's a European issue."
"Irish websites are by and large of a very high quality and trusted, as a result of that we're happy to stand over any of those that hold the trust mark," said Rankin. 
Get our NEW Daily Briefing with the morning's most important headlines for innovative Irish businesses.