It's not just Dublin where businesses are being squeezed by high rents
Office vacancy levels are falling in key Irish regions.
IT TURNS OUT the shortage of office space is not just a Dublin-centric problem.
According to the latest report from DTZ Sherry FitzGerald, low vacancy rate levels in regional markets are rivaling figures in the Irish capital.
The rock bottom vacancy level of 4.5% being experienced in Galway is eclipsing Dublin's rate of 13%, with levels in Cork (15.6%) and Limerick (18.5%) also decreasing year on year.
Speaking about the dwindling office availability, DTZ Sherry FitzGerald Group chief economist Marian Finnegan said the shortage is partly due to an uplift in the Irish employment figures.
"The strength of recovery in the Irish labour market is reflected in a broad-based recovery in the Irish office market, with strong take up activity recorded in all of the regional office markets," she said.
"As such supply side shortages are emerging in key markets, most notably in the CBD of Dublin and the Galway office market."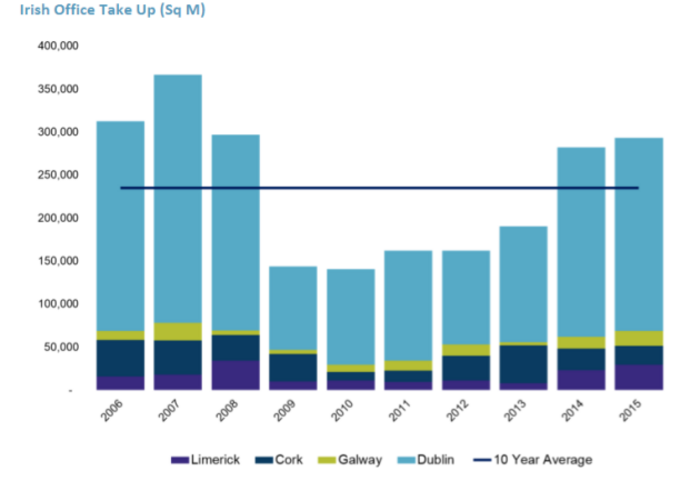 The influx of tech companies and growth in Irish businesses over the past 12 months has led to greater competition for office space in the capital, with businesses now venting their frustration about the difficulties of finding a suitable base.
Supply and demand
Further results from the report shows that occupiers in Dublin displayed more interest in locating in suburban areas in 2015 as supply constraints and rents in the CBD continue to rise.
Outside of Dublin, the opening of Uber's large office on Thomas Street in Limerick and a number of other deals meant the region saw the most leasing activity in the last two quarters.
Despite the shortage of office space becoming more apparent in areas such as Galway and Limerick, most office construction activity is taking place in Dublin and limited in regional areas.
Forecast for 2016 
Looking at the year ahead, Finnegan suggested in the report that demand for office space will continue to rise in 2016.
She said the combination of growth in employment figures and the rising pressure of increasing rents in regional areas could lead to rental growth in the Cork, Limerick and Galway markets hitting double-digit percentages.
Irish office market in numbers:
It is at its strongest level since the height of the market in 2007
Occupier demand is 25% higher than the 10-year average
Prime Dublin CBD rents were €592 per sq m at the end of 2015. This represents a 90% increase since the lowest point in early 2013
17,100 sq m was taken up in Galway during 2015. This is a 24% increase on 2014 levels and meant the vacancy rate shrunk to 4.5%.