Ireland's 'unfit' corporate watchdog is about to get a major overhaul
The ODCE was roundly criticised for its role in the collapse of the case against Sean FitzPatrick.
IRELAND'S CORPORATE WATCHDOG is about to be overhauled in an effort to make it more effective in pursuing white-collar crime.
The government today announced a range of measures it is planning to take in an effort to combat corporate wrongdoing.
Among the most eye-catching is a pledge to revamp the Office of the Director of Corporate Enforcement (ODCE), which came in for harsh criticism after the collapse of the case against former Anglo Irish Bank chairman Sean FitzPatrick.
It was found that the ODCE staff had destroyed evidence and coached witnesses during its investigation. Jobs Minister Frances Fitzgerald, who was formerly justice minister, said that the ODCE was "not fit for purpose" after the case fell apart.
As part of the overhaul, the ODCE will be made an independent agency rather than a state agency with the aim of giving the organisation more autonomy and flexibility in how it operates.
The government also promised that the body will be better able to recruit expert workers. This has long proved an issue for the ODCE, which was recently said to be suffering from "dangerously low staffing levels".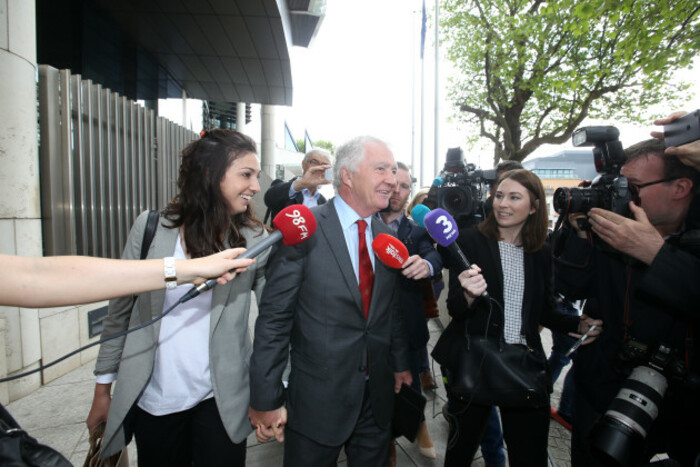 Source: Sam Boal/RollingNews.ie
The changes to the ODCE will need legislation in order to "facilitate a transition to a more adaptable and specialised company law enforcement entity with responsibility for company law enforcement", a government report said.
Payments fraud
As well as the ODCE change, a new agency task force will be established to address payment fraud, such as credit card fraud, which is being increasingly carried out by sophisticated criminal enterprises.
The new task force will operate for six months and its findings will feed into a Department of Justice review of anti-fraud and anti-corruption structures and procedures.
Other measures that were announced include new laws that will make it easier to prosecute insider trading, rules to targets lobbyists who may attempt to bribe influential figures and a crackdown on money laundering.
Taoiseach Leo Varadkar said he is "frustrated at our inability as a country to secure more convictions when it comes to corruption and white-collar crime".
"Corruption and white-collar crime damage our economy, breed cynicism in our society and are a threat to our international reputation," he said.
Sign up to our newsletter to receive a regular digest of Fora's top articles delivered to your inbox.
read more on