NuaHealth is expanding its video doctor consultation platform to combat Covid-19's spread
The software allows clinicians to connect directly with patients remotely.
NUAHEALTH, WHICH PROVIDES software for GPs and clinicians to carry out video consultations, has been ramping up the roll-out of services in response to the coronavirus crisis.
The Dublin-based company develops software for doctor and health clinics that can be implemented to provide their patients with remote video call-based consultations.
"We've over 250 clinics and practices, over 500 clinicians now registered and using the system," chief executive Oisin Kim told Fora.
As the coronavirus grips the nation's healthcare system, the company hopes that the software can alleviate at least some pressure for clinicians with video chat consultations, especially for everyday cases that still need care.
He added that the company is managing the challenge of onboarding more clinics while making the software easier to use for patients.
"We know from our own experience that a significant number of people have challenges getting access to an active email address. They might have an email (address) but the inbox is full of spam or they don't have the password," Kim explained.
"There is an SMS option that we built in from the start. That's actually been a significant percentage of our bookings," he said.
"That means that the person doesn't have to have an email, doesn't have to have an app, doesn't have to have anything bar a smartphone, but can receive a text message and then they're basically seeing a (clinician) in ten seconds."
Thousands of appointments have been booked over the last week using the software, Kim said.
NuaHealth develops the software that is directly sold to these clinics for a monthly fee of €24 per clinician per month.
Health tech response
The NuaHealth service differs from its sister company Webdoctor, also run by Kim. In the case of Webdoctor, a user can log on and seek out an approved doctor for a video consultation with the process mirroring online marketplaces to an extent.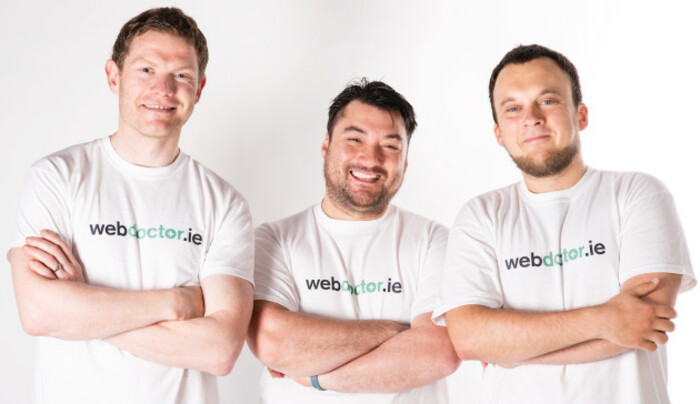 A similar service is provided by Videodoc, which was acquired recently by a UK care home provider.
The ever-developing coronavirus pandemic has put a great deal of attention and pressure on digital services of all kinds to meet people's needs that may get lost in the crisis.
Clanwilliam Health, a Dublin-based healthcare technology company, has said it would be expanding its eScript service for electronic prescription notifications.
Get our Daily Briefing with the morning's most important headlines for innovative Irish businesses.