How Dundalk's Nova Leah plans to help wipe out hospital cyber bugs
The Dundalk startup landed money from the State's 'disruptive technologies' fund for its blockchain project.
NOVA LEAH PLANS to build a new platform that uses blockchain to help hospitals stay abreast of cybersecurity risks in their equipment after taking on fresh funding from the State's new innovation fund.
The Dundalk startup recently received €1.5 million from the Disruptive Technologies Innovation Fund for the project.
Its existing platform, SelectEvidence, helps medical device manufacturers monitor any cybersecurity vulnerabilities in products like defibrillators, pacemakers and insulin pumps that are connected to wireless networks.
The new version of the software, dubbed Select IS (Selection Information Sharing), is more about two-way communication.
It will use artificial intelligence to monitor for threats in devices in real-time and provide the information to both hospitals and device makers.
The blockchain component will create a digital audit trail of when vulnerabilities are discovered and mitigated against.
Chief executive Anita Finnegan told Fora that the new product, which will be built in collaboration with Dundalk Institute of Technology, will bring greater visibility and transparency to everyone involved in medical technology, not just manufacturers.
"It brings a lot more visibility and transparency to the industry by way of a platform to allow the communication of vulnerabilities between the stakeholders in the industry, medical device manufacturers and healthcare providers."
Select IS will operate in real-time, keeping all parties in the loop on potential issues with everything from hospital equipment to a connected device implanted in a human. It will utilise AI to categorise threat levels in different settings.
"Sometimes we get reports of vulnerabilities for a component in a medical device," Finnegan said.
"A particular vulnerability in a given setting may not actually have any negative implications on the device or any patients that are relying on the device but in other settings it may do."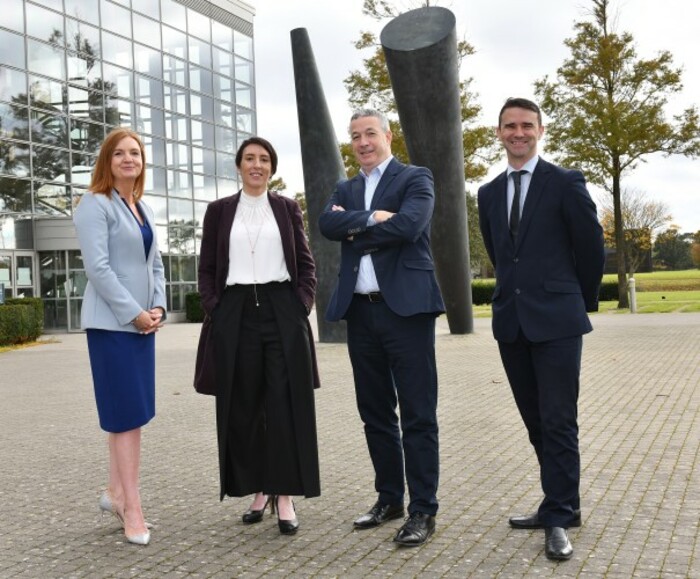 Source: Ken Finegan
Finnegan said "information sharing and knowledge is king" in the medtech industry.
She highlighted the case of the WannaCry ransomware cyber-attack in 2017, when systems in the UK's NHS were locked down with the attackers demanding a ransom to decrypt the IT equipment.
In that case, a patch for the vulnerability was available a few months before the attack, however the fix wasn't put in place.
"We're trying to avoid those types of scenarios," Finnegan added.
Blockchain
Blockchain will provide a consistent record of any problems that have been detected, ensuring that all stakeholders are made aware of a threat.
The technology is a database of records that is managed by a distributed network of computers, making it near-impossible to tamper with the data.
"The blockchain is for auditability and traceability," Finnegan said.
She said there's much greater awareness in the sector now around cybersecurity threats in connected healthcare products and regulators are ramping up the pressure for better standards.
The US Food and Drug Administration has been pushing for stronger rules on security for devices both before and after they are launched on the market.
The latter scenario would place more responsibility on manufacturers to track bugs or vulnerabilities and prove they had addressed the problems.
In October, the FDA and the Department of Homeland Security announced they would be introducing a new framework for greater coordination on tackling medical device cyber threats.
Finnegan said these sorts of rules will become standard in the industry and medical devices makers and hospitals will need tools to show they're staying compliant.
"When that becomes mandatory, the blockchain piece in our system is what is going to provide the traceability of the communication of that out to the industry," Finnegan.
Nova Leah's biggest market for its existing and future products is the US, home to many of the world's largest medical device makers.
Research and development will commence early next year with pilots eventually being conducted with American hospitals.
This will involve focus groups to gather feedback from hospitals and manufacturers before developing the platform.
"(We'll) do a small-scale pilot with one or two manufacturers and one or two hospitals and then we'll go into a larger scale pilot towards the end of the project to tweak."
[embed id="embed_3"]
Other funding
Nova Leah is also involved in a second 'disruptive technologies' project with IBM and internet of things startup Davra Networks around the management and analysis of medical imaging.
The startup is contributing to the security requirements of devices involved in that platform, which received €2.2 million from the government fund. Separately, Nova Leah raised €2.25 million in a funding round in November.
That round of investment is "about enhancing our existing technology and taking that to market", Finnegan explained.
The funding, from Bank of Ireland's Kernel Capital-managed growth fund and Suir Valley Ventures, will be used to bulk up sales and marketing for the flagship product SelectEvidence.
Finnegan is aiming to have 30 to 40 customers on board by the end of 2019 while the startup's staff will likely reach around 40 people.
Get our NEW Daily Briefing with the morning's most important headlines for innovative Irish businesses.