Croatian smartphone maker Noa is taking its international expansion into Ireland
The manufacturer opened a new retail outlet in Swords this month.
CROATIAN SMARTPHONE MAKER Noa is using Ireland as a launching pad for its international expansion after opening a retail store in Dublin this month.
Noa, which is led by parent company Hangar 18, is plotting an expansion of the brand into Western Europe and internationally, according to Tihana Magdić, who is overseeing the Irish operations.
Ireland marks the first pit-stop in the company's growth outside of Eastern Europe, the Balkans and Russia where it has mostly operated.
"The brand is 10 years old itself. It's present in the Russian market, in Bulgaria and Romania and the Balkans region," Magdić said.
"We're known in Eastern Europe, just not as known in the Irish market yet."
Noa began putting the wheels in motion last November and this month opened its first retail kiosk in the Swords Pavillion shopping centre in north Dublin.
It plans to open 15 stores in Ireland as part of a wider European push that will see 100 outlets opened around the continent.
It currently has 30 outlets spread across Croatia, Serbia and Slovenia.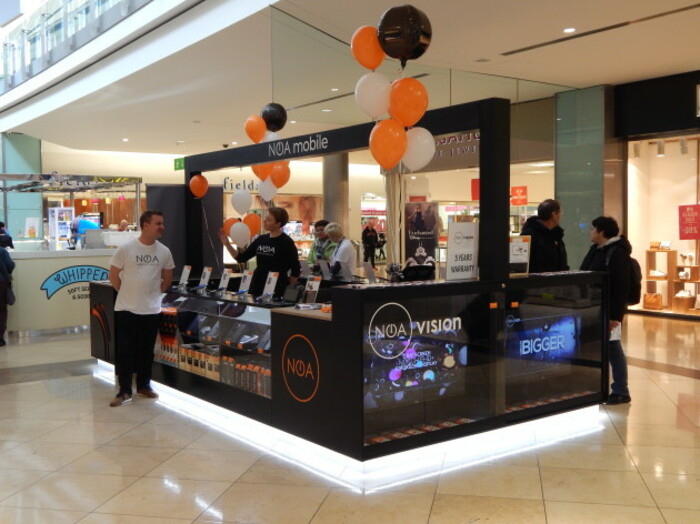 Source: Hangar 18
Magdić said that Noa will open kiosks in Dublin's Jervis Centre and Liffey Valley shopping centre in the coming months with further locations on the road-map around Ireland.
The UK will be the next location for Noa, she added.
Distribution
The firm, which also makers smart TVs, is working with Irish electronics distributor Beaumex to get its products into larger retailers like Power City and DID Electrical.
"They'll be taking a large amount of stock from us and distributing it to retailers in general and we are supporting with marketing and service."
Magdić has eight staff in Dublin currently, which includes customer support and repairs based out of a service centre and warehouse in the city, but she said that this will grow soon alongside the retail expansion.
"It's six months since the company opened so it's growing slowly," she said, adding that she's also drawing on some expertise and services from the Croatian base, which has 200 employees.
Get our NEW Daily Briefing with the morning's most important headlines for innovative Irish businesses.