Meet the Dublin startup that wants to become the Spotify of news
As part of our weekly Startup Spotlight series, we profile News Over Audio.
FOR GARETH HICKEY, his career in the news business started at the age of 12 as a paper boy in Tallaght.
The hourly rate for delivering newspapers was pretty good, according to Hickey. He got about €30 an hour for doing his route – not bad pocket money for an adolescent, even if it wasn't a career with long-term prospects.
However, after a stint in finance as an equity analyst, Hickey has returned to the news-distribution trade – this time with a mind to set up the Spotify for news.
Together with co-founder Shane Ennis, the pair have launched News Over Audio (NOA), a service that provides news articles read by human narrators.
In just over two years, the company has formed partnerships with well-known publishers such as the Financial Times, Bloomberg, the UK edition of the Independent and the Irish Times.
Hickey says there are also a few more partnerships with international publishers in the pipeline that he can't disclose yet.
"Over the next couple of months we will more than double our publishers – we expect to have 10 or 12. We've seen a strong demand from publishers to work with us, but we have to bide our time in regards to how quick we can bring them on board," says Hickey.
"The reason we ended going with the Financial Times and Bloomberg over others is because they are two tier-one international publishers.
"That's who we want to be affiliated with and will allow us to progress conversations with other tier-one publishers as well."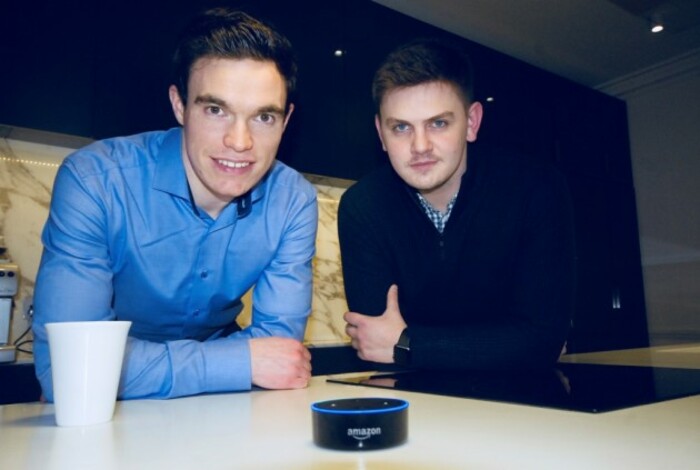 Alexa
But it's not just publishers that have been in touch – the company also got a call from tech giant Amazon recently, co-founder Ennis says.
The e-commerce behemoth got in touch to collaborate with NOA following the launch of the Amazon smart speaker Alexa – a device that processes voice commands to perform tasks like setting alarms and adjusting smart thermostats.
"When they made the Alexa announcement a couple of years ago, it felt like a natural fit right away for us and we had started to develop the skill to integrate NOA with Alexa.
"They got in touch with us pretty much as we were putting that skill out there. We've got a working relationship with Amazon now that's about to become much more visible over the next couple of months."
Ennis says enabling NOA on Alexa is as simple as saying "enable news over audio" and it's ready to go.
He adds that the plan this year is to get NOA integrated with other popular smart speakers such as Apple's HomePod and Google Home.
"I think the smart speaker space is not like virtual reality or Google Glass which may have some adoption, I think there will be mass market adoption of speakers due to the convenience of using it around the home," says Ennis.
The company, which launched its product last year, has seen 13,000 users on its service since May – the majority of whom are coming from the UK.
Users can get access to four articles for free each day, after that point they hit a paywall and have to pay a monthly subscription fee of between €3 and €8 to access articles.
Publishers that feature on the app receive a small share of the startup's revenues from subscriptions and advertising – NOA also plays adverts at the end of every third article.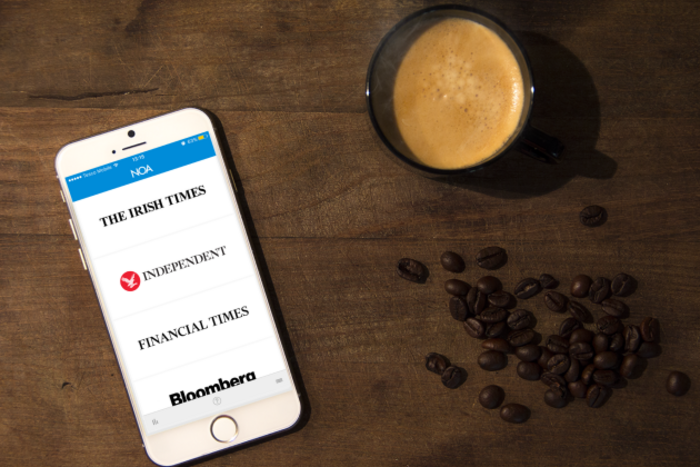 Funding
The firm is currently based out of an office in Tallaght and has 10 staff on its books, including news editors, narrators and developers.
Hickey says the company plans to move into a new space closer to Dublin's city centre later this year and is also in the middle of sealing a round of investment.
[embed id="embed_2"]
"We're close to raising €500,000, which we expect to close by June of this year. We have a good chunk of that, about 40% over the line already through a group of private investors."
According to NOA's founders, the company has been bootstrapped so far to the tune of €100,000, but it needs additional funding to create a new version of the NOA app.
"We have built a product that allows us to build partnerships with publishers and get user feedback to see the exact product they want to have," Ennis says.
"Internally we would say to ourselves, we're not at the stage where the consumer value proposition is where it needs to be.
"The target by the end of this year is to get very clever mobile product out there on par with YouTube and Spotify in terms of getting to know users, building out the full smart speaker range, enhancing Alexa and also getting a presence on Google Home."
Ennis adds that the plan is to tap into other possible revenue streams as well, including the motor market.
He says the company is in talks with a couple of publishers and automakers to get NOA's service integrated in connected cars, meaning drivers could listen to the news articles on the go.
"That's where some of the resources will be spent this year with the user target very much a 2019 focus. We want to see ourselves close to 100,000 users by the end of next year.
"But this year, we want to make sure that when we get to put a product in front of those users, they will want to come back to it."
This article is part of a weekly series featuring Ireland's most promising startups. If you would like to see your company featured email news@fora.ie.
Sign up to our newsletter to receive a regular digest of Fora's top articles delivered to your inbox.