The car market is 'shrouded in uncertainty' as imports outpace new registrations
Second-hand cars from the UK are hurting domestic sales, according to a new report.
NEW CAR REGISTRATIONS will continue to decline this year as second-hand imports deliver double-digit growth.
That's according to the latest quarterly review by the Society of the Irish Motor Industry (SIMI).
The author of the report, economist Jim Power, has predicted that positive economic factors like GDP growth and near-full employment – which normally encourage new car sales – will be clouded by "continued Brexit-related uncertainty and sterling weakness".
In 2017, there were 131,300 new car registrations, a 10.4% decrease on 2016′s figure.
Power has estimated that around 120,000 new cars will be registered by the end of this year, which would mean an 8.6% decline on 2017′s tally, while the used import market is forecast to grow by 15% to 107,470 registrations.
"In other words, used imports from the UK are likely to remain a significant feature of the market and will undoubtedly displace new car sales once again," he wrote.
The economist said growth in the number of used cars imported from Britain, coupled with a weakened sterling, is having a knock-on effect on both new and used car sales in Ireland.
"The drive in used imports from the UK effectively means that those prices are now setting prices for the domestic second-hand car stock, and this is making the cost of change to a new car more expensive," Power wrote.
"The year ahead is shrouded in deep uncertainty, largely due to the uncertain performance of sterling and the impact of used imports from the UK."
Most popular brands
The report commissioned by SIMI found that during the first three months of this year, new car registrations declined by 5.5% year-on-year to just over 71,800.
Every county except Wexford experienced a decrease in new car registrations – new 'WX' registrations increased by 5%. County Cavan recorded the biggest decline at 17.8%.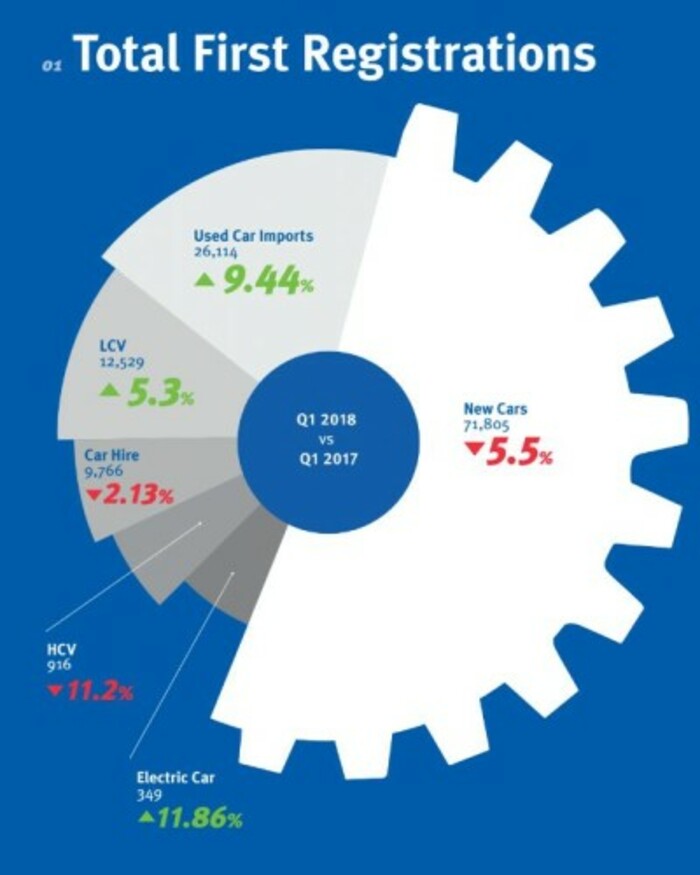 Source: SIMI
Click here to view a larger version
Imported used cars accounted for well over a quarter of all registrations. In the first three months of the year, 26,114 used cars were imported, which was almost 10% ahead of the same period last year.
"While there were fewer trading days in March and exceptional weather conditions disrupted activity, it is clear that Brexit uncertainty and used imports from the UK continue to exert pressure on the domestic new car market," Power wrote.
The five most popular car brands were Volkwagen, Toyota, Hyundai, Ford and Nissan.
The exchequer collected more than €754 million in vehicle registration and VAT receipts from car sales in the first three months of this year, while the total tax take from new car sales decreased 1.2% to €669 million.
Sign up to our newsletter to receive a regular digest of Fora's top articles delivered to your inbox.