'There is a huge unmet clinical need': Meet the Irish entrepreneur helping tinnitus sufferers
Ross O'Neill is growing Neuromod into a major Irish medtech player.
TINNITUS MAY BE a common condition, but that doesn't mean it has always been widely understood, according to Ross O'Neill.
"There had been a lot of voodoo and snake oil. As an area of scientific research, it was fragmented and wasn't terribly mature,"  the founder and chief executive of Dublin-based Neuromod says when he sits down with Fora.
O'Neill has spent the best part of the past decade changing that.
For those dealing with the issue, Tinnitus manifests itself as ringing in the ears and can cause great distress and discomfort for sufferers including affecting concentration and sleep. Dublin-based Neuromod has been working on developing a device, called Lenire, to turn down the volume and give them some peace.  
The Lenire system has developed and evolved greatly since its initial trials in 2010. Neuromod has taken on experts in the field to further inform its work and prove its efficacy through intensive trials.
To get a Lenire system, a patient needs to be fitted for one by an audiologist. Neuromod has opened a centre in the Hermitage Clinic in Dublin and another in Hannover in Germany.
To finance much of this, Neuromod has raised funding from some strategic investors.
In 2015, it raised €5.5 million and earlier this year it raised a further €8 million – a mix of debt and equity – from Fountain Healthcare Partners, Moffett Investment Holdings and Kreos Capital, Silicon Valley Bank. The latter two provided the debt.
Now the goal is further commercialisation. Medical devices, by their very nature, have complicated routes to market.
They require clinical testing, extensive time and effort in R&D, securing intellectual property protections and relevant regulatory approvals. These are all capital-intensive.
Neuromod has a staff of 22 in a building in the Digital Hub in Dublin. It recently took out a second floor of the building in anticipation of expansion. It is carrying out some small-scale manufacturing, namely assembly, at the location but O'Neill is keen to fully outsource the manufacturing soon. 
Sensory conditions
Neuromod's roots go back to O'Neill's days in university studying both electronic and biomedical engineering which turned him on to the whole area of neuromodulation – the alteration of nerves through stimulation.
It's a broad area that also looks at sudden sensory loss and their impact. One example is phantom limb, where an amputee feels pain where a limb used to be. Tinnitus was one such area that O'Neill was keen to explore further.
Hearing loss and hearing conditions are common with old age but also with the environments we inhabit, from wearing earphones every day to regularly attending loud concerts all the way to soldiers in warfare exposed to loud explosions.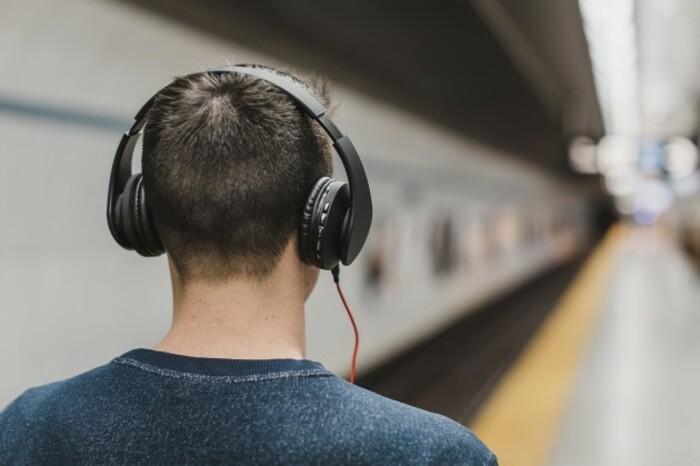 But there was confusion around where exactly the condition sat. Was it one for the audiologists? Or is it for the neurologists?
"Everyone was kind of fighting over who the condition belonged to, which led to a lack of focus on the scientific side." 
In the late 2000s, around the same time that O'Neill, while still in academia, had become interested in the condition and how it could be treated, Berthold Langguth, a professor of psychiatry and psychotherapy at the University of Regensburg in Germany, was one of several academics that went about setting up the Tinnitus Research Initiative (TRI).
The non-profit – backed by Italian business mogul and New Zealand sailing coach Matteo De Nora – brings together all these disparate voices and disciplines to create some cohesion.
"That has been very effective and has led to guidelines and created a coherent community now of scientists and researchers and clinicians who are interested in the area," O'Neill says.
"We all now have a forum, we present our work, we discuss and debate. We can advance the science and the clinical management of the condition and so on."
These efforts have created a clearer message, he says, but tinnitus remains "a huge unmet clinical need" and it was amid this backdrop that O'Neill started Neuromod.
There is now increasing awareness of hearing damage. You might notice your phone warning you when you've jacked up the headphone volume too high.
Still, the effects of tinnitus remain prevalent and for suffers, it can cause great discomfort.
"It is getting better but it is just not going to change anytime soon on the preventative level," O'Neill says.
He initially kicked around the idea of pursuing research further in an academic setting but opted for starting his own company with the aim of raising private capital. This would mean getting a product out for actual use much faster, he believed at the time.
With initial funding from Enterprise Ireland, a "crude" prototype of what would become the Lenire device and a first clinical trial, Neuromod began its journey.
The fact that tinnitus remains largely unserved is something that bugs O'Neill.
"The hearing companies are kind of pretending to address it by trying to claim that hearing aids and sound therapies are effective," he says.
"The reality is that if they were effective, every time I advertised for a clinical trial here in Ireland with a population of 4.5 million people, I wouldn't get 7,500 people beating down my door after a week or two," he says.
"They can go to any retail audiologist down the street, I won't name them but everyone knows who they are, and buy any of these products. Clearly, patients are rejecting these products so I could see that there was a very exciting opportunity."
The Lenire system, which is used at home, works by providing stimulation to the brain.
It is actually made up of three parts – a pair of headphones, a 'tonguetip' that is placed in the mouth and a controller.
The patient wears the headphones and places the tonguetip in their mouth while controlling a number of sounds via the controller.
The mouthpiece delivers electrical pulses to the trigeminal nerve – this is the nerve responsible for the feeling in your face – which is synchronised with various sounds from the headphones.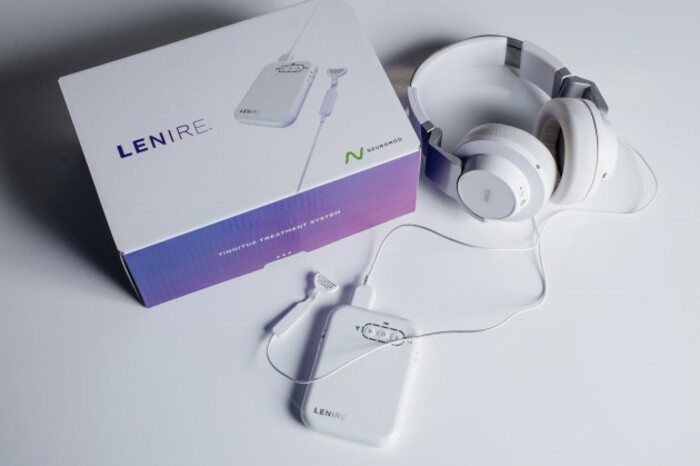 Your brain recognises sounds made by the trigeminal nerve, such as your own voice or chewing, and regulates the sound volume so that is not too loud for you.
Lenire attempts to bring the volume of tinnitus sounds down in a similar way; by pairing various sounds within the tinnitus band through the stimulation of the trigeminal nerve, it will, in a way, 'fool' the brain.
"When the brain gets the stimulation in these tinnitus bands, it turns down the volume," O'Neill says.
To effectively treat tinnitus and impose long-lasting changes, the therapy needs to be carried out regularly – around 30 to 60 minutes every day for 12 weeks.
"That's very significant because (with) the current standard of care, hearing aids with some kind of sound therapy or noise maskers, the minute you turn those things off, you go back to baseline," O'Neill says.
"They are only ever going to be symptomatic management. It's a bit like giving paracetamol to a chronic pain sufferer; they will provide relief while they're in use but once they're taken out of use, that benefit is gone immediately."
Development
While Neuromod is carrying out some manufacturing and assembly in its Digital Hub base, it will be outsourcing the manufacturing as the company scales up. 
"We're in the process of transferring manufacturing to a large scale contract manufacturing partner. That takes a bit of time." O'Neill says.
"You can design a device to be manufactured in small numbers. (Mass manufacturing) requires manufacturing expertise."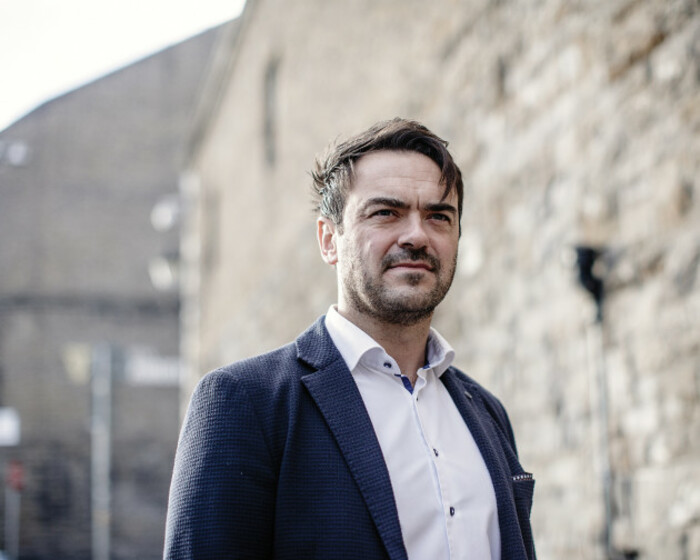 These plans took a hit a few months ago. Neuromod was originally intending to work with Molex in Shannon until the company announced the closure of the plant in October. O'Neill says an alternative partner, which is owned by Molex's parent company Koch Industries, will be used instead.
"That makes sense for us. Our core competencies are science, engineering, product development and clinical research. Manufacturing is capital expensive, it requires a lot of infrastructure and so we're not going to invest in that, we're going to partner to have our manufacturing done."
The Lenire system has received approvals in Europe but the US will be a major area of investment for the company moving forward.
This will require the go-ahead from the Food and Drug Administration (FDA).
Lenire is in a tricky spot. As a novel new device, it has little or no predecessors to draw from; a route that many device makers take when there's a predicate already on the market.
This leaves Neuromod in a position where it must provide comprehensive clinical data to the watchdog and await further instructions, which could take some time.
"It's indeterminate. It depends on many factors and how the FDA view our data, if they require additional data or what their concerns are."
Get our Daily Briefing with the morning's most important headlines for innovative Irish businesses.