National Ploughing Championships boss: 'I feel as passionate today as when I was 17'
After four decades at the helm of Europe's largest outdoor festival, Anna May McHugh shows no signs of slowing down.
JUST A FEW days before the National Ploughing Championships kicks off, the competition's managing director Anna May McHugh is worried about only one thing: the weather.
"Do what you can about what you can do," she tells Fora, "but the weather – we can do nothing."
Other than that, she insists she isn't nervous: "You have to be firm."
Now in its 85th year, the ploughing championships – often cited as Europe's largest outdoor festival – has become an unlikely success story, attracting tens of thousands of people from both agricultural and urban backgrounds.
This year's event will take place across 800 acres of land at Screggan, Tullamore in Co. Offaly, from this Tuesday to Thursday.
Last year, a record crowd of 281,000 attended the three-day competition, with over 1,500 exhibitors showcasing their businesses at the event.
She says she doesn't hope for the championships to get any bigger: "We certainly have what we can handle now."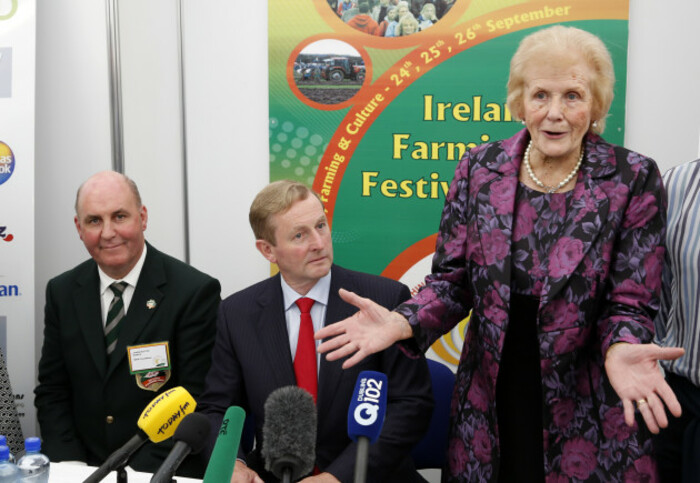 Source: Sasko Lazarov/Rollingnews.ie
McHugh says the variety of attractions at the event has been crucial to its success. As well as organising the ploughing, the National Ploughing Association hosts sheepdog trials, a brown bread competition and nine fashion shows.
Judging from the level of demand for tickets, she expects to attract the same numbers this year, although she reckons the late harvest in Kerry and west Cork might affect attendance.
Four decades
McHugh has been at the helm of the NPA, which organises the championships, for over 40 years.
"I can tell you, the day I was made managing director, the life was frightened (out) of me – I just could not write my name," she says.

Having worked for the organisation since 1951, McHugh was secretary before being elected to her current role in 1973, which she says she never expected to happen.
She says managing the ploughing championships is "an all year-round job" and takes a strong team effort to pull off.
"Every cog in the wheel must turn with no weak link because the weak link will show on the day of the event," McHugh says.
Four permanent staff work on the event from the headquarters in Athy, Co Kildare, with an additional five recruited to help out from June onwards. Right now, the team is busy distributing discounted tickets to colleges and schools.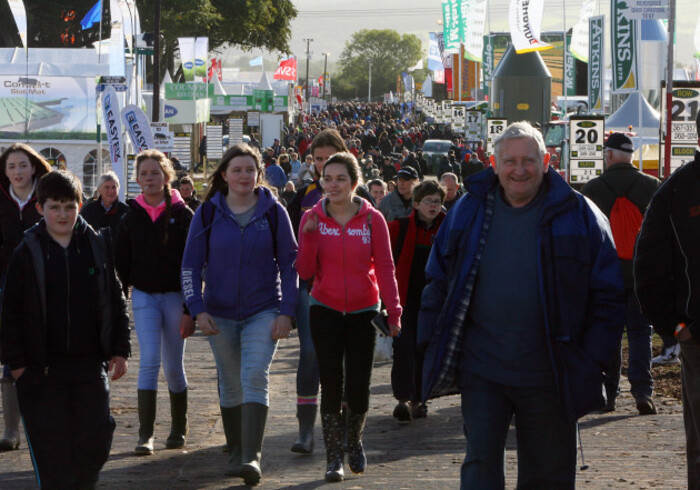 Source: Mark Stedman/Rollingnews.ie
As well as several contractors and site managers, security personnel – which are one of the biggest costs – have been on-site in Tullamore since 3 August.
McHugh predicts the NPA will spend "in excess of €5 million" on this year's event. Some 25 kilometres of steel walkway panels were imported from England and cabling had to be moved underground for safety reasons – "a huge cost," she says.
The most recently filed accounts show that the NPA reported a profit of over €980,000 for the financial year ending 31 January 2016, with an accumulated profit of more than €13 million.
Tickets cost €20 for adults with a discount for OAPs, students and group bookings, and have stayed at that price since 2006 when the NPA hosted the World Ploughing Championships in Tullow, Co Carlow.
McHugh says the NPA has no intention of increasing entry prices, but exhibitor fees have gone up 10% this year – the first rise in a decade – because "costs have escalated beyond all reasoning".
For the exhibitors, the ploughing championships is "a shop window to market their product to the potential customer".
"I'm sure there's a lot of business done," McHugh says. "They wouldn't come back year after year if they're not doing business."
She couldn't provide Fora with an estimated rate to exhibit, but says it is "in proportion (with) the size of the exhibitor". She says there is no special treatment given to anyone bar machinery exhibitors, who have higher transport costs.
Management
Traffic management "is absolutely vital" to pulling off an event of this scale, she says, and this year, the NPA is piloting a complimentary park-and-ride system to handle traffic coming from Dublin.
"We worked with the chief superintendent (John Scanlan)," McHugh says. "We met with (local gardaí) on a regular basis and they would be sussing out every road to the championships."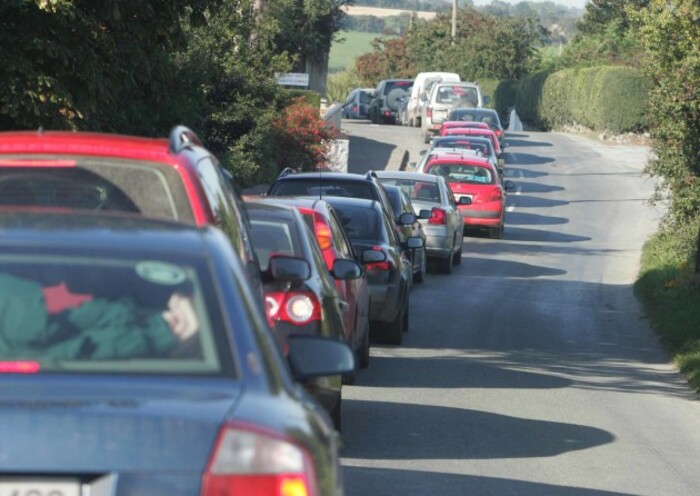 Source: Rollingnews.ie
One of the selling points for this year's site in Screggan was its short distance from Tullamore train station, where Bus Éireann will operate a shuttle service.
The site for the 2017 championships has yet to be decided, but McHugh indicates a few factors that farmers and local councils should consider when making their pitch to host the event.
She outlines that there should be no electrical cables hanging over the exhibition area and there has to be sufficient road access to the venue.
"There would be no point going to places where you can only have one entry in and the same entry to get out," she says.
Neighbouring farmers must co-operate with the site owner, otherwise there wouldn't be enough ploughing ground and car parking.
As a courtesy, McHugh says she visits every potential site: "They were kind enough to offer, so you have to accept and thank them."
But only central locations are seriously considered, with counties Kildare, Carlow, Kilkenny and Offaly usually at the top of the list.
McHugh says she would love to host the event in Donegal, but it is too far out of the way for most attendees and exhibitors.
Retirement
When next week's event is over, McHugh won't stop working.
She will award the winners of the national championships with their trophies at a ceremony on 9 October and will start preparing for the next round of local competitions.
She'll also start thinking about the next world championships, which take place in Kenya in December 2017.
"There's no time that there's no work," she says. "It goes round and round and the year goes very quickly."
McHugh, now in her seventies, shows no signs of slowing down.
"When you love challenges, you don't know where the energy comes from – but it's there anyway. I feel as passionate today as when I was 17."
Anticipating a question on whether she plans to retire, McHugh is quick to dispel any rumours.
"As I said before, I'll go out when I'm not wanted. That hasn't come yet. Otherwise, I'll go out when I'm carried out."
read more on