Challenger bank N26 was called out by the advertising watchdog for using the word 'bulls**t'
It told the ASAI the campaign referred to the 'outdated' banking system, not consumers.
BERLIN-HEADQUARTERED DIGITAL BANK N26 was given a rap on the knuckles by the advertising industry watchdog for breaching its decency standards by using the word "bullshit" in an ad.
The Advertising Standards Authority for Ireland (ASAI), an industry-financed group, received two complaints from members of the public over an outdoor marketing campaign run by the challenger bank.
N26, which launched in Ireland two years ago and was recently valued at $3.5 billion, has attracted more than 3.5 million customers in 24 countries since its 2015 launch. The fintech company provides a suite of products, such as mobile payments, debit cards and online current accounts.
Earlier this year, it ran an outdoor advertising campaign in which it described itself as "the first bank you'll love" and used the hashtag '#nobullshit'.
Two complaints were received about the advertisement. According to the ASAI, "The complainants considered the reference to 'bullshit' to be offensive and unnecessary."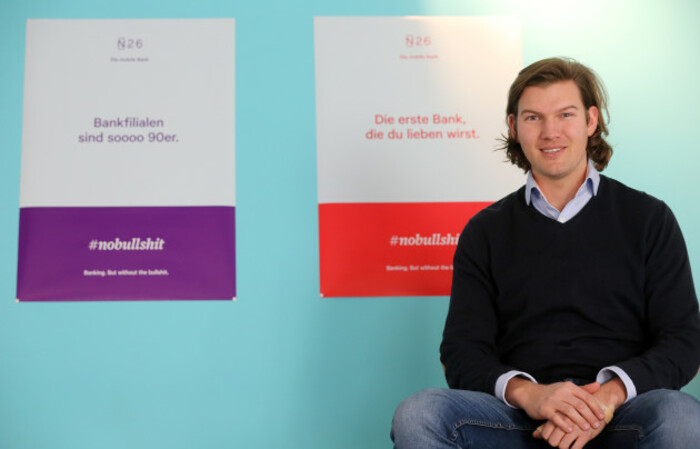 Source: Wolfgang Kumm/DPA/PA Images
Response
In response to the complaints, N26 told the ASAI that the '#nobullshit' message was intended to be geared towards the mainstream banking system, which it called "outdated", and not consumers.
N26 said the campaign had been "very well-received by the audience" and said it received generally positive reactions to a similar social media campaign last year.
The bank's advertising team said that "from now on, they would adhere to the requirements of the code of standards for advertising and marketing communications in Ireland".
The ASAI's independent complaints committee report upheld the grievances over the use of the word bullshit.
"The committee considered that the impact of words in an advertisement could be influenced by the media used and did not consider that the use of the word 'bullshit' had been acceptable for out-of-home advertising in this case," the report stated.
Since the advertising campaign is no longer running, it recommended no further action.
The ASAI upheld complaints made against 25 advertisements in its latest complaints bulletin. The majority related to claims of misleading advertising.
The organisation's chief executive, Orla Twomey, reminded advertisers that the ASAI provides free copy advice services "to help them create responsible ads".
Get our Daily Briefing with the morning's most important headlines for innovative Irish businesses.