The government is considering lifting the minimum wage - by 10c
But the recommendation has already been dismissed as "out of touch" with the reality for businesses.
THE LOW PAY Commission has recommended that the government increase the minimum wage by 10c per hour.
The commission today released its second report, which called for the increase from the current floor pay of €9.15 per hour – a rate introduced at the start of the year from the previous level of €8.65 per hour.
Jobs Minister Mary Mitchell O'Connor said the report would be put to government and it would be "considered in detail in the context of Budget 2017″, due to be delivered in mid-October.
The programme for government, which followed Fine Gael's negotiations with independents to take power, has pledged to progressively lift the minimum wage to €10.50 per hour over the next five years.
It also said the government would rely on the commission's annual recommendations for how the "adjustments" would be made each year.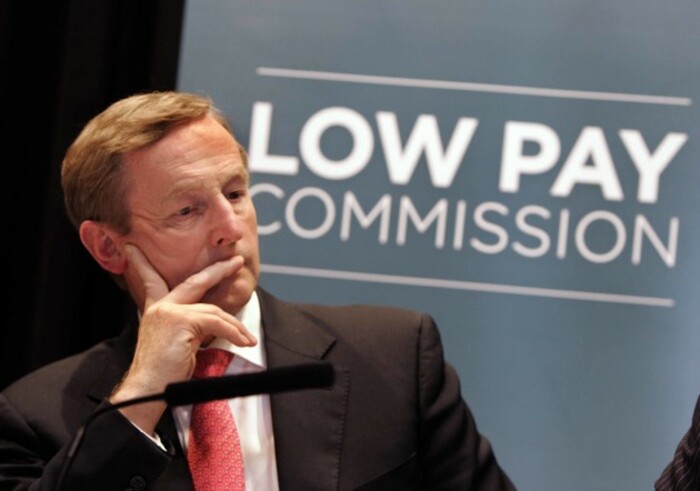 Source: Mark Stedman/RollingNews.ie
'No justification'
However the Small Firms Association condemned the suggested increase, which amounts to a rise of slightly over 1%, adding there was "no justification" for the change at this time. The current rate is the second-highest in the EU for a full-time worker.
The group's acting director, Linda Barry, said the recommendation was "out of touch with the reality that (small) businesses are facing".
"Small firm owner-managers have identified wage inflation as the biggest threat to their businesses in the coming year," she said.
Meanwhile Ibec, the country's largest business group, said the proposed increase was "broadly in line with wage trends elsewhere in the economy" – but many businesses were still unable to afford pay rises.
Several of Ireland's most powerful unions have been lobbying for the government to go further and bring in a so-called "living wage" of €11.50 per hour.
Unite regional secretary Jimmy Kelly said the 10c-per-hour recommendation was "an insult to low-paid workers" and that the Low Pay Commission had missed an opportunity to "start ending the scandal of low pay".
Figures from the CSO show average hourly earnings have barely changed in the past five years, while consumer prices have ticked up around 3%. However the costs of some essentials, most notably housing, have gone through the roof since the recession.
Recent research from the union-backed Nevin Economic Research Institute said there were around 70,000 workers across Ireland on the minimum wage. That represents about 3.5% of the total contingent currently in work across the country.