The minimum wage has been tipped to rise - and employers aren't happy
The Low Pay Commission signalled a small lift in Ireland's base pay rate.
THE GOVERNMENT'S PAY advisory group has recommended that the national minimum wage be lifted 30c - signalling the fourth rise in the rate since 2011.
The Low Pay Commission said the base pay rate for adults should be increased from €9.25 per hour to €9.55 per hour, which equates to an extra €12 over a 40-hour week.
Taoiseach Leo Varadkar welcomed the recommendation, saying it was a "modest increase" but one that was ahead of inflation and increases in average earnings.
"The government wants everyone to have an opportunity to share in the ongoing recovery. Increasing the minimum wage will help to achieve that goal by providing an absolute minimum for earnings."
However the commission's three, private-sector representatives signalled a split in the group – filing a dissenting report that dismissed the recommendation as "not an evidence-based conclusion" and one that ignored the views of employers.
The likely increase was also criticised by the Small Firms Association, which said two-thirds of its members were already planning to give pay rises this year based on merit.
The group's acting director, Linda Barry, said a government-imposed increase "would ignore the realities facing many small businesses", especially in rural areas and those facing Brexit fallout.
Meanwhile, Ibec said there was "no justification" for further minimum wage increase in the current economic climate.
The Low Pay Commission also recommended that the "anomaly" created by the sudden increase in employers' PRSI contributions on weekly earnings over €376 be removed.
In addition, it called for employers that paid the minimum wage to be required to display the basic entitlements for their workers on-site.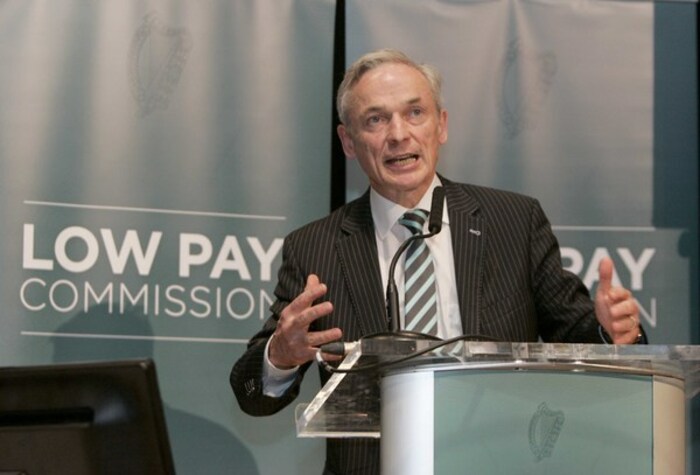 Source: RollingNews.ie
Further rises
While the minimum wage was increased in last year's budget, there remains a significant gap to the €10.50-per hour pledge included in the Programme for Government.
A union-backed group has said the national 'living wage' – the amount needed for a minimum, acceptable standard of living – is currently €11.70 per hour.
Tánaiste and Minister for Jobs Francis Fitzgerald said that she would also introduce proposals to address zero-hour contracts, low-hour contracts, banded hours and other issues in the workplace.
The government will review the recommendations after the summer recess, and the budget for 2018 will be announced in October of this year.
Reporting by Peter Bodkin and Gráinne Ní Aodha.
Sign up to our newsletter to receive a regular digest of Fora's top articles delivered to your inbox.