Employers, your millennial workers are planning to leave you – here's why
But recruiters Morgan McKinley also have some advice to help keep them.
JOB-HOPPING AND flitting between careers has become the norm for the millennial generation – and the trend shows no sign of going away.
By 2025, those born between 1981 and 1999 – better known as millennials – will account for three-quarters of the Irish workforce.
According to a new study from recruitment firm Morgan McKinley, nearly three-quarters of millennials plan to leave their current job within five years – and 62% will do so within three years.
The Workplace in 2025 report, which surveyed over 3,400 Irish professionals of all ages, noted that younger workers are motivated by different factors than previous generations and the idea of a job for life is becoming even rarer.
The study also noted that a third of millennials in the workforce are not happy in their jobs; however, even millennials who are content said they expected to leave change roles soon.
Some of the main reasons millennials cited for leaving a job were a desire to experiment with working for a smaller or bigger company, or wanting to work in a company with either a more 'casual' work culture or a more formal one than for their present position.
Other reasons listed included taking a career break to go travelling, relocating to a new city or country and not being given the chance to use new skills they acquired in their current job.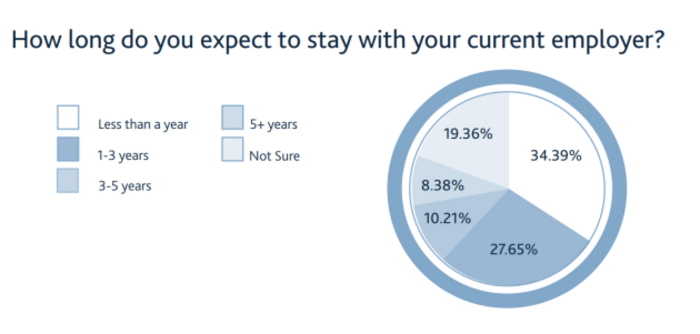 Source: The Workplace in 2025
Click here for a larger version
However, the reasons why millennials leave their job aren't always a negative reflection on their current workplaces.
Morgan McKinley said younger workers regularly look to move jobs to gain experience in a different sector or explore an opportunity not available with their current employer.
A possible side effect of this job-hopping trend for millennials, according to Morgan McKinley, is that employers will expect new staff to hit the ground running and not need significant time to train up.
Keeping a hold
The report predicted that more employers will try to cater for millennial employees and adapt to their working habits.
Morgan McKinley said it expected more companies to start offering flexible start and finish times to break the 9-5 mould, the chance to work from home or hot desk at a different location and job-share schemes.
The report recommended that employers should consider allowing staff to move to different departments and regional offices in order to satisfy millennials' desire to try new experiences.
It also advised employers to keep in contact with ex-employees to potentially benefit from the 'boomerang' trend exhibited by many millennials.
According to Morgan McKinley's survey, a quarter of millennials are likely to 'boomerang' back to old employer after they leave.
Sign up to our newsletter to receive a regular digest of Fora's top articles delivered to your inbox.