A decade of proposals later, two wealthy builders have approval for their Dublin housing scheme
The council has routinely scaled back Michael Cotter and John Sisk's plan to build apartments in Sutton.
AFTER 12 YEARS of applications, two of Ireland's wealthiest developers are poised to start construction on a long-delayed housing project in north county Dublin.
Since 2006, a firm owned by housebuilder Michael Cotter and construction magnate John Sisk has been applying for permission to build apartments and houses on a site beside Saint Dominic's School and convent complex in Sutton.
The applicant, Parsis Limited, has lodged five separate bids to build different-sized housing projects – between 86 and 130 units in size – on the site.
The firm has never received permission for its full development plans, with the council instead telling Cotter and Sisk to build fewer units on the site than proposed. None of the revised projects went ahead.
However last year, Parsis applied for permission to build 86 apartments, 10 houses and a crèche on the 2.46 hectare plot. It also requested permission to create a new access route to the development and an entry point to the adjacent school.
Earlier this month, Fingal council gave the developer the all-clear for the development in its entirety.
The four apartment blocks will be three storeys each and include a total of 71 two-bedroom and 15 one-bedroom units. The 10 semi-detached houses will mainly be five-bedroom developments.
The last development plan for the site, dating back to 2016, approved the construction of only 78 housing units.
An underground car park capable of housing 128 cars is also included in the plans and there will be 37 surface car parking spaces.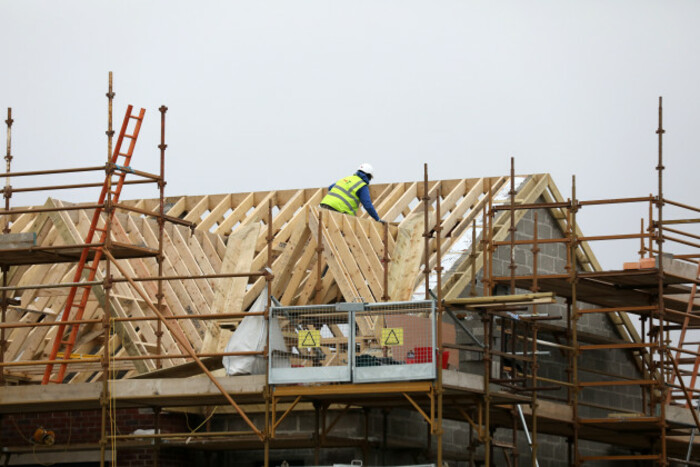 Source: Eamonn Farrell/RollingNews.ie
Several residents who live nearby the prospective development complained about the size of the project and traffic problems it could cause in the area due to additional cars.
One complainant said the developer was attempting "under the guise of modifying the road scheme for school access road to slip through a revised housing plan for the site".
"This squeezes 26% more apartments in a 96-unit design, while only increasing parking from 162 to 165."
None of the complainants' issues were upheld by the council, which ruled in favour of Cotter and Sisk's proposal. The decision may be appealed to An Bord Pleanála.
Housing shortage
The project is one of several housing developments Cotter has under way at the moment. Last month, his firm, Viscount Securities, also renewed its bid to develop 927 new homes in Leopardstown.
Viscount Securities is a subsidiary of Park Developments, with Cotter sitting on the board of both firms.
Cotter is one of Ireland's richest housebuilders and his fortune is worth an estimated €90 million according to the latest Sunday Independent Rich List.
The plans for the housing scheme in Sutton have been submitted at a time when the Republic is suffering from an acute shortage of residential accommodation.
A number of large-scale housing developments nationwide have been granted fast-track approval by the national planning authority in recent weeks in an attempt to alleviate the shortage.
Sign up to our newsletter to receive a regular digest of Fora's top articles delivered to your inbox.