'Work hard and be nice to people. I don't think it has to be more comprehensive than that'
Tools of the trade: Flying Tiger Copenhagen's Irish boss on kindness and why llamas trump beetles.
EVERY WEEK, FORA gets inside the heads of some of Ireland's top entrepreneurs to gain insights into what got them to the top of their trade. This week we meet Michael Burke, the managing director of Flying Tiger Copenhagen, to get an insight into how he runs one of Ireland's quirkiest – and fastest growing – lifestyle brands.  
Michael Burke is a busy man. The managing director of Flying Tiger Copenhagen in Ireland prizes his diary as his most important tool – and tries to plan about three months ahead.
Burke made the switch from telecommunications, having previously worked with Eir, Dixons Carphone and the Carphone Warehouse, to join the Danish lifestyle retailer about a year ago.
The chain has 26 stores and about 220 staff in Ireland – and plans to expand further in the near future. Its turnover last year was €17 million.
As part of our weekly tools of the trade series, Fora spoke to Burke about the importance of listening – and why llamas trump beetles.
Here's what he had to say:
What differentiates your company from the competition?
We're a bit of an oddity as a retailer – there's not too many direct competitors for Flying Tiger. What we sell is a bit unique. I'd say the key differentiator is that we turn over 200 to 300 new items every month.
When the owners first decided on it, it was to keep it fresh for repeat customers so that young or old don't get bored with the same offering.
I think the best words used to describe it to me when I joined were "the treasure hunt". 
What is the most important skill you have learned?
Listening. I do believe for any manager and leader it's a real core skill to pick up and use every day.
When I was younger, I got it fed back to me to listen more and I did it out of courtesy. As you get older you realise that it's actually more to do with understanding and having a more well-rounded world view.
How do you judge success?
Sustainability and longevity as a business model. 
The business has been around five or six years and has had really strong growth as a retailer in Ireland. I think it's moving into another phase now. We're going to start planning for a much longer future in the market and creating a model that does have that longer-term sustainability of profit.
It's profit for the shareholders, but also for every employee so they feel they've got a permanent, solid business. 
How do you spot when something isn't working? How long do you give it before changing?
I try to speak to our customer-facing colleagues as much as possible. There is nowhere else that you'll find out what's going on unless you're speaking to the colleagues that talk to the customer every day. 
We had a llama theme about a year ago and customers loved it. Then we had beetles on some of our products six months later and our customers didn't like it. That's the kind of stuff that we need to hear about rather than see it on a piece of paper. 
I've a pet hate to see a key performance indicator on a profit-and-loss statement that repeats itself in two months. We always need to make a change within a four-week period if we believe that it's a trend that needs to be corrected.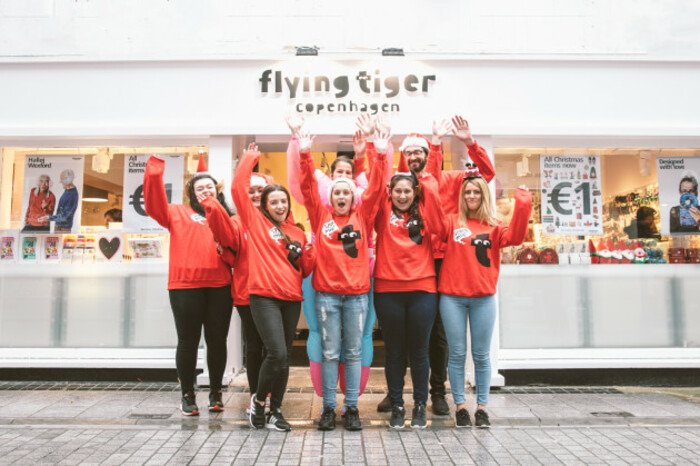 Source: Derek Kennedy
What tool could you not do without?
My diary. I used to be really bad at planning my time back. I just couldn't do without Microsoft Outlook now. I really need to have three months penciled in at the moment. 
Where would you like to improve?
In business, it would be understanding our customer further. In Flying Tiger we still have a long way to go to get closer to our customers' feedback. 
Personally, where I'd like to improve is finding more time to read – and more business manuals. I could improve my management and leadership by educating myself more. 
How do you deal with pressure?
If I am under pressure I take myself out of a situation and give myself some private space. I go find a coffee shop somewhere to plan and think about what needs to be done rather than the firefighting that you would be in the middle of if you were under pressure.
How would you describe your management style?
I'm collaborative. I'm pretty good, I think, at trying to empower without delegating the tough calls. Sometimes you just need to make the call. 
What helps you switch off?
Gardening. I'm totally rubbish at it, but it's one of these things where I see it almost as therapy – to step outside and be outdoors. I've spent the majority of my career in offices and behind desks.
How do you manage your time?
Thank God for the iPhone. I'm not sure how I would have done it if it was 20 years ago. It has a lot of downsides as well, but if used right it's good. 
How do you keep your staff onside?
I don't think about it too much – I think everyone has their own decisions to make about work ethic and being driven. But I am a big believer in kindness.
My previous CEO had that famous quote on his wall which was, "Work hard and be nice to people." I don't think it has to be more comprehensive than that. 
What book would you recommended the most?
I've just started it – The Power of Now by Eckhart Tolle. It's a slant on spirituality and living in the now. I listen to a lot of podcasts on happiness – I'm trying to get much closer to it. It's important for my team as well. 
Get our Daily Briefing with the morning's most important headlines for innovative Irish businesses.