Safe storage provider Merrion Vaults is opening new facilities in the US and Spain
The Irish company is also opening a facility in Edinburgh as part of an ongoing expansion.
SAFE DEPOSIT BOX provider Merrion Vaults plans to open new facilities in the UK, Spain and US over the next six months as part of an ongoing international expansion.
Since 2013, the company has provided a vault for storing valuables in Dublin city centre. Over the years, it has opened similar safe deposit box facilities in Glasgow, Newcastle, Nottingham and Liverpool.
Séamus Fahy, co-founder and director of Merrion Vaults, pictured left, said the company plans to open safekeeping storage in Edinburgh within the next two months.
It is close to securing a site in Manhattan, New York, and is currently looking for property in Barcelona. Both of those locations are expected to open by early 2020.
Fahy explained that the company has set up websites promoting soon-to-launch storage facilities in around 100 locations.
"The websites basically say, 'Coming soon, join our waiting list.' If we get a certain number of enquiries, we know it's going to work in those cities. That's how we do our market research," he told Fora.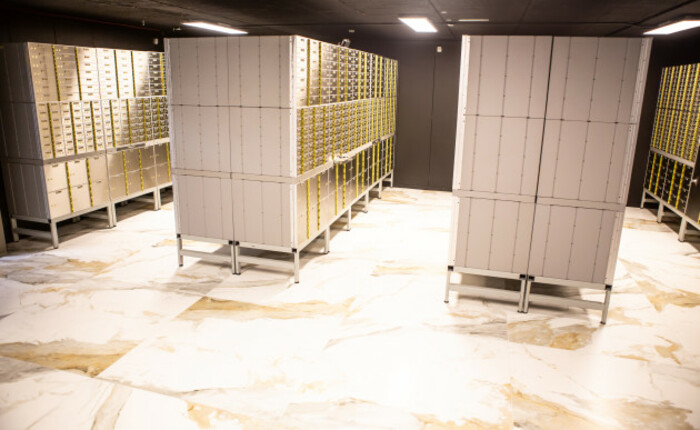 Source: Gary Ashe/Merrion Vaults
Merrion Vaults provides 12 different sized boxes for storing valuables at an annual cost of between €199 and €3,500.
Similar to a traditional bank vault, the boxes are used to store the likes of family heirlooms, physical gold and silver, jewellery, rare books and watch collections.
"A lot of our customers are worried about the future. Some are worried that some day they'll go to an ATM and there'll be no money there. They're worried about their house being burgled. They're the kind of people that require safe deposit boxes," Fahy said.
Each new facility costs Merrion Vaults around €500,000 to install and kit out with security features like sensors, control systems and biometric access.
"Right now, we've funded the expansion ourselves but we are talking to finance partners. We bank with AIB and they've been very helpful," Fahy said.
As well as providing storage, Merrion Vaults also buys and sells gold bullion, which has traditionally been considered a safe-haven investment. There has been growing interest in the service due to the uncertainty surrounding the global economy.
"With Brexit, we're finding that all our facilities are very, very busy with gold bullion. People are worried about sterling weakening significantly. People would prefer to have a hedge and have some of their wealth in gold bullion," Fahy said.
He added that there has been an increase in the number of customers from Northern Ireland depositing valuables in the Merrion Vaults facility in Dublin.
Get our Daily Briefing with the morning's most important headlines for innovative Irish businesses.