This Irish startup is testing under-skin medical record chips - on its own staff
The company behind MediMee launched its maiden product earlier this year.
AN IRISH STARTUP has been trialling a service to allow people to store health records in tiny chips under their skin ahead of the potential commercial rollout of the service.
Invigilus was set up in the summer of 2016 by Bernard Nolan and earlier this year released its maiden product, MediMee.
The service allows users to store medical, emergency contact and health insurance details on a watch-sized wearable that can be accessed using the company's app.
This information can also be stored on MediMee chips and infrared (IR) patches sewn or embedded onto clothing.
However, in recent weeks, the company has taken one step further with its digital health record plans.
Nolan and a number of staff have inserted RFID (radio-frequency identification) chips, each the size of a rice grain, under their skin to store medical information that can later be retrieved using the app.
He told Fora that the company already had the ability to fit the chips for other MediMee users, but it wanted to trial the service before launching it on the market.
"What we want to do is have this as a health and safety solution. So from the very beginning, you have a baby that's born, it will be chipped and carry a digital health record within their hand for the rest of their life," Nolan said.
"We all have a health record, but we don't control it and we don't have our hands physically on it. This is our most-sensitive private information and we want to bring it inside you."
He added that the implantation of the chip is not painful and the device does not contain any GPS technology that would allow people to be tracked.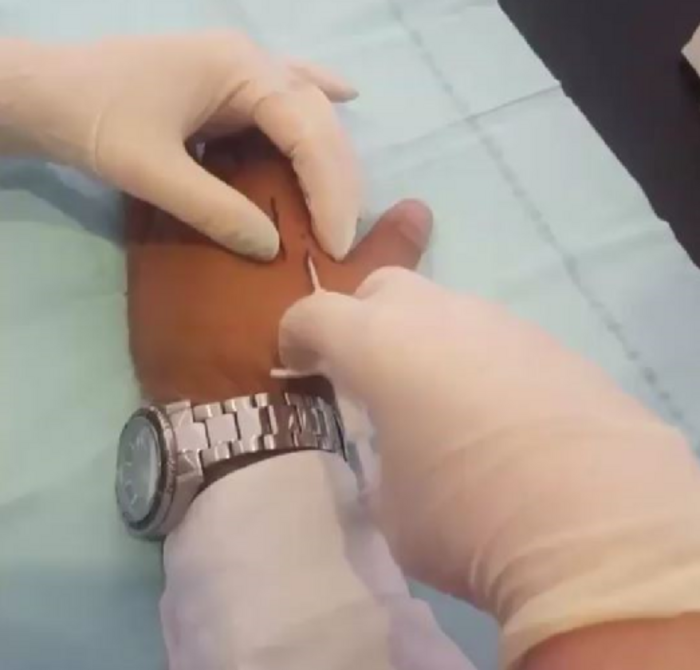 Source: MediMee
Nevertheless, chip-based storage of medical information is not exactly a new idea.
The concept made headlines in 2004 when the US Food and Drug Administration gave the green light for VeriChip, later PositiveID, to sell implant chips for patient identification purposes.
The product was discontinued in 2010 due to an apparent lack of interest after coming up against both health and privacy concerns. More recently, a Swedish startup hub has been offering chip implants to members and staff to access the building and its facilities.
Meanwhile in Ireland, limited progress has been made with digital health records, with a national Electronic Health Record system still under consideration by the Department of Health.
The aim of the new scheme would be to create a comprehensive database that can be digitally accessed by healthcare professionals, and also patients, nationwide.
Nolan said there are of course privacy concerns about the storage of health data, but he said all MediMee information is secured behind similar processes to those used for online banking.
He added that his company is also compliant with regulations set out by the Health Information and Quality Authority.
"To get into your MediMee app you have to enter your pin, the same you would for your banking. Once you're in the app, the user has full control over what information is displayed to the public."
Several partnerships
The MediMee app is already being used by a handful of organisations in Ireland, including food delivery service Deliveroo, emergency medical transport service Blood Bikes and this week it partnered with Dublin Airport's police and fire services.
The company has also seen interest in its products from SWAT teams in the US. Nolan said he has been surprised about the level interest from law enforcement officials.
"We never even looked at going into the military and police sector, but all of a sudden we find ourselves speaking with the Israeli Defence Forces.
"MediMee will always be a healthcare solution, but if there is further interest for military or police applications, we may possibly produce a different app altogether or different wearables."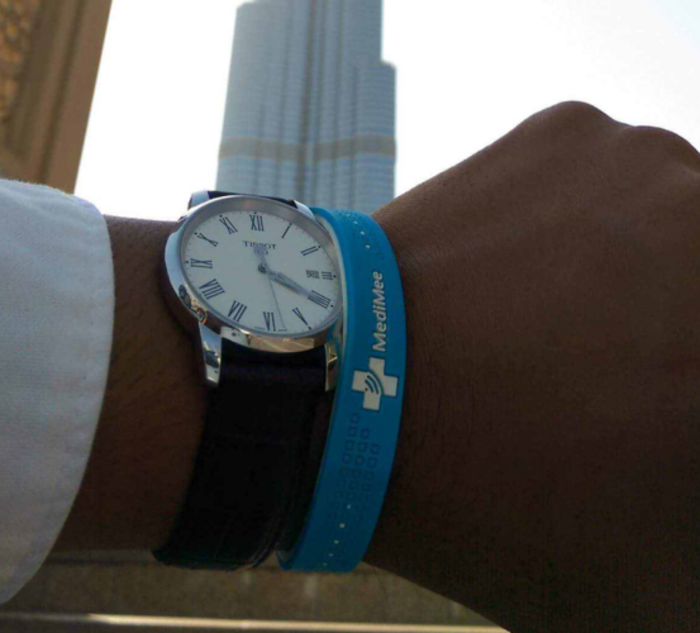 Source: MediMee
Nolan said the chip he and some staff have implanted in their hands could also have non-health applications, such as being programmed for keyless door entry.
"The chip in my hand and a gun could both link to each other, so if my hand isn't on that weapon it won't fire. There are so many different applications to where this can be taken."
Another surprise
The MediMee concept was originally developed by Nolan, who was diagnosed with a kidney-related medical condition, to cater for his own medical needs.
After a health scare, he wanted somewhere he could store his medical information for emergency services in case he fell ill again.
Nolan said the company has moved quickly since MediMee's February launch, but he doesn't want to spread its focus too thin.
He said Invigilus, which has been bootstrapped so far but is seeking venture capital funding, is having to "play catch up" because of the volume of work it has committed to.
"From what I've seen, startups that spread themselves too widely and want to expand into other countries and have other product lines usually fail to execute on what they have. What we want to do is roll out MediMee really well and then grow from there."
Sign up to our newsletter to receive a regular digest of Fora's top articles delivered to your inbox.
read more on